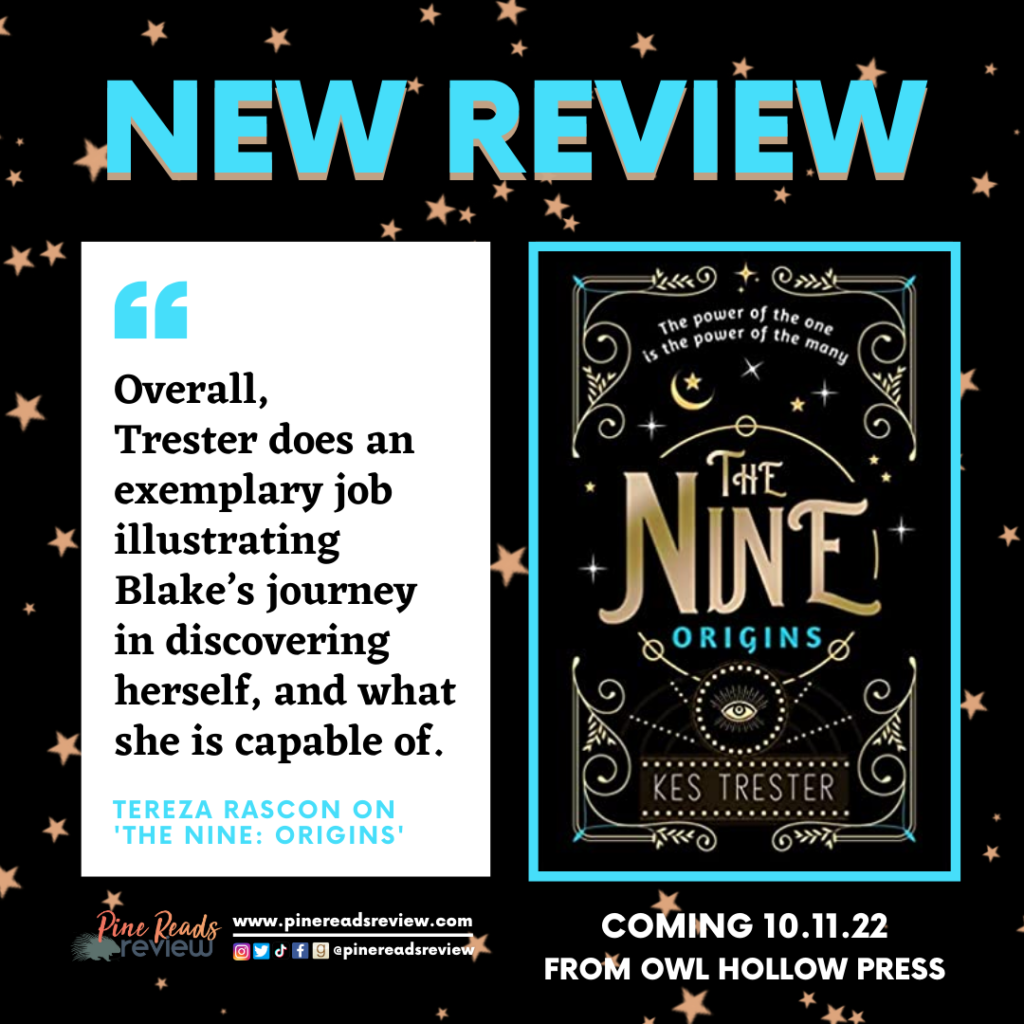 The Nine: Origins by Kes Trester
Coming October 11th, 2022 from Owl Hollow Press; 265 pages
Content Warnings: Murder and brief sexual content
About the Author: "A native of Los Angeles, Kes Trester's first job out of college was on a film set, though the movie's title will remain nameless because it was a really bad film. Really.
As a feature film development executive, she worked on a variety of independent films, from gritty dramas (guns and hotties) to steamy vampire love stories (fangs and hotties) to teens-in-peril genre movies (blood and hotties).
Kes produced a couple of independent films, both award-winners on the festival circuit, before segueing into television commercials. As head of production for a Hollywood-based film company, she supervised the budgeting and production of nationally broadcast commercials (celebrities, aliens, talking animals!) and award-winning music videos for artists such as Radiohead, Coldplay, and OKGO (more celebrities, aliens, and talking animals!).
Kes' contemporary novels are cinematic, fast-paced, and above all, fun. Her well-received debut novel, the young adult boarding school thriller A DANGEROUS YEAR, has been optioned for film/television. Her next book, the contemporary YA fantasy THE NINE, will be released by Owl Hollow Press in fall of 2022 with books two and three in the series scheduled to be released in 2023 and 2024, respectively. She is a four-time Pitch Wars mentor and an SCBWI Susan Alexander Grant award winner. When she's not writing, she can usually be found in the company of an understanding husband, a couple of college-age kids, and a pack of much-loved rescue dogs." (Bio taken from Author's website)
Find Kes Trester on the following platforms:
---
"Learning to navigate this bizarre new world might be the only way to survive it."
Blake Wilder, an eighteen-year-old college student, has been cursed with an ability that has made her a social outcast in her childhood. Having the ability to glimpse into the past and future moments of others, she tries her hardest to live as normal a life as possible. However, one day, she witnesses a grim vision of one of her classmates and when she decides to intervene in his fate, she finds herself pulled into a paranormal society called The Nine. As she attempts to navigate this new world, she meets two men that are interested in her for unknown reasons — Nicholas, son of The Nine's chancellor, and Jessie, a man with an ambitious nature. With romance brewing, Blake is faced with an even graver challenge when she begins to have premonitions of a series of murders committed by an unknown killer. She must discover who the killer is before she becomes the next victim.
The Nine: Origins introduces readers to a fascinating paranormal world that coincides with our reality. Just like Blake, we are plunged into the world of The Nine. We are enticed to figure out the influences The Nine has had on society, and what it wants with our heroine. I personally enjoyed the little tidbits Kes Trester sprinkled in the story of famous historical figures having been either a part of or influenced by The Nine. Trester does a great job illustrating the magic systems in place. The name "The Nine" derives from the fact that there are one out of nine main powers a person can possess (although there are technically 10 powers mentioned in the book). I really enjoyed the way Blake's voyant powers were illustrated, with Trester writing her premonitions in the third-person perspective. The writing flowed nicely alongside the first-person perspective of Blake, and I was constantly intrigued by her every premonition.
As much as I enjoyed the murder-mystery aspect of the novel, I was disappointed by the romance aspect. The relationships between Nicholas and Blake as well as Jessie and Blake felt very forced and superficial. Overall, Trester does an exemplary job illustrating Blake's journey in discovering herself, and what she is capable of. I hope that in the sequel of The Nine: Origins the romance between Blake and her two love interests is explored more beyond just surface attraction.
The Nine: Origins releases on October 11th, 2022.
(Pine Reads Review would like to thank NetGalley for sending us an ARC in exchange for an honest review. Any quotes are taken from an advanced copy and may be subject to change upon final publication.)
PRR Writer, Tereza Rascon
---