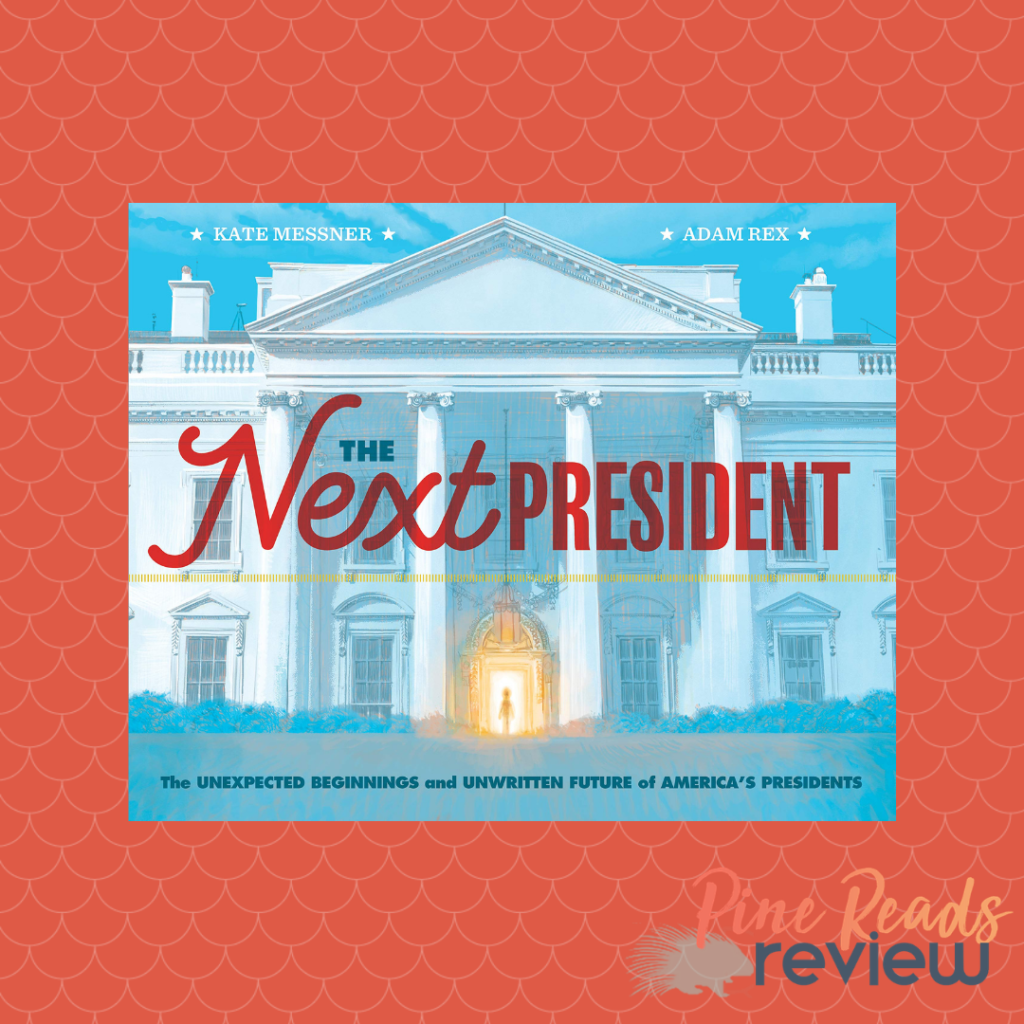 The Next President: The Unexpected Beginnings and Unwritten Future of America's Presidents by Kate Messner
Illustrated by Adam Rex
Chronicle Books LLC, 2020, 48 pages
About the Author: "Kate Messner is passionately curious and writes books that encourage kids to wonder, too. Her titles include award-winning picture books like Over and Under the Pond, Up in the Garden and Down in the Dirt, Over and Under the Pond, The Brilliant Deep, and How to Read a Story; novels that tackle real-world issues like Breakout, All the Answers, and The Seventh Wish; mysteries and thrillers like Capture the Flag, Eye of the Storm, and Wake Up Missing; the Fergus and Zeke easy reader series; and the popular Ranger in Time chapter book series about a time-traveling search and rescue dog.
Kate's titles are frequently selected for One School, One Book and One School/One Author programs and other community-wide reads – especially The Seventh Wish, which deals with a family affected by heroin addiction, and Breakout, a novel inspired by a real-world prison break, which takes a look at privilege and perspective. Kate's books have been New York Times Notable, Junior Library Guild, IndieBound, and Bank Street College of Education Best Books selections. Her novel The Brilliant Fall of Gianna Z. won the E.B. White Read Aloud Medal, and her science picture books have been finalists for the American Academy for the Advancement of Sciences/Subaru SB&F prize for excellence in science writing.
Before becoming a full-time writer, Kate was a TV news reporter as well as an educator who spent fifteen years teaching middle school English. She lives on Lake Champlain with her family and is trying to summit all 46 Adirondack High Peaks in between book deadlines." (Bio taken from author's website.)
Website: https://katemessner.com/
Twitter: @KateMessner
Facebook: https://www.facebook.com/KateMessner
About the Illustrator: "Adam Rex grew up in Phoenix, Arizona, the middle of three children. He was neither the smart one (older brother) or the cute one (younger sister), but he was the one who could draw. He took a lot of art classes as a kid, trying to learn to draw better, and started painting when he was 11. Later he got a BFA from the University of Arizona, and met his physicist wife Marie (who is both the smart and cute one).
Adam and Marie live in Tucson, where Adam draws, paints, writes, spends too much time on the internet, and listens to public radio. Adam is nearsighted, bad at all sports, learning to play the theremin, and usually in need of a shave. He can carry a tune, if you don't mind the tune getting dropped and stepped on occasionally. He never remembers anyone's name until he's heard it at least three times. He likes animals, spacemen, Mexican food, Ethiopian food, monsters, puppets, comic books, 19th century art, skeletons, bugs, and robots.
His first picture book, THE DIRTY COWBOY by Amy Timberlake, was published by FSG in 2003. His picture book FRANKENSTEIN MAKES A SANDWICH, a collection of stories about monsters and their problems, was a New York Times Bestseller. 2007 saw the release of his first novel, THE TRUE MEANING OF SMEKDAY, which was adapted into the DreamWorks film HOME in 2014. He has illustrated the work of many authors, including Jon Scieszka, Mac Barnett, Neil Gaiman, Jeff Kinney, David Lubar, Kate DiCamillo, Eoin Colfer, Christopher Paul Curtis, and Paul Fieg.
Garlic and crosses are useless against Adam. Sunlight has been shown to be at least moderately effective. A silver bullet does the trick. Pretty much any bullet, really." (Bio taken from Illustrator's website.)
Website: http://www.adamrex.com/
Twitter: @MrAdamRex
---
"And some don't have a clue yet that one day, they'll be president"
The Next President is an intriguing story that provides a window into the lives of our country's past presidents. The storyline begins in 1789 with America's first president, George Washington, and spans over 231 years, ending with our 45th president, Donald Trump. The book gives the reader snippets of what the presidents were like during their childhood, what types of careers they held as adults, and some fun facts from their presidency. These factoids range from Theodore Roosevelt having over 10 kinds of pets at the White House, to Ronald Regan being a prior TV host, to George W. Bush signing up for the cheerleading squad his senior year of prep school.
Overall, this book gives great insight on the diverse lives of our nation's leaders and sends a message to all that the next president could be anyone. Kate Messner's pick of information provides awareness of details that are entertaining and honest! The fact that our country had slave owning presidents isn't glossed over. Adam Rex created a visually pleasing complement to the narrative. It's done so in a way that it's richly detailed, but not overwhelming. In addition to heartening readers, the book fantastically notes the "Changing Face of America's Presidency" with more than 100 women to be elected to Congress following the first female nominee in the 2016 election. It promotes inclusion and involvement and is a book I thoroughly enjoyed!
PRR Writer, Courtney Halsey 
Pick up your copy today! Also, check out our blog about The Next President