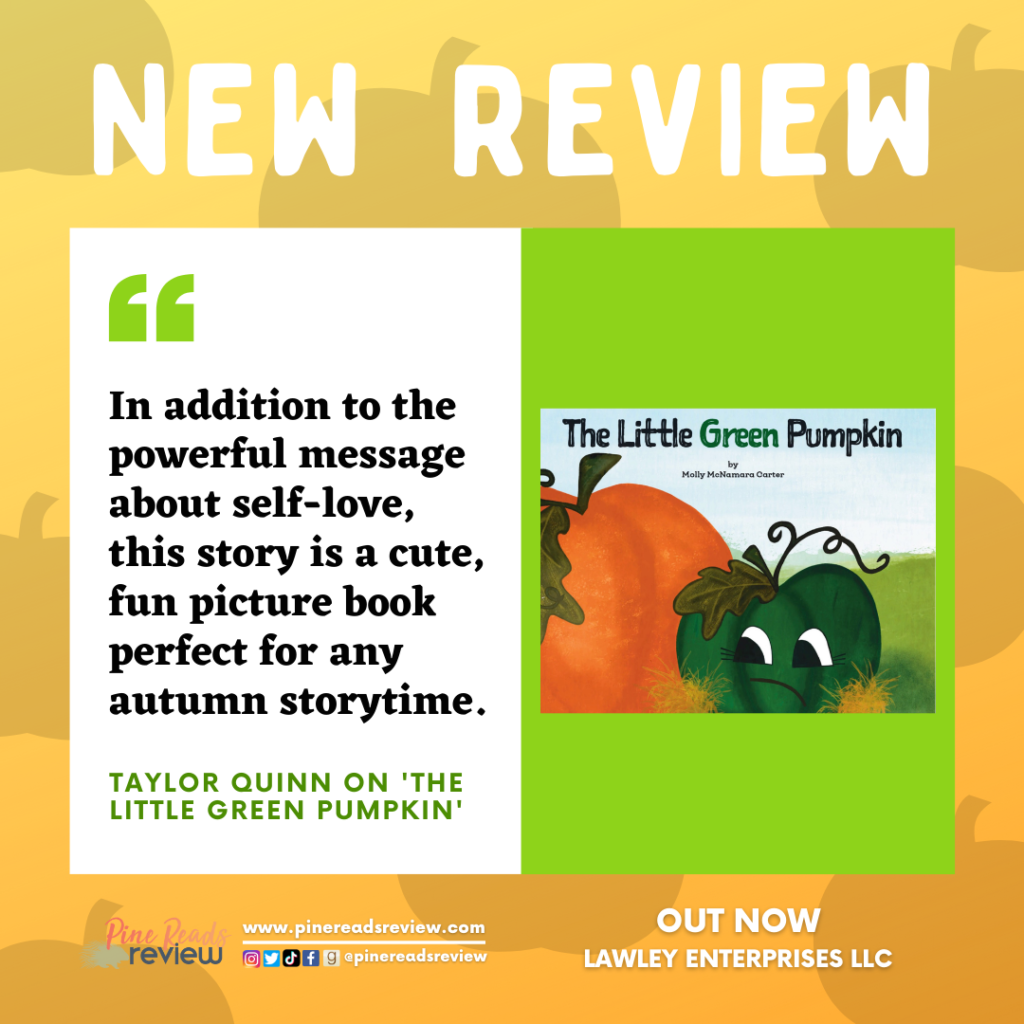 Out Now from Lawley Enterprises LLC; 32 pages
About the Author:
"Molly has been writing stories since she learned to read them. For her and her sisters growing
up, she created magical lands full of adventures that were never far off. Molly continues to
delight her own children with her stories and passion for books. She has lived in big cities, little
towns, on islands, in mountains and in deserts. She loves adventures like jumping out of
airplanes, riding camels, and even swimming with sharks. When she's not reading, writing or
working on an art project, she loves to explore with her favorite people. One of her greatest joys
is bringing the magic of stories to her readers." (Bio taken from author's website)

Find Molly McNamara Carter on the following platforms:
---
"The Little Green Pumpkin smiles and thinks, 'I love being green.'"
The Little Green Pumpkin wants nothing more than to look like all the other pumpkins in the
field—big and orange. She tries everything to turn herself orange, but nothing works. The Little
Green Pumpkin struggles to love her green rind until the farmer brings the pumpkins to the
pumpkin patch. Suddenly, the Little Green Pumpkin realizes all the different shapes, sizes, and
colors pumpkins can come in! Though she is nervous no one will want her, the Little Green
Pumpkin is pleasantly surprised when she is selected by a little girl, who loves her for her
unique, green rind.

Told from the point of view of the Little Green Pumpkin, this story takes the reader on a
journey of struggling to love oneself when they don't quite fit in. The Little Green Pumpkin
struggles to love her green rind because she doesn't look like the other pumpkins, and she
believes the other pumpkins are beautiful and better than her because of their appearance. This
is a universal struggle so many children face going into school where their classmates may not
look, dress, or talk like them.

One of my favorite parts of this story was the contrast between the field, where the Little
Green Pumpkin was surrounded by only orange pumpkins, to the pumpkin patch, where she
was surrounded by many different kinds of pumpkins. I think this speaks to the idea that one's
perception of the self is dependent on their environment. And being in the right
environment—full of different people, cultures, and identities—is important to understanding that
there is not one definition of beauty or worth. In addition to the powerful message about self-
love, this story is a cute, fun picture book perfect for any autumn story time.
PRR Writer Taylor Quinn
---