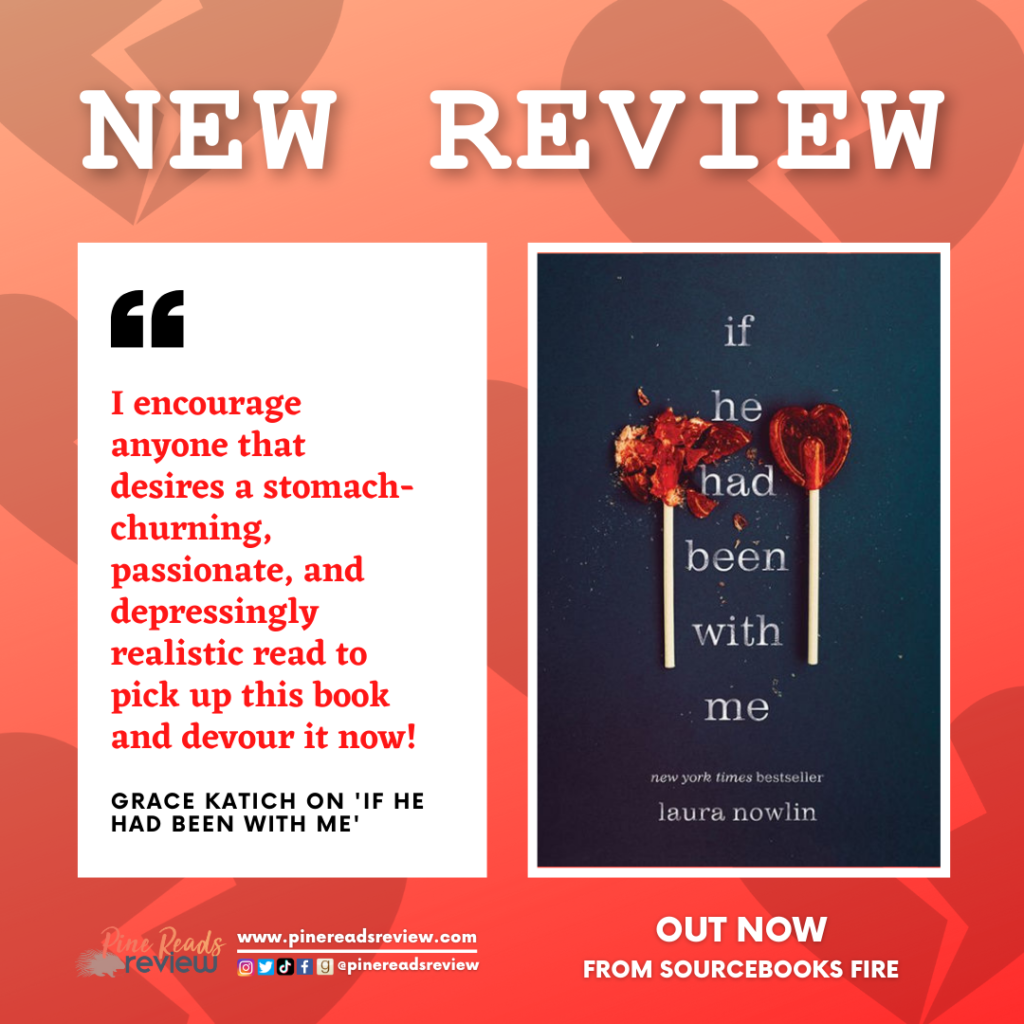 If He Had Been with Me by Laura Nowlin
Out Now from Sourcebooks Fire; 338 Pages
About the Author: Laura Nowlin is a New York Times bestselling author. She has a B.A. in English with an emphasis in creative writing from Missouri State University. She describes herself as an avid reader which she deemed is responsible for part of her success as an author. (Bio from Goodreads)
Find Laura Nowlin on the following platforms:
---
"I'm not sure where the story begins; but I know what I want to happen. Like most of my stories, it will end tragically."
In this heartbreakingly beautiful romance, we meet our protagonist Autumn — a quirky, rebellious narrator who captures our inner thoughts during adolescence. We watch her grow throughout the course of the book alongside Finn, who readers get to know as Finny. Finny is the walking contradiction of Autumn; he is a popular soccer player who happens to be her childhood best friend. We get to see the journey of their on-and-off friendship as they navigate through high school and the clash of their friend groups. Autumn finds herself attached to her new boyfriend, the brooding Jamie, and Finn dates cheerleader Sylvie. This narrative shows the growth of these two characters through the four years of high school while circling back to childhood. In a slow-burn romance, readers watch how one can find their way back to their first love, even if it all ends in heartbreak.
Nowlin's narration is earth-shatteringly heartbreaking, but it is in touch with reality. I ended up falling in love with the characters as the protagonist's inner dialogue is very easy to follow. I read this book in one sitting, unable to tear myself away from Autumn's story. The ending of this narrative brought me to absolute tears, causing me to experience emotions no YA book ever has. Nowlin's story succeeds in doing what any writer's goal is — leaving the reader invested even after closing the book. I am wrestling with the ending since such a piece of me broke with this conclusion. If He Had Been With Me is now my favorite young adult book, and I encourage anyone that desires a stomach-churning, passionate, and depressingly realistic read to pick up this book and devour it now! I am left feeling inspired to write a book that affects a reader to the degree that this story affected me.
PRR Writer & Social Media, Grace Katich
---