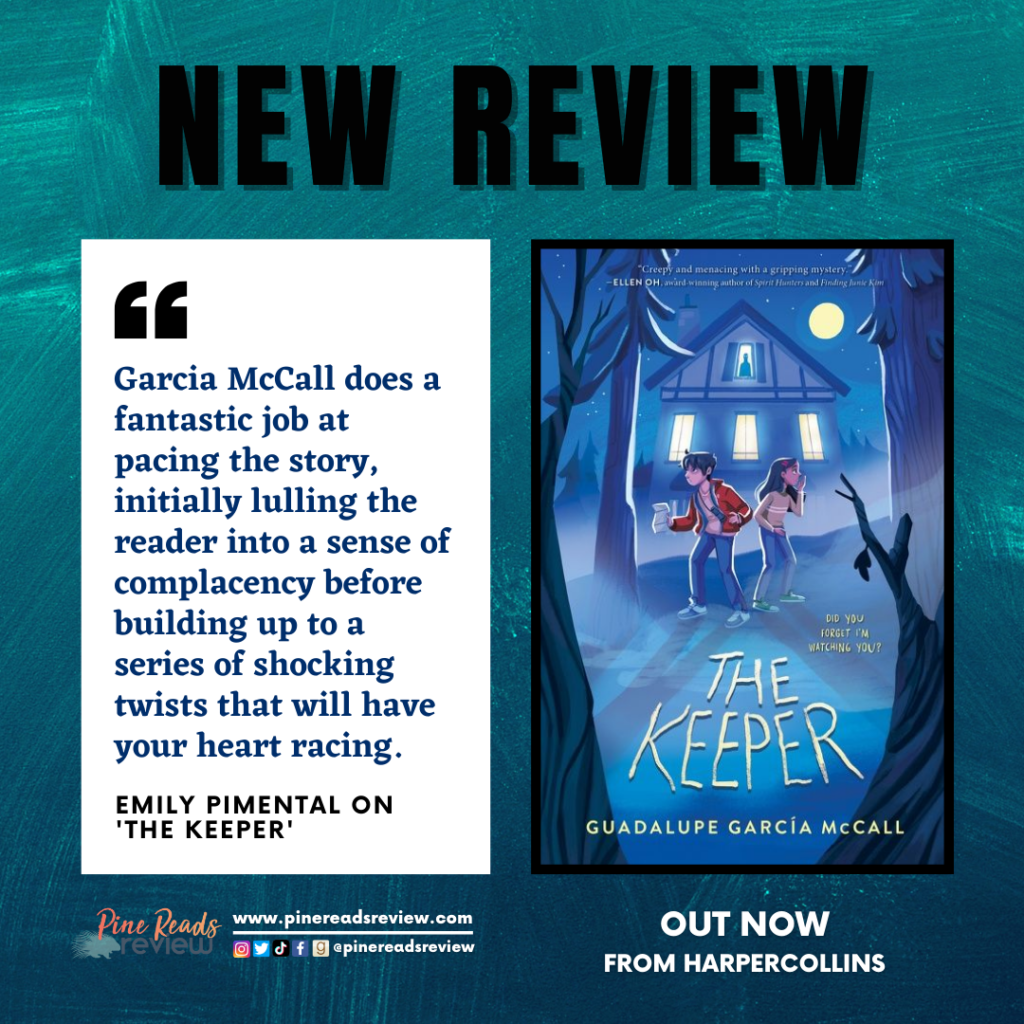 The Keeper by Guadalupe Garcia McCall 
Out Now from HarperCollins; 288 pages
Content Warnings: kidnapping, violence, forced drug use, discussion of murder.
About the Author: "Guadalupe Garcia McCall was born in Mexico and moved to Texas as a young girl, keeping close ties with family on both sides of the border. She has written four other books as well as many poems for children. Like James, Guadalupe moved from Texas to the Pacific Northwest, and though she loves taking nature walks in the great outdoors, she doesn't go out alone at night because she knows there's all kinds of cucuys out there!" (Bio taken from book jacket).
Find Guadalupe Garcia McCall on the following platforms:
---
"For some reason, the sight of the strange envelope makes the tiny hairs on my forearms rise up, and I rub at the goose bumps vigorously. I don't know why, but I get a strange feeling that I am not alone."
James is less than thrilled to be moving with his family from Texas to rainy Oregon. Their perfect new house in an idyllic neighborhood isn't enough to take the sting out of leaving behind his friends and the only home he's ever known. Just when it feels like things couldn't get worse, James begins to receive creepy and threatening letters from someone calling themself "The Keeper." James tries to ask his parents for help, but thanks to his reputation as a major prankster, they assume the letters are just another one of his schemes. With their lives on the line, James and his sister Ava are desperate to uncover The Keeper's identity before it's too late.
Guadalupe Garcia McCall's middle grade horror novel The Keeper is a truly spine-chilling read. From the very first chapter, the atmospheric writing style and eerie descriptions of the dense forest surrounding James and Ava's neighborhood begin to create a foreboding mood. Garcia McCall does a fantastic job at pacing the story, initially lulling the reader into a sense of complacency before building up to a series of shocking twists that will have your heart racing. Without giving anything away, I want to be clear that this is a very scary story. It's also a lot of fun, but sensitive readers should definitely approach this one with a healthy dose of caution. Despite its creepiness, The Keeper also has plenty of cozy and heartwarming elements to balance things out. There are several adorable pups in this story, including James and Ava's loyal dog Baxter and a pair of Great Danes named Peanut Butter and Jelly. I especially loved all the detailed food descriptions sprinkled throughout the novel, which had my mouth watering. So, snuggle up with a mug of cinnamon-spiked hot chocolate and prepare to be spooked!
PRR Writer, Emily Pimental
---