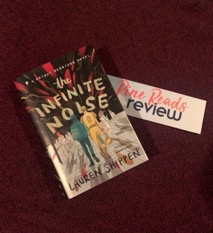 The Infinite Noise by Laura Shippen
Tom Doherty Associates, 2019, 333 pages
Trigger Warnings: bullying, self-harm, homophobia, intense portrayal of depression, profanity
About the Author: Lauren Shippen created the world that encompasses the story behind The Infinite Noise through the means of her popular audio drama, The Bright Sessions, which was on air between 2015 and 2018. She was named one of the 2018 Forbes '30 under 30' in Media and one of the MovieMaker Magazine and Austin Film Festival's 25 Screenwriters to Watch. She grew up in New York as a lover of reading and pop punk music, primarily Panic! At the Disco. You can find more on her life and her work at https://www.laurenshippen.com/​.
"Because being in high school when you can feel everyone's feelings is a complete nightmare?"
Being sixteen years old has its hellish moments no matter who you are. Being expected to act like an adult while still technically being a child and all the while attempting to conceptualize how others feel about you, and even more so, how you feel about yourself, is rough. Welcome to the world of Caleb Michaels, a high school football player who isn't limited to his own emotions, but those of every single person around him. From the intense burning of anger that manifests itself as a deep red to the "black sludge" of disappointment, feeling wracks Caleb's entire being. The emotions of his family, his teammates, his therapist, and even complete strangers flood his every thought process. That's life as an Atypical Empath, a secret that Caleb has to hide because his ability to perceive and manifest the emotions of others makes him a possible target of the elusive organization known as the Atypical Monitors. But among the insanity, a warm, inviting blue sneaks into his world and nearly knocks him off of his feet. Adam.
Shippen's world is all-encompassing to her readers, hurling them into the perspectives of two teenage boys through the means of their alternating narratives. She skillfully utilizes the perspectives of both Caleb and Adam to give a bird's eye view of how they balance their personal and interpersonal struggles. Her approach to their relationship is enough to keep a reader nervously anticipating the moment they finally reveal their love for one another without overusing the stereotypically dramatic elements of a teenage romance. This is complemented by Shippen's skillful intermixing of the human struggle with that of the supernatural, making emotions nearly tangible through color, consistency, and connection. Despite the all-too-familiar trope of the skilled athlete and the smart, unpopular kid falling for one another, Shippen portrays an enticing representation of life and young love in a scientifically unrealistic, but yet, all too real world.
PRR Writer, Machaela Raney
Pick up your copy here!