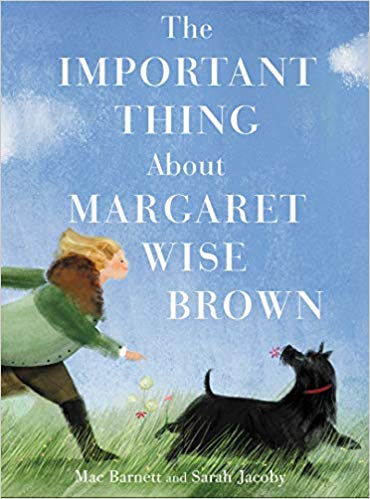 The Important Thing About Margaret Wise Brown
Written by Mac Barnett and Illustrated by Sarah Jacoby
Balzer + Bray, 2019, 42pp
Trigger Warnings: Real Life
About the Author/Illustrator (From the Flap):
Mac Barnett is a New York Times bestselling author whose books have been translated into more than thirty languages. His picture books include two Caldecott Honor-winning collaborations with Jon Klassen: Sam & Dave Dig a Hole and Extra Yarn. He lives in Oakland, CA.
Sarah Jacoby's illustrations have won awards from the Society of Illustrators (Gold Medal), Creative Quarterly, American Illustration, and Communication Arts. She is the author and illustrator of Forever or a Day. She lives in Philadelphia, PA.
"There are people who will say a story like this doesn't belong in a children's book."
To read The Important Thing About Margaret Wise Brown is to take a peek not only into the life of Margaret Wise Brown, but also into the early days of children's publishing when New York librarians decided which books were worthy of shelf space and readership. It's important to know history if we are to make informed decisions that will impact the future, especially now as the publishing industry attempts to meet the calls for much needed diversity and multiculturalism in works for young people. Readers meet Anne Carroll Moore (who also has her own PB biography), the NY Public Librarian who felt that children should be "darling and innocent," and from this platform stamped books she disapproved of as not recommended. Even the famed editor Ursula Nordstrom makes an appearance and the lucky child reader will have an adult there to comment on the many famous authors she worked with, including Sendak, Fitzhugh, Krauss, E.B. White, Ingalls Wilder.
As adults, and also the gatekeepers of what children read, we bring a lot of "shoulds" to the table – especially when it comes to children. The Important Thing About Margaret Wise Brown addresses this head on, speaking directly to young people. There is life, death, eccentricity and the spectrum of human emotion in this beautifully written and illustrated book for young – and older – readers. What better reflections of real life could there be?