The Dark Descent of Elizabeth Frankenstein | Kiersten White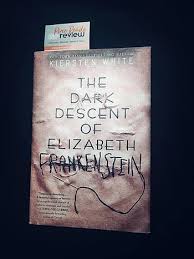 The Dark Descent of Elizabeth Frankenstein
Kiersten White
Delacorte Press, 2018
Hardcover, 292
Trigger Warnings: Gore, Language, Graphic Violence, Horror
About the Author: Keirsten White is a Young Adult and New York Times Bestseller. She made the New York Times Bestseller list for her trilogy And I Darken and has written numerous other young adult novels such as Beanstalker and Hilarious Scarytales and the Paranormalcy trilogy. The Dark Descent of Elizabeth Frankenstein was recently released and Keirsten White plans on releasing her new book Slayer this coming January.
He lifted my chin and fixed my eyes with his. "You are mine. You have been since the first day we met. You will be mine forever."
Elizabeth was taken in by the Frankenstein family when she was only a child. She spent her youth looking after Victor, knowing that only she could make him happy and trusting that he could do the same for her. However, when she doesn't hear from Victor for months, she travels to London and embarks on a journey that will bring her face-to-face with a monster she never dreamt of facing. In The Dark Descent of Elizabeth Frankenstein, Kiersten White gives readers a bold new take on the story of Elizabeth Frankenstein.
PRR Writer, Christopher Lee



GRAB YOUR COPY TODAY!