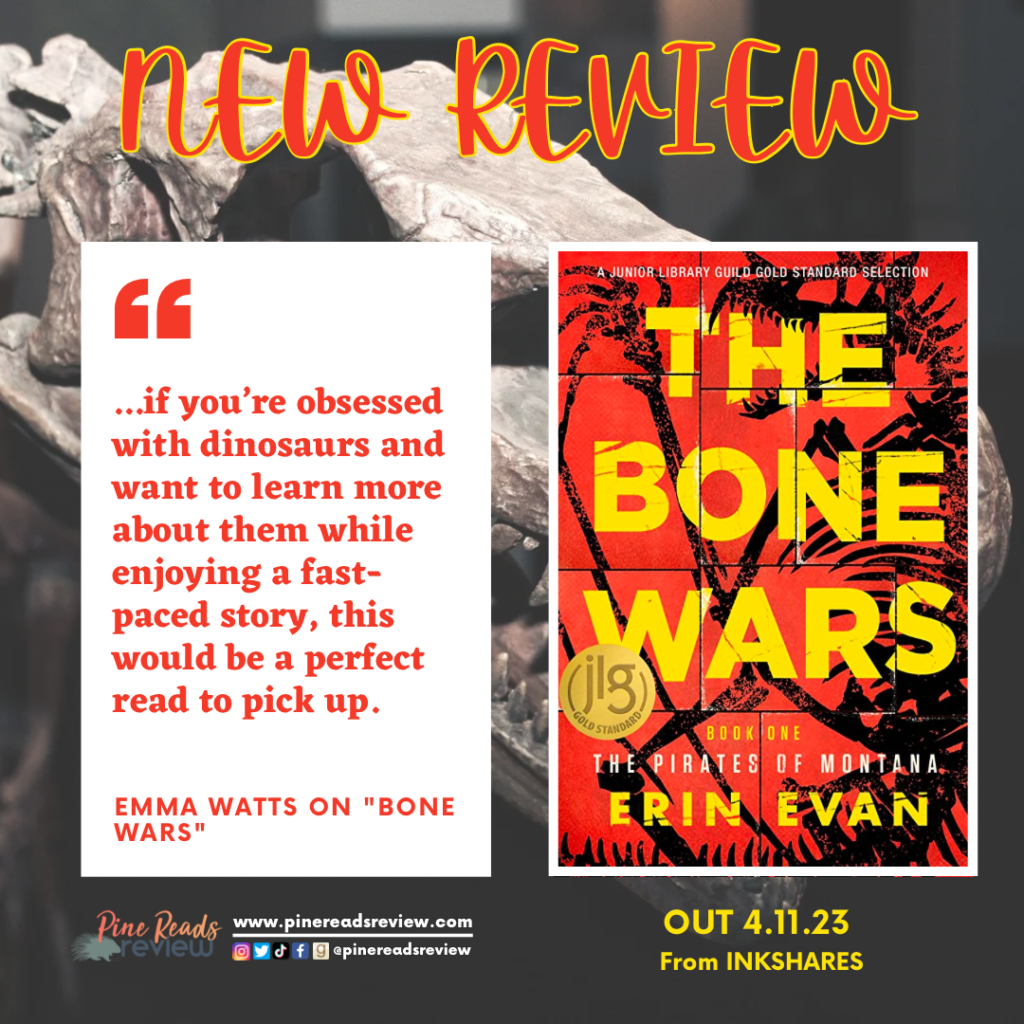 The Bone Wars by Erin S. Evan
Out April 11th, 2023 from Inkshares; 320 pages
About the Author: "Erin Evan grew up in northern California, but spent her childhood summers in Montana digging fossils. All grown up, she has spent a significant amount of time both in the field and in the environmental and non-profit sectors. She still resides in northern California, where she digs for rocks in the backyard with her husband and two children. The Bones Wars is her first novel." (Bio from author's Amazon biography).
Find Erin S. Evan on the following platforms: 
---
"No carnivorous dinosaur, even a T-rex, ever had teeth like this. At least no carnivore I'd ever heard of. And I think this is even bigger than a T-rex. And its bones were as black as night."
The Bone Wars follows 16-year-old Molly, Ph.D. student Sarah, fossil hunter Derek Farnsworth, and paleontologist Dr. Sean Oliphant as they work together to unravel a scientific mystery. During her summer internship in the heart of the Montana badlands, Molly stumbles upon a gigantic fossil tucked away in a cave. No one on the dig has seen anything like it—Molly has discovered a new species. Shortly after the discovery, the fossil is stolen. When an anonymous note signed "S.V." arrives at Derek's warehouse with photos of historical paleontologists holding fossils that look exactly like the one that was stolen, the team realizes they might have uncovered a secret that is centuries in the making.
As a person who has loved dinosaur stories like Jurassic Park and Land Before Time my whole life, I was super excited to pick this novel up. I recommend The Bone Wars specifically to anyone who is intrigued by dinosaurs and wants to learn more about them. It is very clear that Evans is an expert in the field of geology and paleontology. At least 50% of this book was filled with vivid descriptions of fossils and the scientific classifications of different dinosaurs and other creatures that lived during this time period. While this definitely makes the novel very science-heavy, that is great for readers who are interested in learning more about this field of study. I know I was stopping every other page to look up dinosaur images and fossils on Google so I could visualize Evans' descriptions even better. If you are just looking for a mystery or an adventure and you don't have the patience for a lot of scientific descriptions, then this may not be the story for you. However, if you're obsessed with dinosaurs and want to learn more about them while enjoying a fast-paced story, this would be a perfect read to pick up.
(Pine Reads Review would like to thank NetGalley and the publisher for sending us an ARC in exchange for an honest review. Any quotes are taken from an advanced copy and may be subject to change before final publication.)
PRR Assistant Director, Emma Watts
---