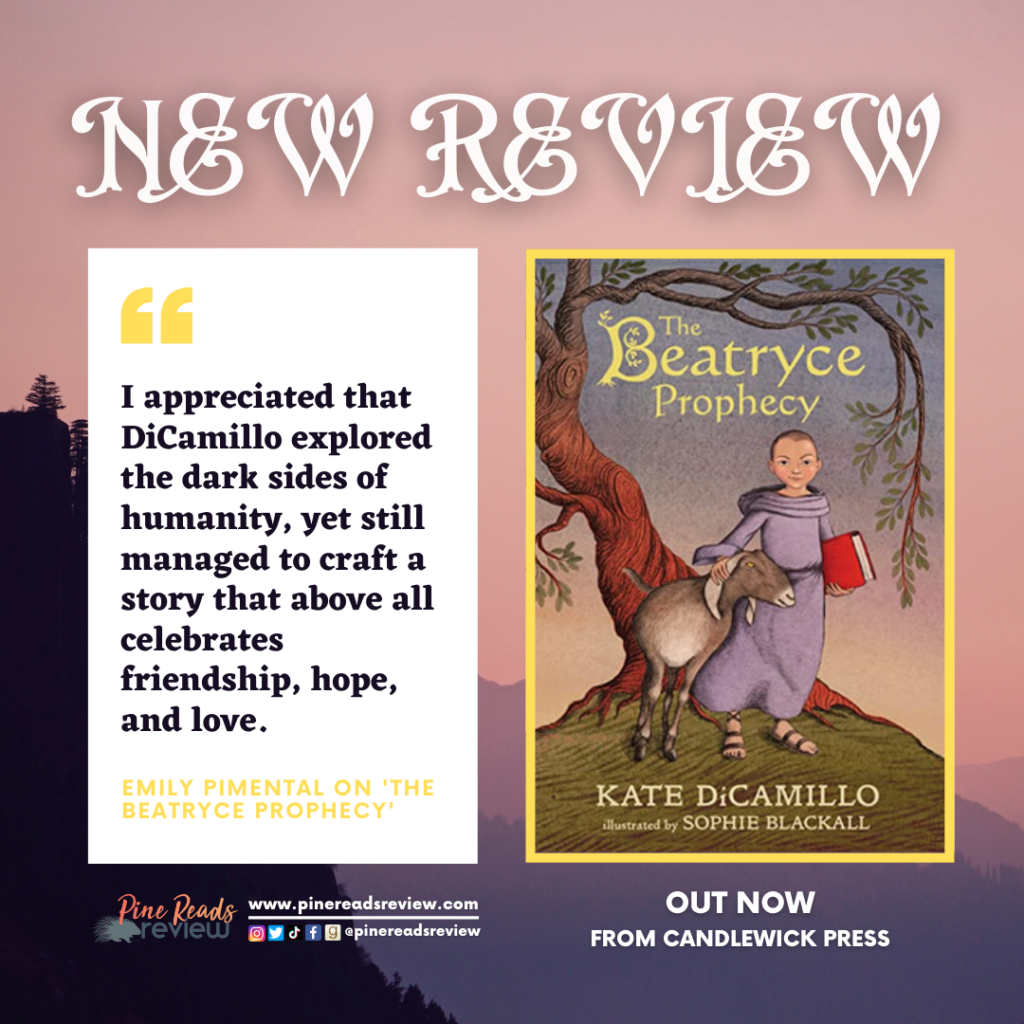 The Beatryce Prophecy by Kate DiCamillo and illustrated by Sophie Blackall
Out Now from Candlewick Press; 247 pages
Content Warning: Murder, violence, death of a parent
About the Author: "Kate DiCamillo is one of America's most beloved storytellers. She is a former National Ambassador for Young People's Literature and a two-time Newbury Medalist. Born in Philadelphia, she grew up in Florida and now lives in Minneapolis." (Bio taken from book jacket)
Find Kate DiCamillo on the following platforms:
About the Illustrator: "Sophie Blackall is an award-winning illustrator of over 50 books for children, including the New York Times best-selling Ivy and Bean series, the 2016 Caldecott Medal winner, Finding Winnie and the 2019 Caldecott Medal winner, Hello Lighthouse, which she also wrote. She is the four-time recipient of The New York Times Best Illustrated Picture Book Award and has worked with UNICEF and Save the Children, UK on global health and literacy initiatives. Originally from Australia, she now splits her time between Brooklyn, New York, and the Catskill Mountains, where she is building a retreat for the children's book community called Milkwood Farm." (Bio taken from illustrator's website)
Find Sophie Blackall on the following platforms:
---
"That is not a book I would care to read. As if she could read. As if such a thing were possible. Which, of course, it was not. But still, a shiver of wonder went through him at the possibility of a girl who could read."
One day, a strange girl arrives at the monastery of the Order of the Chronicles of Sorrowing. She is feverish, covered in blood, and remembers nothing aside from her name, Beatryce. Odder still, she can read and write, something forbidden among common people, girls most of all. Thanks to the friendship of a ferocious goat and a kindhearted monk, Beatryce is granted protection for a time. But growing unease among the other monks and a request for someone to write down a soldier's final confession results in Beatryce being sent out into the world, where she quickly learns the King is hunting her down. With the help of friends old and new, Beatryce will discover the truth about her past and try to forge a future for herself in a world where her very existence is seen as dangerous.
I absolutely adored this heartwarming middle grade novel. Richly detailed yet captivating, I found myself torn between a desperate need to know how things would resolve and wanting to slowly savor every page. Set during the Middle Ages, the story offered an interesting contrast to our busy, technology-filled world. The characters were some of the best I've encountered in a long time, especially Beatryce and her crew of lovable outcasts who instantly stole my heart. I appreciated that DiCamillo explored the dark sides of humanity, yet still managed to craft a story that above all celebrates friendship, hope, and love. The importance placed on the value of literacy for all and the empowering feminist message added another layer of strength to this already incredible book. Blackwell's artwork is equally impressive. The pages are adorned with intricate drawings reminiscent of a medieval manuscript, as well as beautiful illustrations that infuse the story with warmth and charm. I would recommend this timely yet timeless story to anyone and everyone. 
PRR Writer, Emily Pimental
---