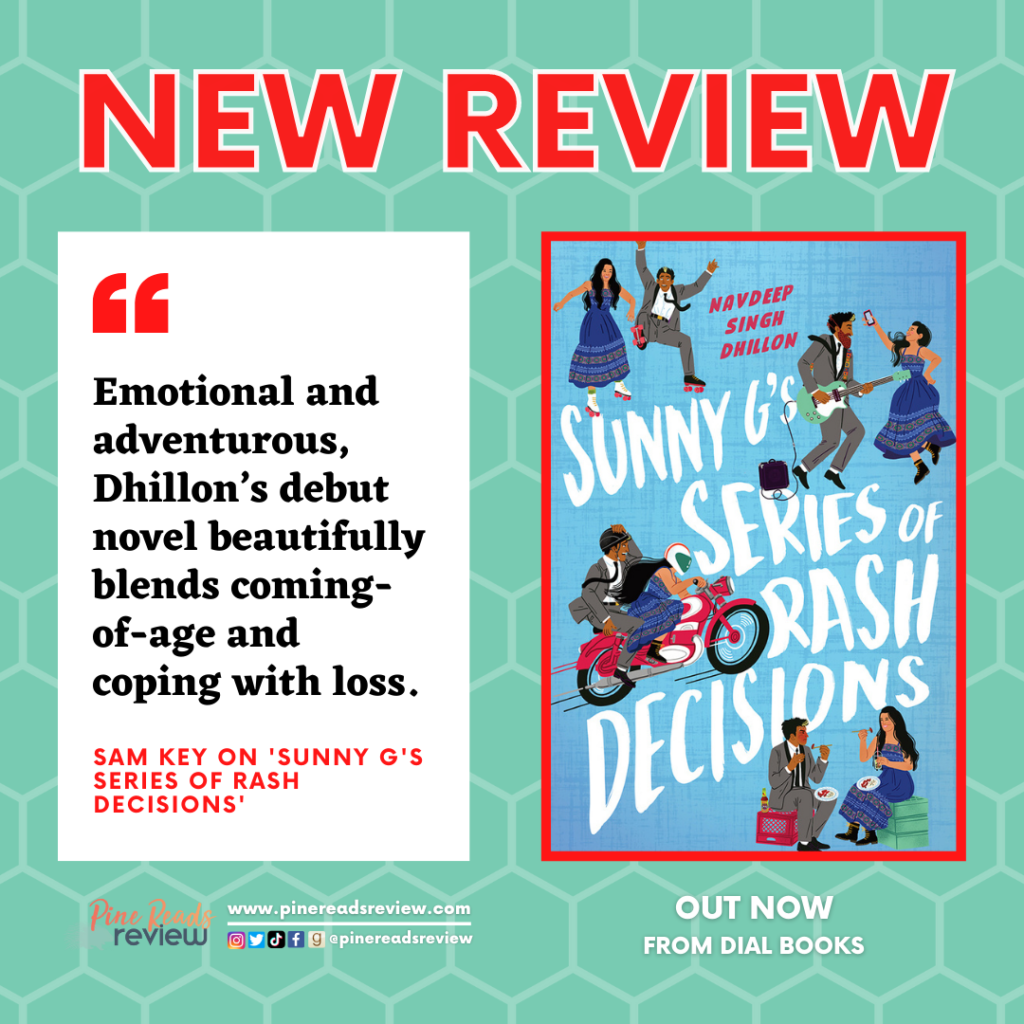 Sunny G's Series of Rash Decisions by Navdeep Singh Dhillon
Out now from Dial Books; 304 pages
Content Warning: Language, death of a loved ones, racism, ableism, alcoholism, addiction, underage drinking, grief/loss depiction, bullying
About the Author: Navdeep Singh Dhillon is the author of Sunny G's Series of Rash Decisions, an adjunct professor of creative writing and English literature at Borough of Manhattan Community College (CUNY) in New York City, and co-founder of IshqInABackpack, a narrative travel blog. He holds an MFA in creative writing from California State University, Fresno, a post-grad degree from the Writers' Institute at CUNY, and is a proud two-time Voices of Our Nation fiction workshop alum. Born in England, raised in Tanzania, Nigeria, Dubai, and Fresno, California, he is a Punjabi boy at heart. He was a former linguist in the U.S. Navy, ESL teacher in China, and door-to-door knife salesman. He lives the bi-coastal life, with most of the year spent in Jersey City with his wife, Sona, and their two children, and summers in Fresno, California. When he isn't writing or reading, he is obsessed with Bhangra, Bollywood, baking, Brazillian jiujitsu, and cosplaying across the fandoms with his two nerdy kiddos. (Bio taken from author website).
Find Navdeep Singh Dhillon on the following platforms:
---
"No more obedient Sunny G who does whatever everyone tells him to do. Time for Sunny to make reckless life choices."
Following in the wake of his brother Goldy's death, Sunny holds tight to their final connection: Goldy's journal. It's a journal that Sunny is going to fill up with all of his rash decisions, starting with his prom-night makeover. After losing the turban, the beard, and sporting a new blonde streak, Sunny can hardly recognize himself in the mirror. He's even skipping the biggest cosplay event of the year to get his Movie-Prom-Moment. However, prom's turning out to be kind of a bust. That is, until Mindii shows up, steals the notebook, and weaves quite the adventure for her, Sunny, and their friends. And while Sunny may get to check rash decisions off his checklist, the whirlwind night may just teach him a thing or two about love and life.
Emotional and adventurous, Dhillon's debut novel beautifully blends coming-of-age and coping with loss. Sunny is a wonderful main character; he's quirky, passionate, and is really trying to find himself. Watching him grapple with his identity throughout the novel was so touching, and a very authentic portrayal of teenage experimentation. Watching Sunny grapple with his grief was so raw and touching. He is not a perfect character; seeing him wrestle with his emotions towards Goldy's death felt realistic to the healing process. The representation in this book was phenomenal, starring Sikh, Hmong, and Nigerian British main characters. There's disability,  LGBTQ+, and addiction representation in the novel as well; all of this felt natural and well-woven into the story. Overall, this book was the perfect balance of heartache and joy. A crazy prom night with a side of family, friendship, love, and coming into your own. I eagerly await Dhillon's future novels. 
PRR Writer, Sam Key
---