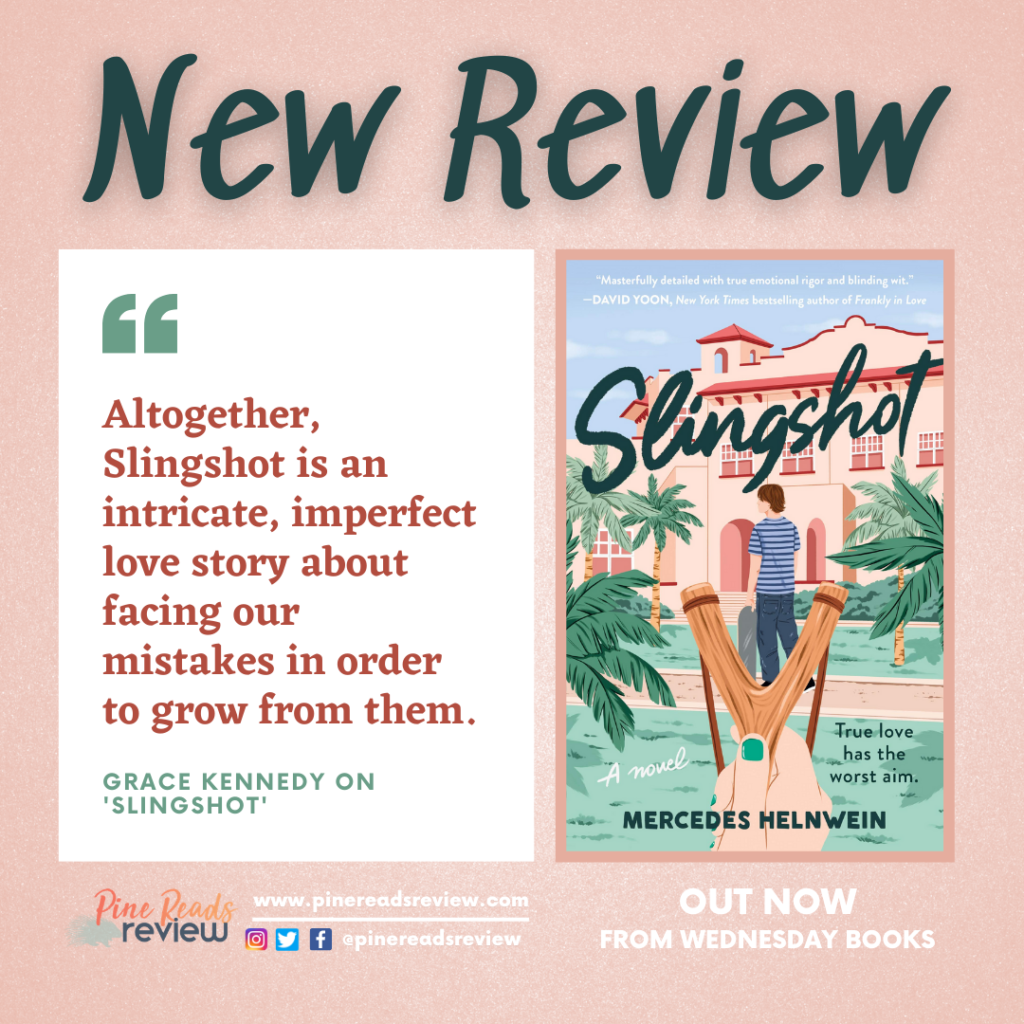 Slingshot by Mercedes Helnwein
Out Now from Wednesday Books; 352 pages
Content Warnings: Profanity, sexual content and dialogue, inappropriate fixation on a teacher by a teen, some violence, mentions of bullying, underage smoking and drinking, absent parents/dysfunctional families.
About the Author: "Mercedes Helnwein is a visual artist and writer. She was born in Vienna, Austria, and grew up in Germany, Ireland, and partially the US and the UK. Instead of going to college she moved to L.A. where she began putting on art shows with her friends and selling her drawings. Her obsession with writing began at age ten when she wrote her first short story for a school assignment – The Celery Stick Who Became President. She currently lives and works in L.A. and Ireland." (Bio taken from Goodreads)
Find Mercedes Helnwein on the following platforms:
---
"People ruin each other's lives by falling in love."
15 year-old Gracie Welles is stuck in a mediocre boarding school in a Florida swamp, paid for by her wealthy father to keep her illegitimate existence unknown to his "real" family, leaving Gracie with only the companionship of her book collection. Rejected by her adult biology teacher and embittered by the existence of love, Gracie surrenders herself to eternal loneliness. Until one day, that loneliness is interrupted by the new kid, Wade Scholfield, who she rescues from senior bullies with the pull of her slingshot. Wade is funny and sweet, and manages to bring out some goodness from Gracie's cold and spiteful outer shell. The budding romance between the two is riddled with mistakes, and Gracie has to decide what she really wants from love after breaking Wade's heart.
Slingshot is a complicated story replete with many of the confusing emotions that go along with being a lonely fifteen year old. Our protagonist Gracie is placed in an unstable situation with her parents, so her behavior and tendencies to self-isolate and lash out are understandable. I remember often feeling that way at fifteen as well. However, the book was a little difficult to get invested in at the beginning, as Gracie was often mean without any real provocation. She thinks herself better than others, harping on the internalized misogynistic idea that she isn't like other girls because she enjoys horror novels, is emotionally detached, and listens to classic rock—which are stereotypical male behaviors.
The foil to Gracie's sometimes insufferable nature comes in the form of Wade: a warm, funny, complicated-yet-endearing character who I couldn't help but root for. The depictions of love and sex in Helnwein's novel were often unhealthy, but in a way that felt familiar to navigating those emotions as a teen. Altogether, Slingshot is an intricate, imperfect love story about facing our mistakes in order to grow from them.
(Pine Reads Review would like to thank NetGalley and the publisher for sending us an ARC in exchange for an honest review. Any quotes are taken from an advanced copy and may be subject to change upon final publication.)
PRR Lead Editor, Grace Kennedy