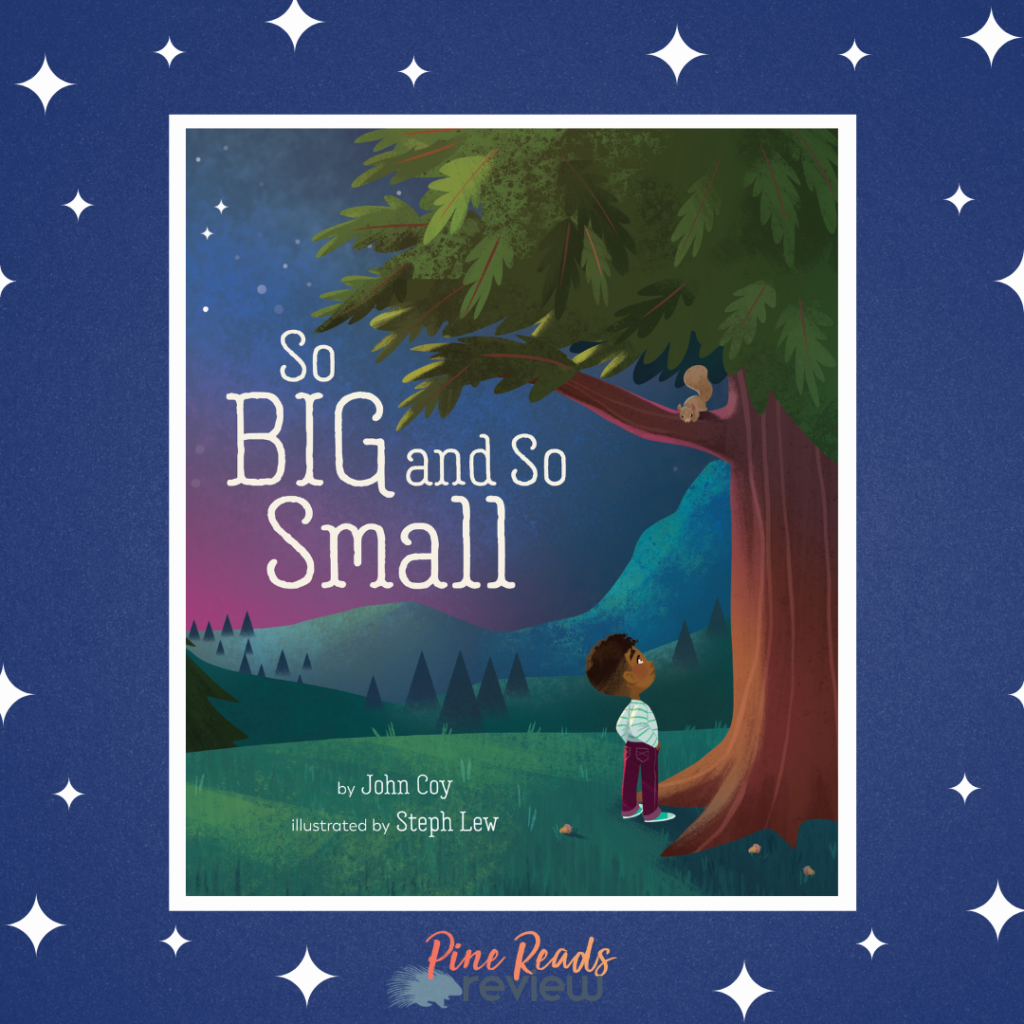 So Big and So Small written by John Coy
Illustrated by Steph Lew
Beaming Books, Releases on October 27th, 2020, 32 pages
 About the Author: "John Coy is the author of the picture books On Your Way; Their Great Gift; Strong to the Hoop; Around the World; and many others. He lives in Minneapolis and visits schools nationally and internationally." (Bio provided by Beaming Books publicist)
Website: https://www.johncoy.com/
Instagram: @johncoy23
Twitter: @johncoy23
About the illustrator: "Steph Lew is a Chinese-American artist born and raised in San Francisco. She was always the kid who was busy drawing instead of studying in math class. She started taking art classes in high school and graduated from San Jose State University with a BFA in animation/illustration. She strives for strong light and color in her artwork. She enjoys drawing people, animals, and mermaids. Lew has worked with clients such as Random House, Marvel, and Sesame Street. Before focusing on illustration, she worked as a concept artist on video games at EA, Disney Interactive, and Zynga. When not drawing, Lew enjoys baking, sewing, propagating her succulents, and especially taking pictures of her shih tzu, Mango." (Bio provided by Beaming Books publicist)
Website: https://www.stephlew.com/
Twitter: @StephLewArt
Instagram: @stephlewart
---
"I'm so big, I'm so small, I'm just right."
A brief but beautiful book, So Big and So Small illustrates the changing perceptions of a young boy. Perhaps for the first time, he marvels at his impact in the world around him. Immersed in nature both vast and infinitesimal, the child views himself in comparison to his surroundings; big next to a bird or a baby, small next to his parents or the vast open sky. The book has sparse text and mainly relies on vivid illustrations. The illustrations go along with the text accordingly, as the little boy appears massive and detailed next to a bumblebee resting on a flower, but is just a mere silhouette next to a majestic mountain landscape. The text, while sparse, illuminates complex questions through the simpler lens of a child: who are we in the world? Where do we fit in?
So Big and So Small is a sweet and honest look at introspection. Before they can think in more profound, abstract concepts about why we're here, kids relate themselves to the physical world around them. It can be tough living in such a vast, overwhelming world—especially when you realize that you only live in a sliver of it. But as the boy recognizes his place in the world, he begins to feel more confident about how he fits into it. This is the kind of thought process that illustrations help uplift, and Steph Lew's warm, colorful art style contribute to the genuine feeling of the book.
So Big and So Small releases on October 27, 2020.
(Pine Reads Review would like to thank Beaming Books for sending us an ARC in exchange for an honest review. Any quotes are taken from an advanced copy and may be subject to change upon final publication.)
PRR Writer, Grace Kennedy