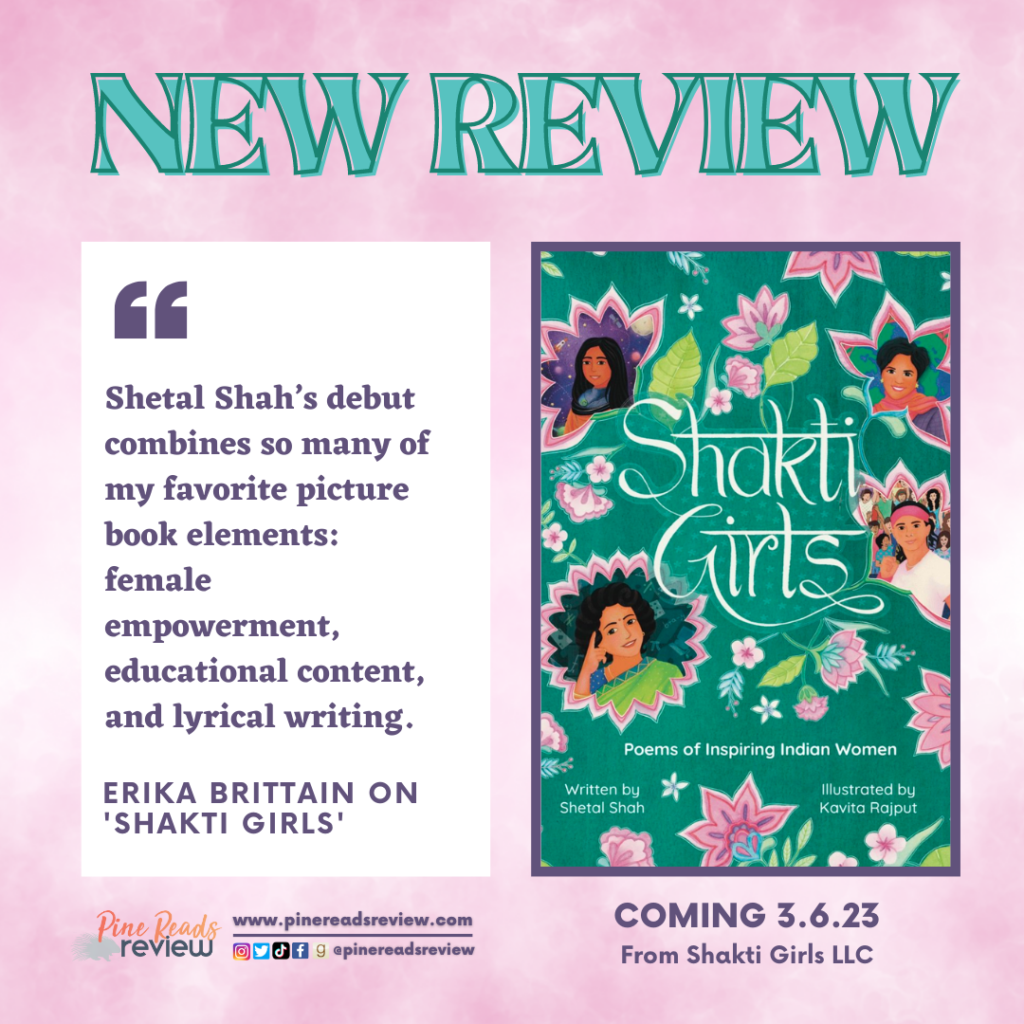 Shakti Girls written by Shetal Shah & illustrated by Kavita Rajput
Coming March 6, 2023 from Shakti Girls LLC; 32 pages
About the author: "Shetal Shah grew up to the sounds of Bollywood and the delicious smells of her mother's Indian cooking in the suburbs of New York City. As a second-generation Indian-American, Shetal hoped to one day see more stories of girls like her fill the shelves of local bookstores. A former educator, Shetal taught world history in all-girls schools where she witnessed how curriculum and literature inclusive of women from diverse backgrounds can have a positive impact on girls' self-esteem, identity development, and belonging. Shetal also developed and led numerous educator workshops, presenting at national conferences covering topics on pedagogy and diversity and inclusion. Shetal currently lives in Atlanta, Georgia, with her husband and her two young boys while pursuing her writing and mission to bring diversity to bookshelves with stories that inspire" (Bio taken from the author's website).
Find Shetal Shah on the following platforms:
About the illustrator: "Hello there! I am Kavita Rajput and I am an illustrator and surface designer based in New York City, USA. Growing up in Mumbai, India, I was constantly surrounded by Indian art, be it in the form of rangoli, henna, colorful fabrics or the vibrant sets of Bollywood movies. An only child, I often took to sketching and painting during my free time. A graduate of the London Business School, I worked in finance for almost a decade till an after-work watercolor class at the New York Academy of Art took me back to my childhood passion. Drawing inspiration from my childhood and the rich folk art and architecture of India, I hope to fill the world with vibrant colors, patterns and joy" (Bio taken from the illustrator's website).
Find Kavita Rajput on the following platforms:
---
"Shakti: The power and energy within you"
Shakti Girls celebrates the 'shakti' of thirteen Indian women from across the globe with short poems describing their lives and achievements. From political figures to athletes, humanitarians to entertainers, writers to scientists, readers get a glimpse into the lives of inspiring women. As each woman's story is shared, readers are also invited to consider their own power: "What is your shakti?"
Shetal Shah's debut combines so many of my favorite picture book elements: female empowerment, educational content, and lyrical writing. Each page of text features a short glossary of Hindi words used in the page's poem, and there's also a list of images for readers to find in the illustrated portraits. I particularly enjoy this aspect of the book because it appeals to readers who identify more with images and visuals than text. Other interactive features include a page for readers to draw things that represent their 'shakti,' as well as a word search and fill-in-the-blank activity with Hindi words. As far as the women in the book go, I appreciate the variety of backstories and careers that are highlighted. Each biographical poem is rich with details about these women's lives, while also being written in language that a young reader can understand. From start to finish, Shakti Girls radiates positivity and reverence for the women on the pages and for its readers. A must-read for all ages!
(Pine Reads Review would like to thank Books Forward for sending us an ARC in exchange for an honest review. Any quotes are taken from an advanced copy and may be subject to change upon final publication.)
PRR Assistant Director, Erika Brittain
---