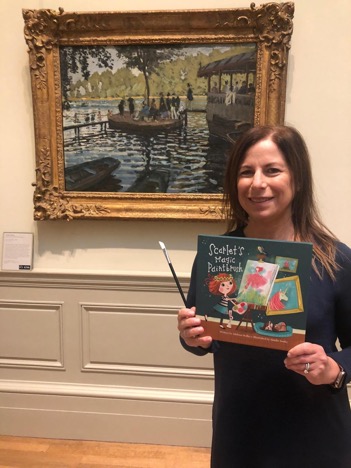 Scarlet's Magic Paintbrush by Melissa Stoller
Illustrated by: Sandie Sonke
Spork Press, 2018, 38 pages
Trigger Warnings: N/A
About the Author: Melissa Stoller is the author of the chapter book series The Enchanted Snow Globe Collection – Book One: Return to Coney Island and Book Two: The Liberty Bell Train Ride (Clear Fork Publishing, 2017 and 2019); and the picture books Scarlet's Magic Paintbrush and Ready, Set, GOrilla! (Clear Fork, 2018). Upcoming picture books include Return of the Magic Paintbrush and Sadie's Shabbat Stories. She is also the co-author of The Parent-Child Book Club: Connecting With Your Kids Through Reading (HorizonLine Publishing, 2009). Melissa is an Assistant and Blogger for the Children's Book Academy, a Regional Ambassador for The Chapter Book Challenge, a Moderator for The Debut Picture Book Study Group, and a volunteer with the Society of Children's Book Writers and Illustrators/MetroNY. Melissa has worked as a lawyer, legal writing instructor, freelance writer and editor, and early childhood educator. Additionally, she is a member of the Board of Trustees at Temple Shaaray Tefila, and a past Trustee at The Hewitt School. Melissa lives in New York City with her husband, three daughters, and one puppy.
Social Media:
www.MelissaStoller.com
http://www.facebook.com/MelissaStoller
http://www.twitter.com/melissastoller
http://www.instagram.com/Melissa_Stoller
http://www.pinterest.com/melissa_stoller
About the Illustrator: Sandie Sonke graduated from Cal State University Fullerton with a degree in studio art. She is a freelance illustrator and lives with her family in Southern California. In addition to illustrating Scarlet's Magic Paintbrush, Sonke's portfolio includes illustrations for children's books Let's Make Yoga Magic and The Day Punctuation Came to Town.
Social Media:
https://www.sandiesonkeillustration.com
https://www.facebook.com/sandiesonkeillustration/
Instagram: @sandiesonke
Art-loving Scarlet can paint anything like a true artist – with the help of her magic paintbrush, that is. But when her magic paintbrush goes missing, Scarlet is left with empty canvas and "imperfect" artistic ability. Can she still create art without it? And, when the paintbrush is found, can her creativity be "perfect" enough?
This book is perfect for art lovers and perfectionists alike and a great way to teach kids about creativity and self-acceptance, even when the result is not perfection. Sonke's detailed and vibrant art showcases Scarlet's creations while Stoller's friendly narration immerses readers into the story and connects them to Scarlet's character.
Scarlet's Magic Paintbrush teaches kids that it is okay to be creative in your own way and that the unique things we create are the most valuable forms of art. Stoller and Sonke truly engage and encourage early elementary school readers and families with this wonderful book.
PRR Writer, Mandy Becker