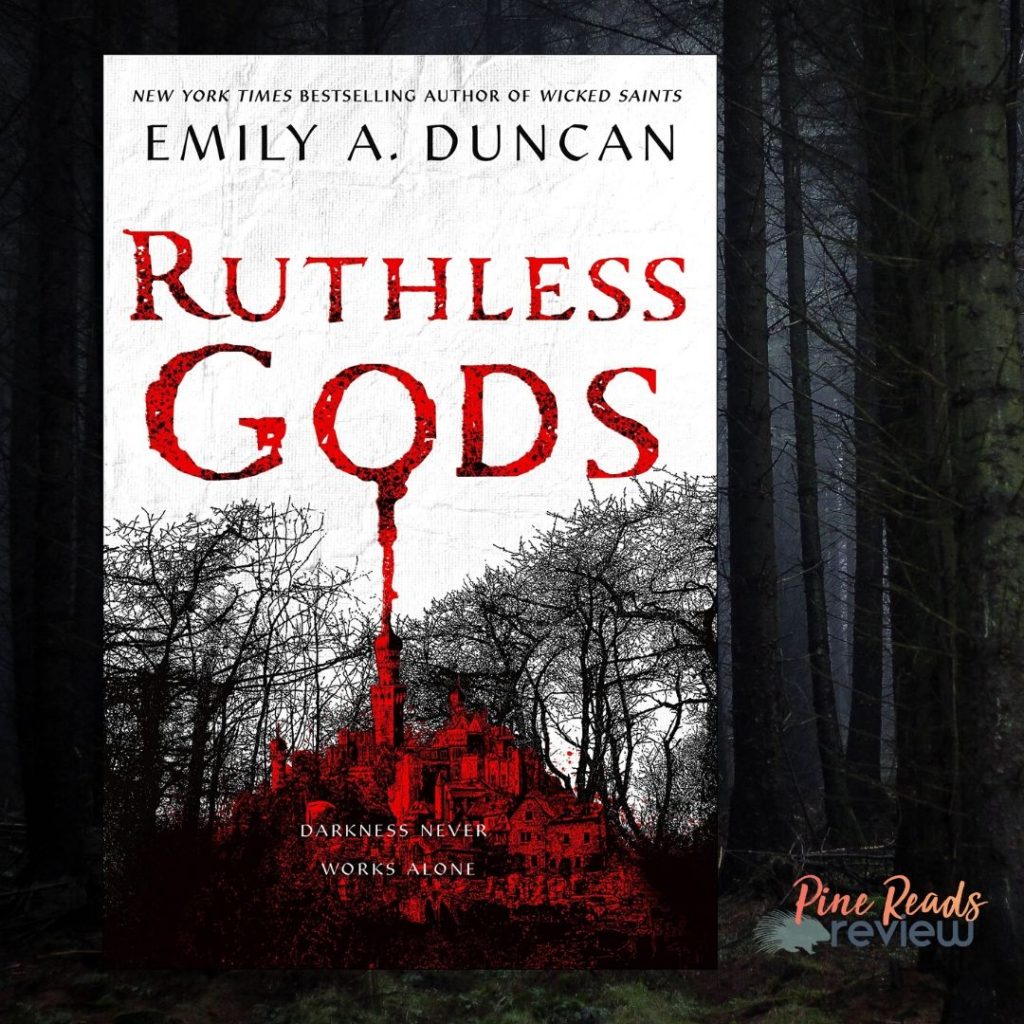 Ruthless Gods by Emily A. Duncan
Wednesday Books, 2020, 544 pages
Trigger Warnings: Alcoholism, body horror (especially involving eyes), character death, excessive blood, gore, minor drug use, self-harm
About the Author: Emily A. Duncan is the New York Times bestselling author of Wicked Saints. She works as a youth services librarian and received a Master's degree in Library Science from Kent State University, which mostly taught her how to find obscure Slavic folklore texts through interlibrary loan systems. When not reading or writing, she enjoys playing copious amounts of video games and Dungeons and Dragons.
Website: https://eaduncan.com
Twitter: @glitzandshadows
Instagram: @glitzandshadows
"What if the gods you worship aren't gods at all?"
Betrayal, blood, and eldritch horror! The second installment in the Something Dark and Holy trilogy picks up a couple months after Malachiasz's betrayal came to light, Nadya killed the Tranavian king, and Serefin returned from a brief bout of death in the vice grip of a fallen god's control. Now, Malachiasz's humanity is constantly battling with his monstrous god-not-god form, Nadya is doubtful of everything including herself, and Serefin is being used as a pawn to wake other horrifying ancient gods. Just as in Wicked Saints, Malachaisz, Nadya, and Serefin's destinies are all dependent on one another. As a merry band of misfits, they must travel through a bloodthirsty monster forest to reach what Nadya considers the seat of the gods and the Tranavians consider a hellmouth.
If you read my review for Wicked Saints last summer, you'll know that I didn't exactly give it high praises. I had issues with the pacing, character motives, and most of all, the romantic relationship. Ruthless Gods, however, is a bloody, magical, painful mammoth of an intricate book that does well to cover up all the problems present in its predecessor. The entire cast, but Serefin in particular, undergo a great deal of character development. We get to see and understand exactly how tragic Serefin and Malachiasz are and it deliciously serves to make your heart hurt even worse by the last page. All the themes of politics, religion, and magic are still woven throughout, but Ruthless Gods really takes the idea of gods to a more complex level—just who and what are the gods?—and turns just about all of the characters inside out. The Ruthless Gods world feels tenfold more alive and tangible, and Duncan's imagery is something out of an eldritch nightmare that's oddly enjoyable. It's a long read, but so totally worth the time. If all things "dark and holy" appeal to you, make Ruthless Gods your next read.
PRR Writer, Caroline Ross
Pick up your copy here!