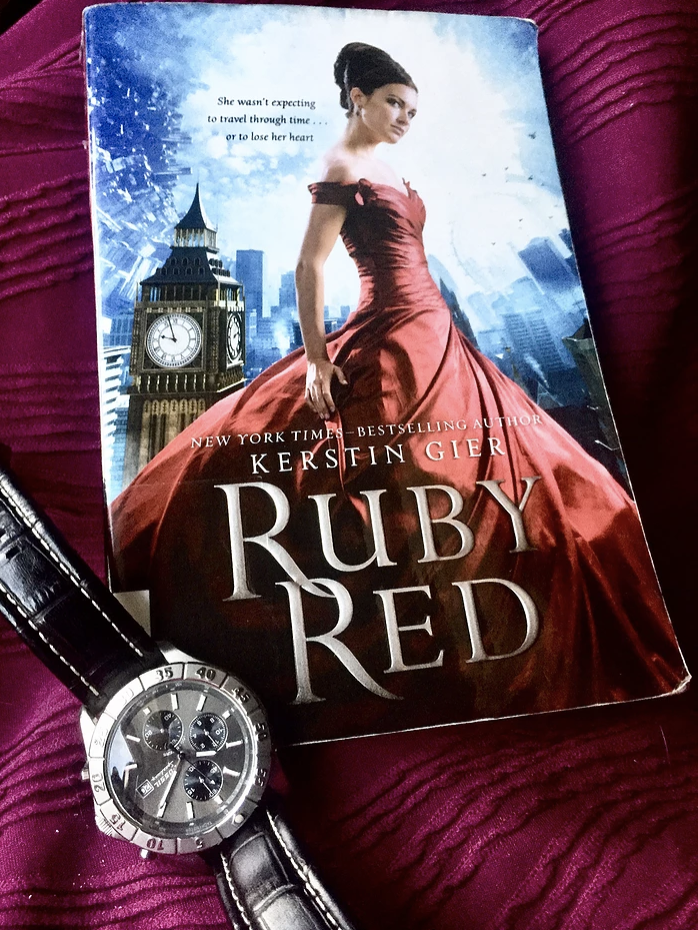 Ruby Red.
Kerstin Gier.
Translator, Anthea Bell.
Henry Holt and Co., 2011
352 pages
Trigger warning: blood, ghosts
About the Author: Kerstin Gier is the bestselling author of the Ruby Red trilogy, as well as several popular novels for adults that were first published in German and have since been translated into many other languages. Gier currently lives in Germany. Learn more here.
About the Translator: Anthea Bell OBE is an English translator who has translated numerous literary works, especially children's literature, from French, German and Danish to English. She is known for her numerous translations, including Austerlitz, one of the most significant German language works of fiction for the period since World War II, and of the French Asterix comics along with co-translator Derek Hockridge.
Even if my grandfather were alive now, he could hardly recognize me when he hadn't met me yet…Okay, I'd just ring the bell and ask for shelter for the night. The only question was how to go about it. 'Hello, my name is Gwyneth, and I'm Lord Lucas Montrose's granddaughter, but he may not have been born yet.' I couldn't expect anyone to believe that.
All her life, Gwyneth lived a moderately, awkward life while her cousin, Charlotte, trained in the styles of being a lady. Charlotte learned languages, how to dress, and all about historical occurrences and dates. All the things someone born with a time-traveling gene would need to know. Too bad somebody messed up and shortly after her sixteenth birthday, Gwyneth time-travels instead. Exciting right? Who wouldn't want to be able to time travel? To be apart of a secret society? To not be able to control what time you travel to unless you donate blood and put it in this thing called a chronograph and also a secret society called the Guardians need your blood in order to find out some major secret to the universe? Still interested?
Gwyneth has entered a world she never signed up for but was born into by blood. She is one of twelve time-travelers and she is the last. Now she just has to learn everything that Charlotte has learned over the past ten years in a day and she has to figure out whether or not her "partner," Gideon, is on her side or if he only cares about the will of the Guardians. Simple right?
Gier's story tackles all the problems of adolescence along with the added troubles and wonderments of time-travel. Get ready to fall in love with this German lady and to be incredibly grateful to Anthea Bell for translating this trilogy. Ruby Red is a book about prophecies, ghosts, and gargoyles. It's a book with twists and turns around every dark corner. Its secrets will drive you crazy all the while keep you begging for more. What is the magic of the raven and just how far back will Gwyneth have to travel to find out?

PRR Writer, Julia Shelton