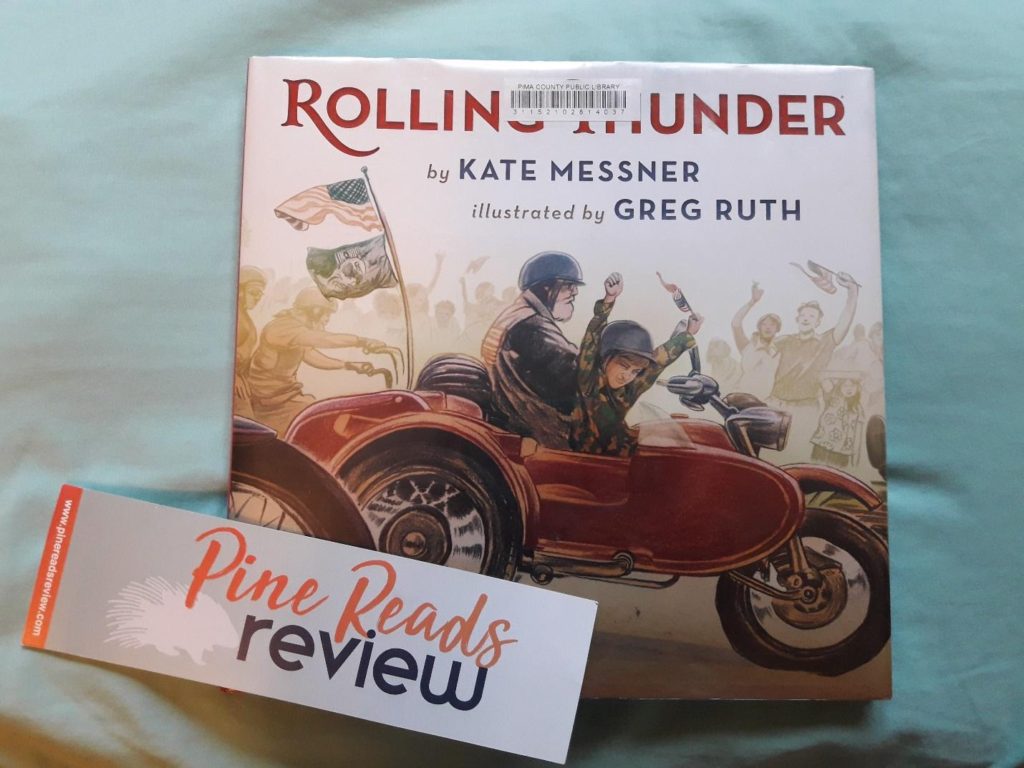 Rolling Thunder by Kate Messner
Illustrated by Greg Ruth
Scholastic Press, 2017, 32 pages
Trigger Warning: loss, remembering fallen soldiers
About the Author: Kate Messner is a full-time children's book author based in New York. She writes books that encourage children's curiosity while introducing them to real-world issues. Some of her titles include The Brilliant Deep, Over and Under the Pond, Breakout, and the Ranger in Time series. Her novel, The Brilliant Fall of Gianna Z, won garnered the E.B. White Read Aloud Medal. You can find more about her at katemessner.com.
Social Media:
Twitter: @KateMessner
Facebook: Kate Messner
About the Illustrator: Greg Ruth is a bestselling author and illustrator best known for his comic book work. He publishes through a variety of venues including the New York Times, DC Comics, Dark House, Hyperion and CNN, just to name a few. His other children books include Our Enduring Spirit; Red Kite, Blue Kite and A Pirate's Guide to First Grade (and Recess). He lives in Massachusetts, and you can find more about him at gregthings.com.Social Media:
Twitter: @GregRuth
"For soldiers lost in other days/ POWs, MIAs/ for soldiers serving still today/ missing families far away."
Each year, the Rolling Thunder Ride for Freedom brings together veterans and their loved ones, a motorcycle ride to honor American veterans and remember those lost during their service. In Rolling Thunder, Messner and Ruth pay tribute to this event, creating a story that takes readers into the action of the ride.
Messner provides rich, rhyming text that warmly remembers fallen veterans and urges readers to "never forget" their service, even if these individuals did not return home. Ruth, in turn captures vignettes of the event focused on one little boy and his experiences, riding for his uncle and with his grandfather. The angles of the illustrations plant the reader at the center of the ride, and the coloring of the illustrations is reminiscent of family and patriotism.Rolling Thunder is a great read for children with families impacted by military service, and to teach kids about the importance of supporting and remembering our veterans. The story is a sincere and respectful tribute, with lyrical prose to cherish year after year.
PRR Writer, Mandy Becker
Pick up your copy here!