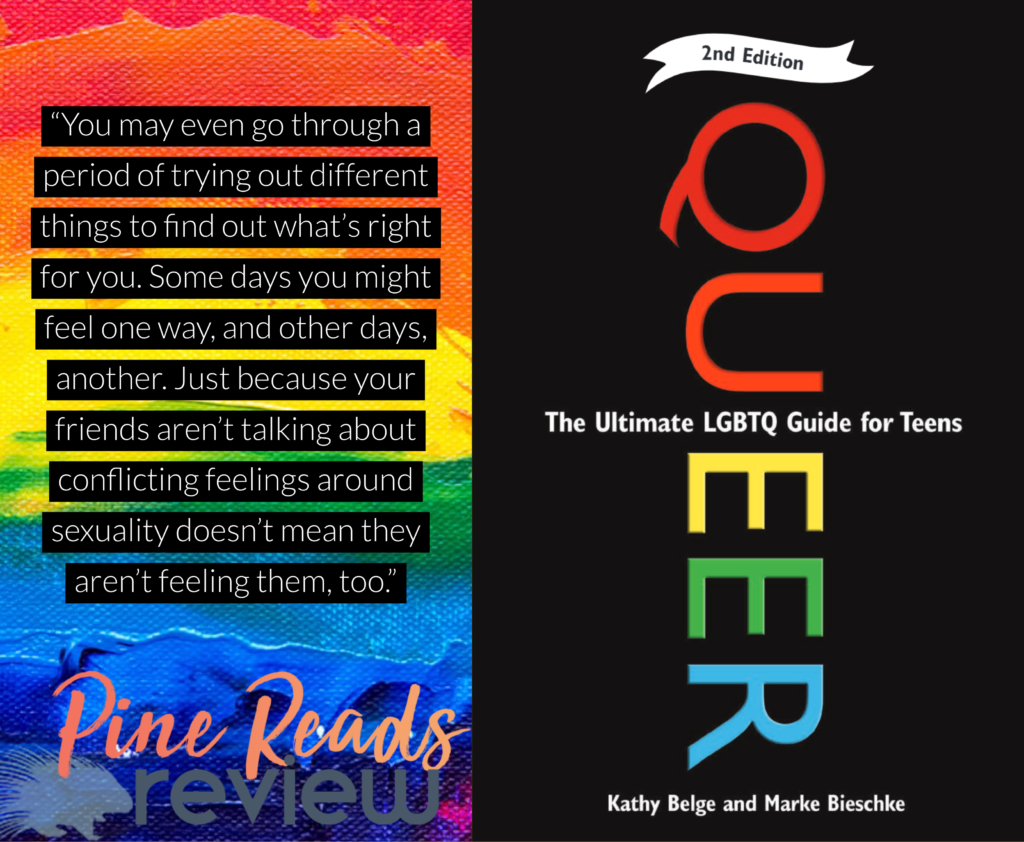 Queer, 2nd Edition: The Ultimate LGBTQ Guide for Teens by Kathy Belge and Marke Bieschke
Zest Books, 2019, 208 pages
Trigger warnings: Informational mentions of abuse, sex, and suicide
About Kathy Belge: Kathy Belge has been a freelance writer since 2003 specializing in the LGBT community. She co-authored the book Lipstick and Dipstick's Essential Guide to Lesbian Relationships and wrote the monthly advice column Lipstick & Dipstick for Curve magazine for 11 years. She's worked extensively with queer youth and was the director of the Sexual
Minority Youth Resource Center, Oregon's largest program for LGBT teens. Kathy lives in Portland, Oregon.
You can follow Kathy on Twitter at @KBelge or visit her website at http://www.kathybelge.com.
About Marke Bieschke: Marke Bieschke, a.k.a. Marke B., is the publisher of 48hills.org, a San Francisco-based news + culture site. As a journalist and writer, he covers a wide array of topics including queer issues, health news, youth culture, nightlife, and the arts. He is a curator at the GLBT History Museum and writes for several gay newspapers and websites. Formerly, he was the publisher of legendary alternative weekly newspaper the SF Bay Guardian, and health and dating editor at Gay.com and PlanetOut.com. Originally from Detroit, Marke lives in the Lower Haight area of San Francisco with his husband David.
You can follow Marke on Twitter at @supermarke or visit his website at http://markebieschke.com.
"You may even go through a period of trying out different things to find out what's right for you. Some days you might feel one way, and other days, another. Just because your friends aren't talking about conflicting feelings around sexuality doesn't mean they aren't feeling them, too."
Queer is a comprehensive guide to most things LGBTQ+ related, from definitions of a variety of sexualities and gender identities to questioning whether you're ready to have sex as a queer-identifying teenager. Sprinkled throughout the anthology are narrative anecdotes from people of varying backgrounds and identities, statistics about queer life, blurbs about queer history, and questions to ask yourself about your identity and relationships. At the end of the anthology is a helpful resource guide including information and links to queer organizations, religious websites, and a selection of both fictional and informational books.
This is an exceptionally valuable book for any teenager, questioning or not. Queer covers a range of topics, like how to start figuring out your sexuality, how to come out, finding your community, dealing with queerphobia, dating, relationships, and sex. While it's informational and doesn't sugarcoat the bits about sex or abuse, the anthology manages to have an overall light tone that's inviting for all teens. Queer reinforces the idea that it's okay to question your identity, and even more, it's okay to not have everything all figured out. Positive messages like "be authentic to your true self" are laced throughout the book. This book would do well in any classroom, library, or bookshelf. Family, educators, and teens alike will benefit from reading Queer.
PRR Writer and Web Editor, Caroline Ross
Pick up your copy here!