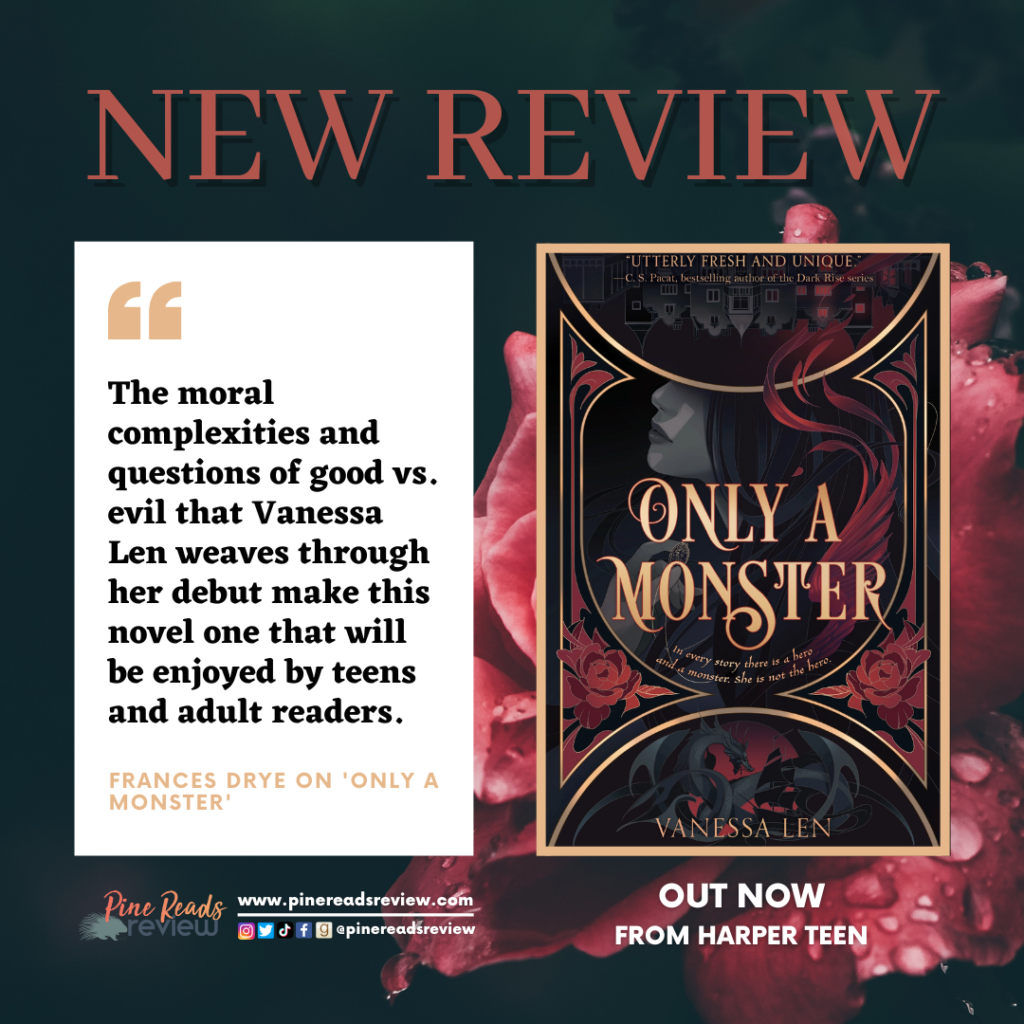 Only a Monster by Vanessa Len
Out February 22 from Harper Teen; 416 pages
Content Warning: Violence, blood, murder, death, death of parents/family members, drug use, racism, xenophobia, torture
About the Author: Vanessa Len is an Australian author of Chinese-Malaysian and Maltese heritage. An educational editor she has worked on everything from language learning programs to STEM resources to professional learning for teachers. Vanessa is a graduate of the Clarion Workshop in San Diego and she lives in Melbourne. (Bio provided by the author.)
Find Vanessa Len on the following platforms:
---
"You're a hero and I'm a monster," she whispered. "There's only one way that story ever ends."
Joan Chang-Hunt wants nothing more than an enjoyable summer in London with her mother's slightly peculiar family. However, her vacation takes a remarkable turn when she discovers that a dangerous magic is passed down through her family: a family of monsters. Suddenly her summer has become a whirlwind of danger and adventure because her closest relatives are not who she thought they were. And her adorable crush from work? He's a famous monster hunter. Joan must team with the devastatingly handsome and shockingly ruthless Aaron Oliver, a member of a rival monster family. If she wants to save the people she loves, Joan will have to learn to use her powers and come to terms with who she is, while trying to discover if she's the hero or the villain of her own story.
Vanessa Len has created a book of ill-fated romance, captivating characters, and thrilling time travel adventures. Only A Monster is a novel that I can't stop thinking about, even long after reading it. Vanessa Len's debut is a sparkling addition to the YA genre. She has brought to life a magical underground world that coexists within London. Only A Monster follows a group of characters that are objectively villains, and Len does not try to erase that truth. She does an amazing job of humanizing those characters without excusing their destructive behavior. The main character is an absorbing and complicated heroine; her characterization as a monster protagonist makes Joan someone that I was fascinated by. Joan struggles with who she wants to be and who she must be in order to save the people she loves. The moral complexities and questions of good vs. evil that Vanessa Len weaves through her debut make this novel one that will be enjoyed by teens and adult readers.
(Pine Reads Review would like to thank NetGalley and the publisher for providing us with an ARC in exchange for an honest review. Any quotes are taken from an advanced copy and may be subject to change upon final publication.)
PRR Editor and Writer Frances Drye
---