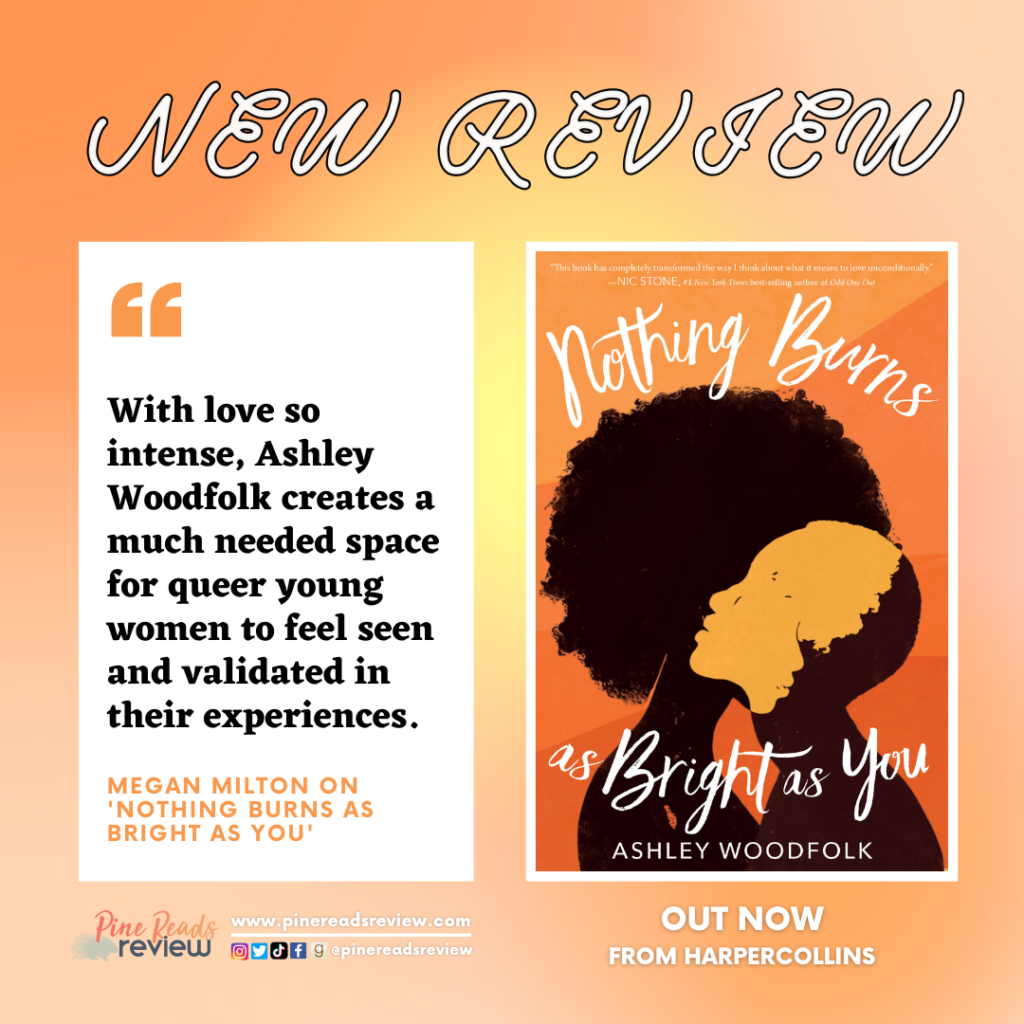 Nothing Burns as Bright as You by Ashley Woodfolk
Out now from HarperCollins; 288 pages
Content Warnings: Arson & pyromania, police, racism, toxic relationships, absent parents, sexual content, drug use, alcohol use, underage drinking, strong language, depression
About the Author: "Ashley Woodfolk has loved reading and writing for as long as she can remember. She graduated from Rutgers University and worked in children's book publishing for over a decade. Now a full-time mom and writer, Ashley lives in a sunny Brooklyn apartment with her cute husband, her cuter dog, and the cutest baby in the world. Her books include The Beauty That Remains, When You Were Everything, Blackout, the Flyy Girls Series, and Nothing Burns as Bright as You." (Bio taken from author's website)
Find the author on the following platforms:
---
"The push and pull has always been a part of us.
The running away. The coming back.
But I am only realizing, in this moment, that I haven't moved.
I've been standing here,
Loving you,
This whole time. "
For two best friends, this year has been a dumpster fire– while one copes with major depression, the other shuts down emotionally due to her chronically absent parents. The only highlight? They've had each other by their side the whole time. But when the lines between friendship and romance begin to blur, their relationship quickly turns treacherous and an all-encompassing love begins to devour them whole. Without an outlet for emotions that often run high, they begin to set fire to everything around them – literally and figuratively – but there might not be much left when the ash settles. They'll answer the question: How much can change in a day?
This book is a love letter to BIG feelings and that specific kind of teenage melodrama that roots itself deep in your chest. This relationship is so perfectly complemented by the novel's use of verse, which speaks to the visceral quality of hormone-injected first love. This kind of love is famously a breeding ground for toxic relationships and heartbreak which is what makes Nothing Burns as Bright as You such a vital read. With love so intense, Ashley Woodfolk creates a much-needed space for queer young women to feel seen and validated in their experiences. All too often LGBTQ+ fiction situates itself on either side of a polarized spectrum: queer fairytale, or homophobia-induced trauma. Here, Woodfolk opts for something much more fluid. She depicts a relationship where their queerness is casual, and the contentiousness is the result of two passionate, deeply in-love individuals who just can't seem to find equal ground. At the heart of this work lies the power that resides in knowing your wants, desires, and most of all, your needs when navigating emotionally volatile terrain.
PRR Writer & Editor, Megan Milton
---