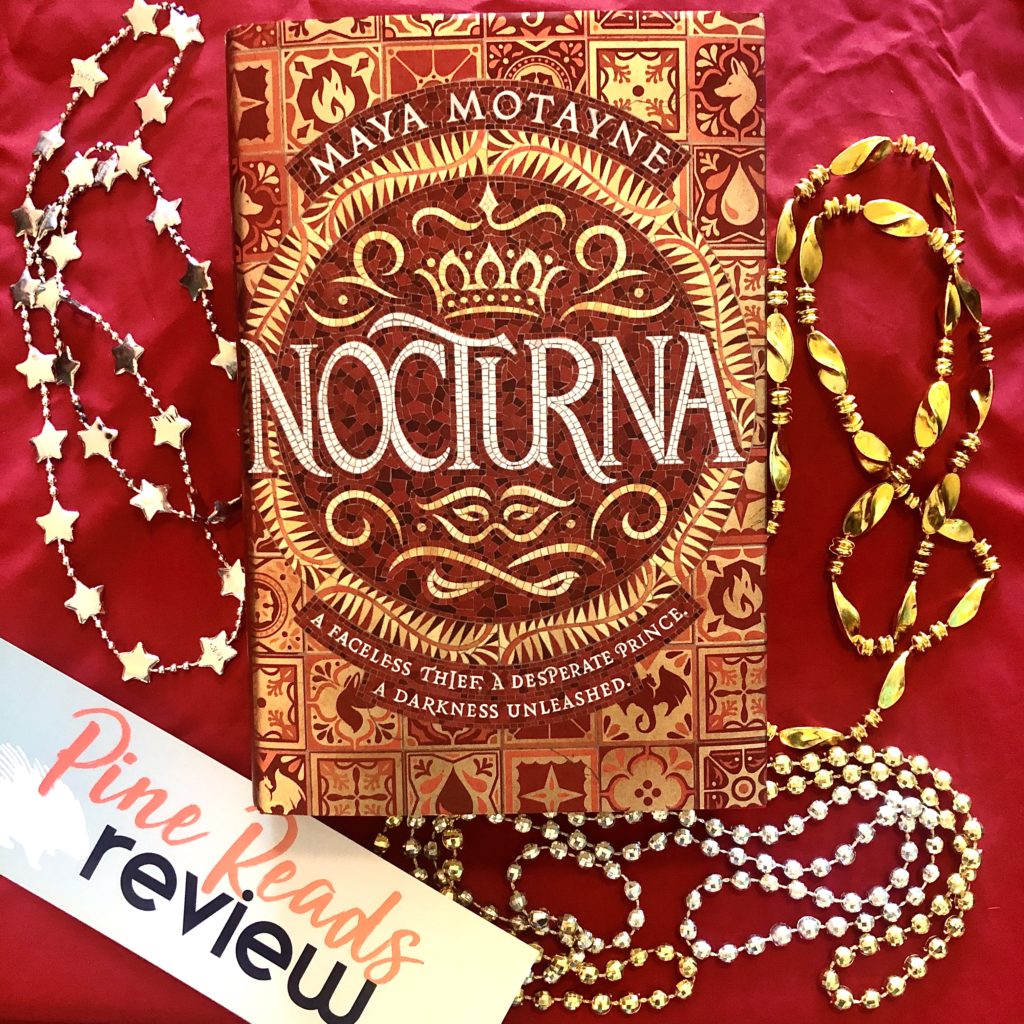 Nocturna by Maya Motayne
Balzar + Bray, 2019, 471 pages
Trigger Warnings: Parental abuse, gore, alcoholism, death of a loved one
About the Author: Maya Motayne thought of herself as a writer long before she could even read. She spent her elementary school years carrying around a notebook full of what she called her 'million dollar ideas,' though it was mostly full of doodles and scribbles. She pursued degrees in English Language and Literature and Creative Writing at the University of Maryland, College Park. After that, she worked as an editorial assistant at Random House Children's Books for just under two years before leaving to write full-time. Though she was born and raised in Maryland, she likes to think that three years in New York makes her an official New Yorker now. She spends her days writing and pursuing her passions of petting as many dogs as possible and buying purses based on whether or not she can fit a big book in them. (Bio taken from the author's website.)
Website: https://www.mayamotayne.com
Instagram: @mayamotayne
Twitter: @mayamotayne
Hashtag: #Nocturna
"Her voice echoed loud in his head, drowning out his thoughts: I know the difference between 'could' and 'will.' Those words spell the difference between a good man and a bad one. The light and the dark. I know which you turn to. He hadn't lost himself to the dark yet, and he wouldn't do it now."
Prince Alfehr of Castallan has a major problem. While dabbling in forbidden magic, he accidentally released a terrifying, ancient power that might just devour the entire world if not contained. Now, he's forced to recruit the help of faceshifter thief, Finn Voy, who has her own massive problems to deal with, including the fact that someone dangerous from her past has resurfaced specifically to hunt her. With the fate of the world in their hands, Alfie and Finn must figure out how to work together to defeat the horrifying power that's been released, even though it will mean facing the darkness that lies within themselves and their pasts.
This book was a wild ride and a magical journey packed into a plot that constantly kept me on the edge of my seat. Motayne's meticulous development of this specific type of magic was so thorough that I felt as if I understood this world from the very beginning. The country of Castallan and the capital city of San Cristobal were both breathtakingly original but also so very familiar. Motayne wove Latinx culture into every page, from the Spanish words incorporated into the dialogue to the architecture looming above the characters, creating a rich fantasy world. This book had a great balance between action, relationships with friends and family, and inner battles to find oneself. Although it was a longer read than some, it kept my interest the entire time, and by the end of the book, I was so invested in Finn and Alfie's fates that I couldn't put the book down for a second. The sequel, Oculta, will be released later this year, and I can't wait to dive back into this world and join Alfie and Finn on some more adventures. Nocturna is a wonderful read for fans of magic and fantasy.
PRR Writer, Wendy Waltrip
Pick up your own copy today!