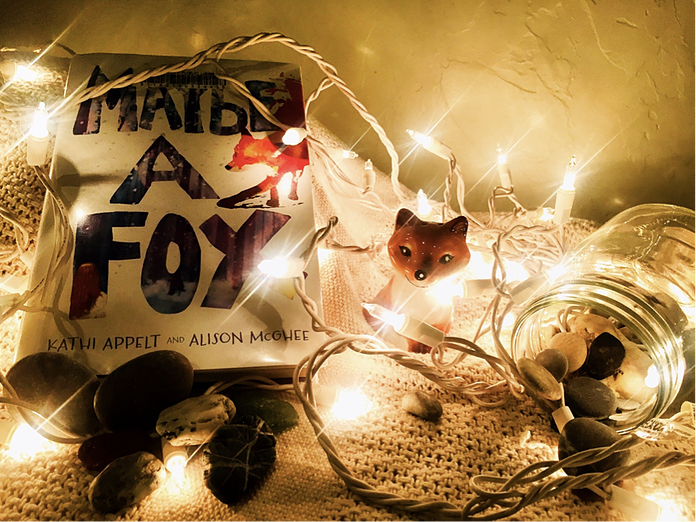 Maybe a Fox
Kathi Appelt
Atheneum/Caitlyn Dlouhy Books, 2016
272 pages

Trigger Warnings: dealing with loss

About the Author: Kathi Appelt's books have won numerous national and state awards, including the Irma and Simon Black Award, Children's Choice Award, and a host of others.
Her first novel, The Underneath, was a National Book Award Finalist and a Newbery Honor Book. It also received the Pen USA Award, and was a finalist for the Heart of Hawick Children's Book Award.
Appelt is married to Ken, a musician and all around nice guy. Together they have two grown sons, Jacob and Cooper. Both of them are musicians too. They also share their home with six cats: Jazz, Hoss, D'jango, Peach, Mingus and Chica. Also, she serves as a faculty member at Vermont College of Fine Arts in their MFA in Writing for Children and Young Adults program.

Alison McGhee is the author of Someday, a #1 New York Times bestseller, and her Pulitzer Prize-nominated novel Shadow Baby was a Today Show Book Club pick. Her work has been translated into more than 20 languages and has won many fellowships and awards. McGhee has taught creative writing at Metropolitan State University, Vermont College, Hamline University's MFA program, and on her own. Pablo and Birdy, a children's novel, and Never Coming Back, a novel for adults are her most recent books.

"Sylvie had only one wish, and it burned so hard that Jules was sometimes afraid to touch her sister's wish rocks, afraid they would scorch her from the force of that one wish, which was always the same: Run faster. Sometimes she would add faster than a deer. Sometimes she would write faster than a comet. And sometimes: faster than a rocket."

Sylvie loves running. Loved running. Loves running? Sylvie is missing. Jules, her little sister, is left behind. All Jules can think of to do is to find the Grotto, a cave-like place where if you put your wishing rock, it just might come true. Jules needs Sylvie, needs to find out why Sylvie always needed to be faster. Jules only wants to catch up and she'll keep searching until she can. She's the "Rock Girl," the girl who knows every kind of rock and stone. She'll find the Grotto, for Sylvie.
Senna is a baby fox, born in the dead of winter. On her many adventures through the woods she often sees Jules, always calling for a Sylvie. What is a Sylvie and why does this girl call for one so sadly?

Appelt and McGhee weave a beautiful, fantastical story that intertwines the lives of so many, touching upon themes of how strong a family's bond can be and of how nature finds a way to take care of us. The story follows Jules and Senna and how a young girl and a young fox have more in common than you may think.

The biggest take-away from this story is that sometimes we aren't running to get away, sometimes we are running to find our purpose in this big, crazy world and we need to get there fast. This book will give you that adventure you may be running towards.

PRR Writer, Julia Shelton

Don't miss ourinterview with Kathi Appelt!