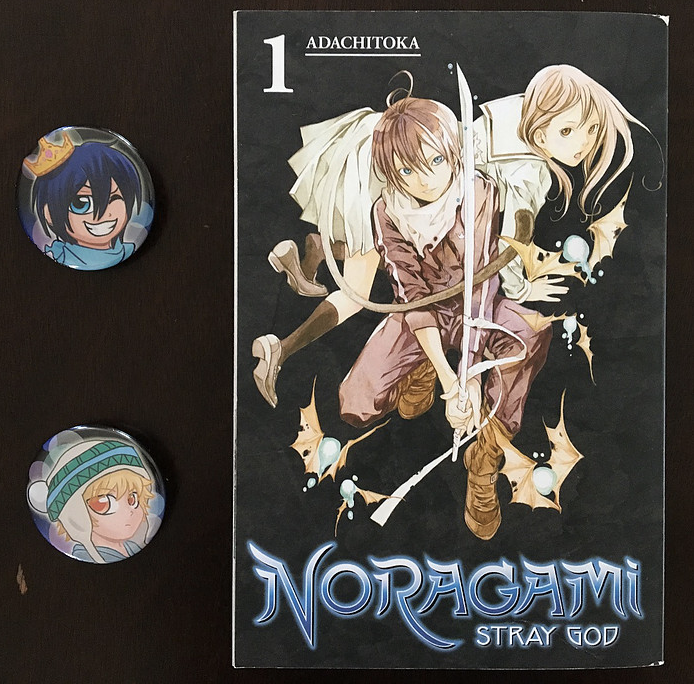 Trigger warnings: violence, bullying, some frightening & intense scenes, mild nudity (everything is conveniently covered by materials)

About the Authors: After graduating from college, Adachi and Tokashiki, better known under the duo pen name "Adachitoka," moved to Tokyo to become mangaka assistants to Motohiro Kato for the manga, Alive, which was serialized for seven years! Then in 2011, Adachitoka began working on their current project, Noragami, which was turned into an anime in 2014.
"Even if life is painful and tough, people should still appreciate what it means to be alive at all."

Noragami is a continuing eighteen volumes series surrounding Yato. As a minor god of calamity, Yato has zero followers and no shrine to his name. In an attempt to gain popularity and to save up for a shrine, Yato charges only five yen to grant wishes of the living, or the Near Shore dwellers. During one of his wish-granting missions, Yato is "saved" by a Near Shore girl named Hiyori Iki, whose soul frequently slips out of her body. Hiyori then commissions Yato into fixing her soul-slipping problem, creating a bond between the two. Soon after Yato meets a young wandering spirit, Yukine, whom Yato adopts as his Regalia (weapon). Together, the two work to destroy corrupted spirits known as Phantoms while Yato also continues his quest to become a famous god.

Rating: 5/5 stars

After a nine-month hiatus, Noragami authors Adachitoka have announced the continuation of the manga series in July 2018!

PRR Writer, Meghan Reinholz