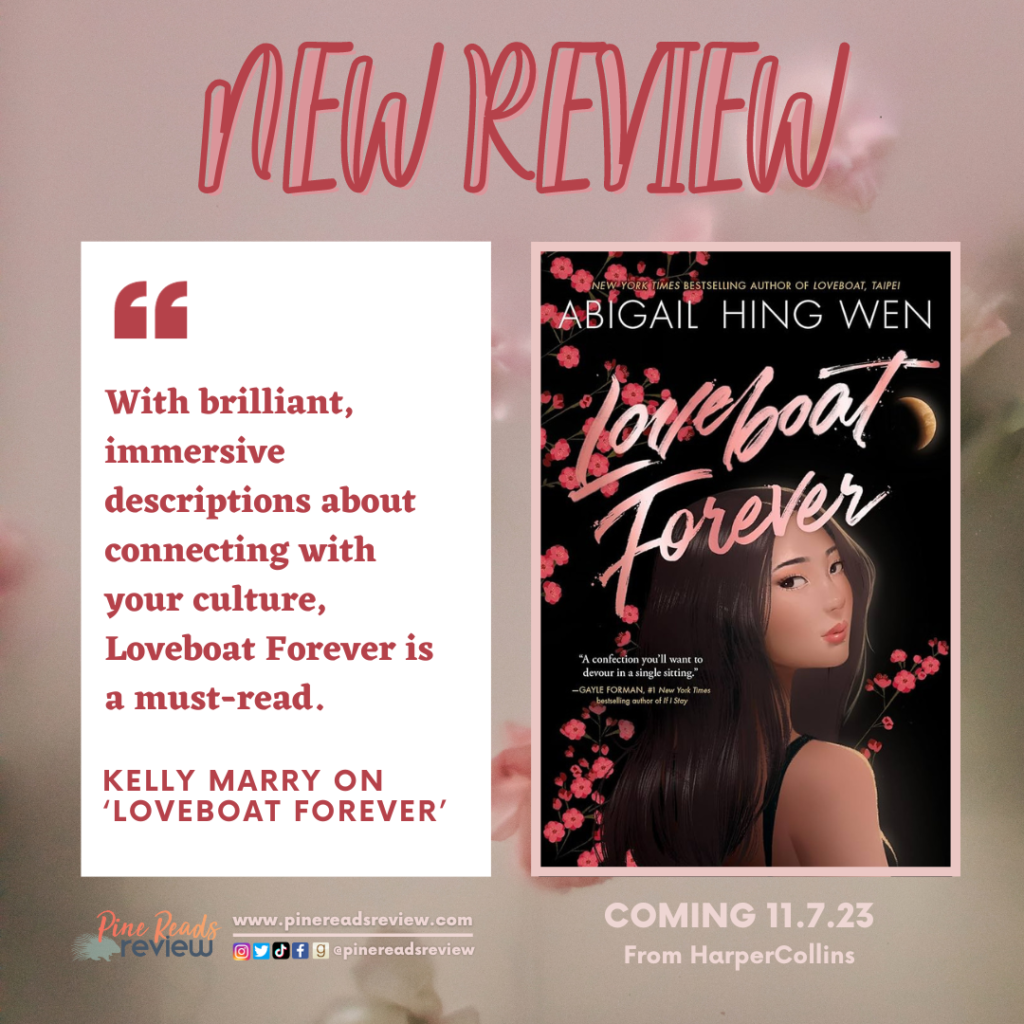 Coming November 7th, 2023 from HarperCollins; 400 pages
Content Warning: Racism
About the Author: "Abigail Hing Wen is the New York Times bestselling author and executive producer of Loveboat, Taipei, now a film "LOVE IN TAIPEI" with Paramount Plus. The companion novels, Loveboat Reunion follows Xavier and Sophie, and Loveboat Forever brings the whole gang back together six years later. Abigail holds a BA from Harvard, a JD from Columbia Law School, and an MFA from the Vermont School of Fine Arts, and, like some of her characters, is obsessed with musicals and dancing. When she's not writing stories or listening to her favorite scores, she is busy working in artificial intelligence in Silicon Valley, where she lives with her family" (Bio from author's Goodreads profile).
Find Abigail Hing Wen on the following platforms:
---
"Loveboat's working its magic. Changing my life in ways I never thought of before."
Pearl Wong, a 17-year-old piano prodigy, feels like she's on top of the world when she receives an invite to the prestigious New York Summer Symphony. However, when one mistake leads to the symphony rescinding its offer, she jets off to Chien Tan, an elite summer program in Taipei. To stay in the good graces of her agent and her thousands of TikTok followers, she uses a different name and tries to shy away from any attention. When Pearl settles in, she discovers that the elite school is not what it seems. It's filled with sneaking out, clubs, and parties. Stuck between wanting to please her agent and experiencing a new city, Pearl has to choose between living for herself or others.
When I first picked up the book, I didn't realize it was part of a trilogy, so I read it as a standalone. However, I will definitely be reading the first two books! Even though Pearl was reluctant to go to Taipei, it ended up being the best option for her. She opened up to new friends, immersed herself in the culture, and learned more about her cultural identity. The vivid descriptions of everything from the clothes people are wearing to Pearl's family's village were awe-inspiring. I cannot visualize when I read, so having clear descriptions made understanding everything easier. I loved learning more about Chinese culture, especially the instruments. Pearl takes a class about traditional Chinese instruments and even picks up an instrument called the pipa. She discovers that her great-grandma played it, so she feels more connected to her family. One aspect of the story I didn't like was the romance. Now, I am usually a sucker for romance and cannot read a book without it, but one trope I don't like is a love triangle. Pearl is super indecisive and gets mad at the two love interests, Ethan and Kai, for hypocritical reasons, like not being honest with her. I am happy about who she ends up with, but that's because the other character showed his true colors. Regardless, with brilliant, immersive descriptions about connecting with your culture, Loveboat Forever is a must-read.
Loveboat Forever releases on November 7th, 2023.
Pine Reads Review would like to thank SparkPoint Studio, NetGalley, & HarperCollins for sending us an ARC in exchange for an honest review. Any quotes are taken from an advanced copy and may be subject to change before final publication.
Kelly Marry, Pine Reads Review Social Media Co-Lead, Writer
---