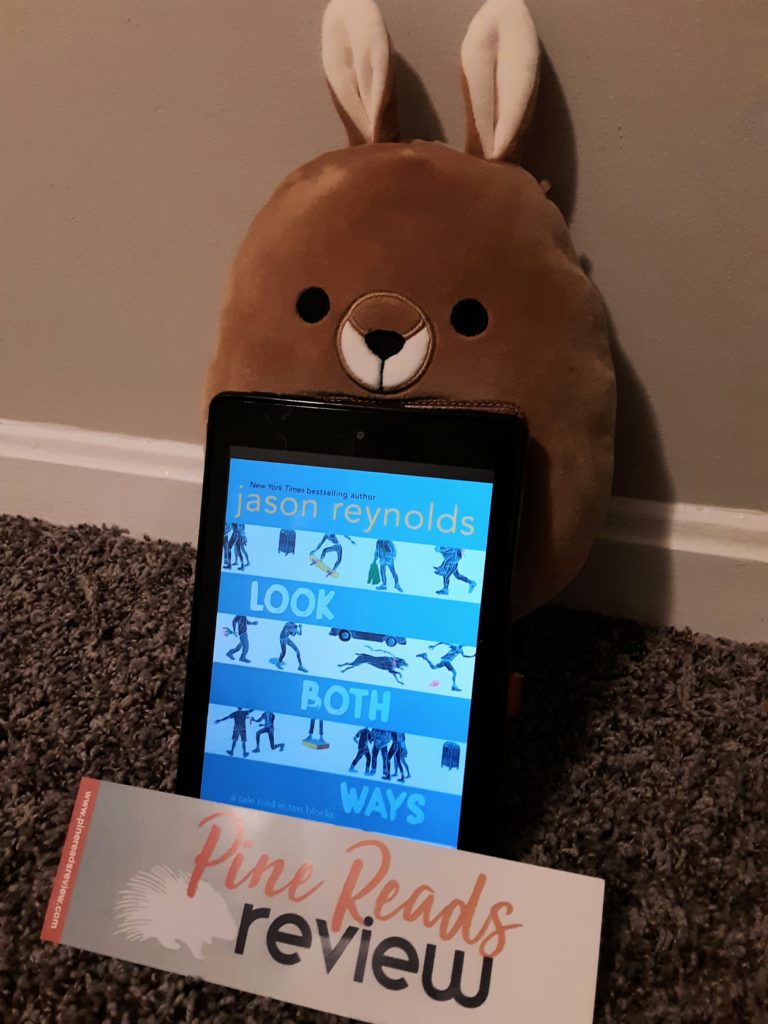 Look Both Ways by Jason Reynolds
Atheneum/Caitlyn Dlouhy Books, 2019, 204 pages
Trigger Warnings: School busses falling from the sky
About the Author: Jason Reynolds is a New York Times bestselling author, a Newbery Award Honoree, a Printz Award Honoree, National Book Award Honoree, a Kirkus Award winner, a two-time Walter Dean Myers Award winner, an NAACP Image Award Winner, and the recipient of multiple Coretta Scott King honors. The American Booksellers Association's 2017 and 2018 spokesperson for Indies First, his many books include When I Was the Greatest, Boy in the Black Suit, All American Boys (cowritten with Brendan Kiely), As Brave as You, For Every One, the Track series (Ghost, Patina, Sunny, and Lu), and Long Way Down, which received both a Newbery Honor and a Printz Honor. He lives in Washington, DC. You can find his ramblings at JasonWritesBooks.com.
"There was a lot to say, but nothing that needed to be said"
A lot can happen over ten blocks, whether its best friends practicing their secret handshake, skateboarders weaving through dangerous times, or even love and loss and everything else beneath the afternoon sun. This multi-faceted view of what happens after the last school bell rings takes shape over ten parallel stories, all working together, block by block, to build a neighborhood and its eclectic cast of young denizens. These stories, in all their humor and subtle nobility, take us along a bird's-eye view exploration of the complexity of childhood, from challenges to triumphs, and, most importantly, the sidewalks that weave in-between them. There is a lot to love on this journey, just make sure to keep an eye out for falling school busses.
Reynolds's world is colorful and kinetic, complex and interconnected, and like everything he creates—strikingly honest. Each story in this collection pulls at a different thread, steadily unwinding the intricate patterns of growing up in an urban environment, and is reminiscent of the previous works that have made him stand out as a singular voice for kids of this generation. Filled with running gags, delicate imagery, and a kind of short story structure that tests the definition of an anthology and leans toward a comprehensive story with reappearing characters, parallel story arcs, and unquestionably consistent themes, Reynolds has once again proven that his unique perception of an unseen generation has raised the stakes not only for YA authors, but for literary writers everywhere.
PRR writer, Joe Buckler
Instagram: @imwithjoebuckler
Pick up your copy here!