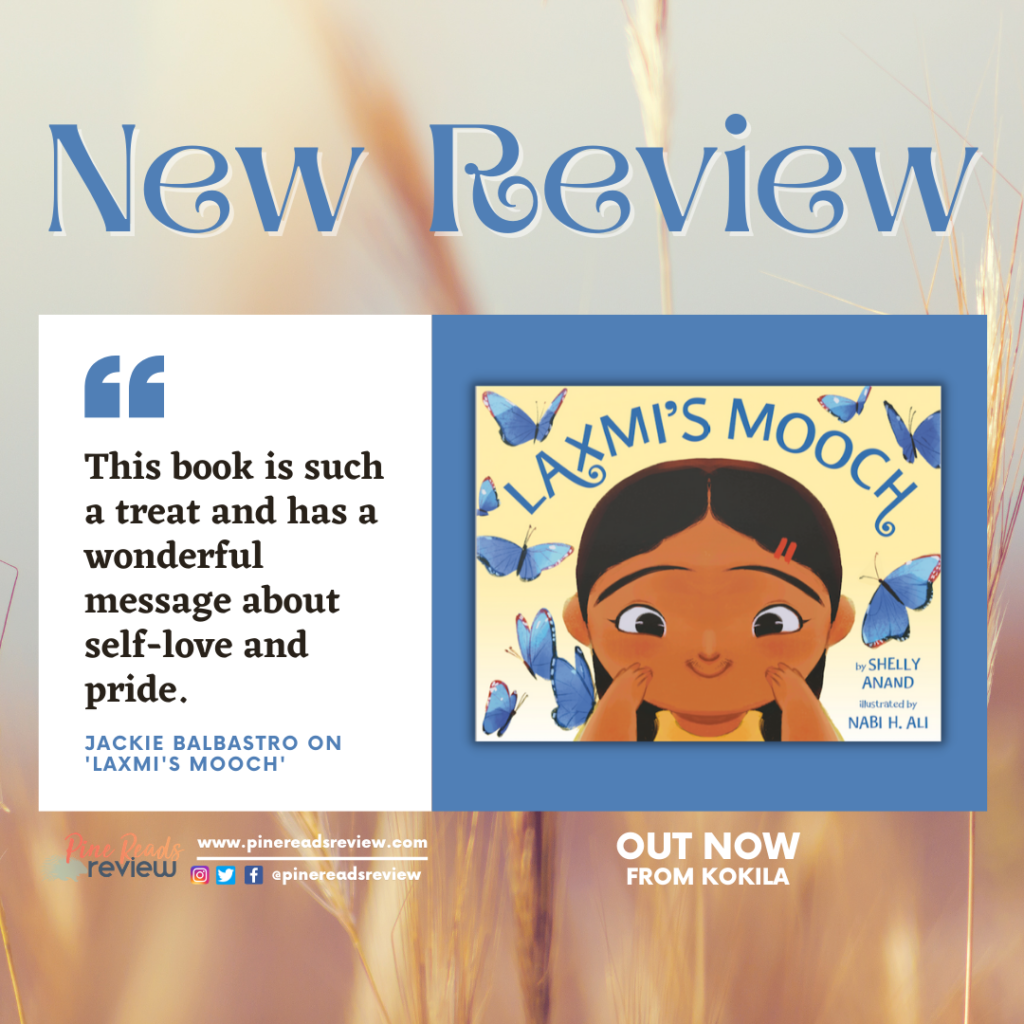 Laxmi's Mooch written by Shelly Anand and illustrated by Nabi H. Ali
Kokila; 2021; 32 pages
About the Author: "I was born and (mostly) raised in Georgia by immigrant parents from India. I am a civil and human rights attorney fighting for immigrants and workers from marginalized communities. I live with my husband and two super kewt, super badmaash kids, who don't put up with any bakwaas. No pets because my husband and son are allergic to everything. My debut children's book, Laxmi's Mooch, comes out in Spring 2021 and is inspired by my own experiences growing up and having a mooch that other kids noticed. I hope kids (and adults) reading the book can celebrate their mooches and body hair! Writing Laxmi and bringing her to life would not have been possible without the love of support of my family and my amazing agent and friend Saba Sulaiman. Also huge shoutout to my friend, web designer, and artist extraordinaire Jane Vora who made this amazing website and original artwork. Finally thank you to my pal, illustrator, and author Natalie Nelson, who zhuzhed up my headshot!" (Bio taken from author's website.)
Find Shelly Anand on the following platforms:
About the Illustrator: "Nabi H. Ali is a Tamil American illustrator who enjoys creating diverse works that showcase an array of cultures and people. He illustrates digitally, but he also has a secret love of inks, color pencil, and acrylic paints. His hobbies include drawing (of course), doll collecting, reading, learning about South Asian mythology and folklore, and researching history." (Bio taken from Anand's website
Find Nabi H. Ali on the following platforms:
---
"From Mughal empresses and stately ranis to village girls and city girls. Even your Nami and cousin Radha. Everyone has a mooch really."
While playing farm animals with friends at recess one day, Laxmi is told that she has the perfect features to play a cat. Laxmi has never really thought about the little hairs above her lip before, but she soon begins to notice hair all over her body and goes home distraught. However, with the help of her parents, Laxmi learns that body hair is normal and should be celebrated, regardless of where it is or what gender you are.
Laxmi's Mooch made me feel so affirmed as a girl who was made fun of for her own mini-mustache at a young age. I can recall hiding my arms, legs, and face as much as I could to keep this well-known secret from the world—I had hair and lots of it! Anand's sweet story and Ali's illustrations beautifully bring a diverse cast of characters to life in one of the many body-positive books coming out in the kidlit space. I love how Laxmi is proud of who she is, but needs comfort sometimes and by the end of the book, even empowers others. Regardless of her journey, I love that Laxmi never loses her shine. This book is such a treat and has a wonderful message about self-love and pride. The illustrations are lively, warm, and so fantastic that I can't wait to revisit this book again and again.
One of my favorite moments is when Laxmi's parents tell her about all the fabulous women who came before her with moochay, and how the hair on any part of our bodies is not something to be ashamed of. Additionally, I really love how Laxmi's Mooch doesn't include bullying, but rather only a moment of Laxmi second-guessing herself before inevitably loving who she is and sharing this love with the rest of her class. I hope more kids have the chance to read this book and know they are perfect—body hair and all. I am excited to see what Anand does next and will surely read anything she has coming out in the future.
PRR Writer, Jackie Balbastro