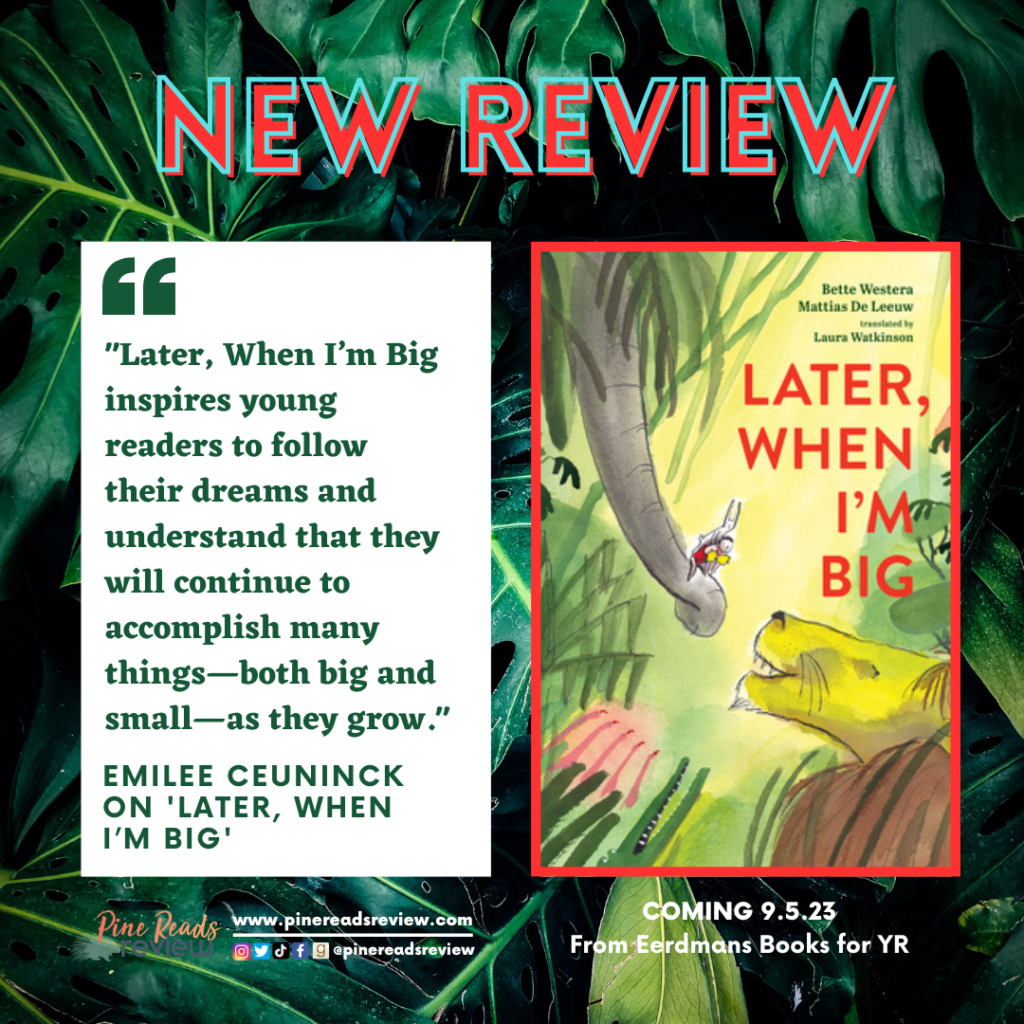 Later, When I'm Big by Bette Westera & illustrated by Mattias De Leeuw
Out September 5th, 2023 from Eerdmans Books for Young Readers; 40 pages
About the Author: "Bette Westera has written over fifty books for children, including novels, picture books, and poetry collections. She has also translated books by Dr. Seuss, Astrid Lindgren, and Julie Donaldson into the Dutch language. Bette lives in the Netherlands, where her books have received two Golden Pencil awards and six Silver Pencil honors" (Bio from the publisher's website).
Find Bette Westera on the following platform:
About the Illustrator: "Mattias De Leeuw (born 1989) is a versatile illustrator. He studied illustrative design at Sint Lucas Antwerp. In 2011 he graduated with the wordless picture book 'De stiltenloper'. Since then he has been working as a freelance illustrator for magazines, newspapers and publishers. He also makes sets for youth theatre" (Bio from the illustrator's website).
Find Mattias De Leeuw on the following platforms:
---
"Later, when I'm big, I'll dare to do lots and lots of things."
Later, When I'm Big transports readers straight into the whimsical mind of a child where anything and everything is possible. The narrator fantasizes about all of the adventures she will have once she grows up, including traveling to unfamiliar faraway places, spending the night in a spooky haunted castle, and petting a real-life polar bear in its natural environment. She places no limits on what she can accomplish and craves to expand her boundaries by pushing herself out of her current comfort zone. With colorful, immersive drawings, Later, When I'm Big is perfect for all young readers who dream big.
I adore that the picture book Later, When I'm Big empowers children to set aside their fears and think big by envisioning a world where nothing is an impossibility. The whimsical nature of the plot is a journey that inspired me to expand my horizons and be less closed-minded about what I can achieve and experience. This valuable life lesson encourages innovation and exploration in younger generations. Most of the activities include meeting young reader's favorite exotic animals accompanied by adorable illustrations. The narrator also fantasizes about other common dreams of children, such as swimming with mermaids and flying to other planets in a spaceship. I also appreciated the inclusion of feasible childhood goals in addition to the whimsical dreams, like swimming without needing floaties, jumping off a high diving board with your eyes open, and overcoming a fear of the dark by playing with the monsters and dragons that live under your bed. Highlighting these achievable objectives helps readers also to appreciate more mundane ambitions they may have as opposed to only seeking out whimsical pursuits. Later, When I'm Big inspires young readers to follow their dreams and understand that they will continue to accomplish many things—both big and small—as they grow. 
Later, When I'm Big releases on September 5th, 2023.
(Pine Reads Review would like to thank Eerdmans Books for Young Readers for sending us an ARC in exchange for an honest review. Any quotes are taken from an advanced copy and may be subject to change before final publication.)
Emilee Ceuninck, Pine Reads Review Lead Writer & Editor
---