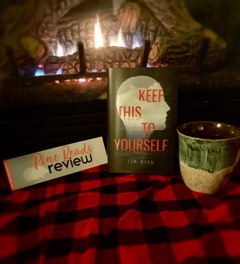 Keep This to Yourself by Tom Ryan
Albert Whitman & Company, 2019, 309
Trigger Warnings: Murder/serial killing, allusion to drug use, profanity, deaths of loved ones
About the Author: Tom Ryan is the author of several books for young readers. He has been nominated for a number of awards, and two of his young adult novels, Way to Go and Tag Along, were chosen for the ALA Rainbow List, in 2013 and 2014. He was a 2017 Lambda Literary Fellow in Young Adult Fiction. His 2019 release Keep This to Yourself was chosen by the Globe & Mail as one of the 'Globe 100: Books that shaped 2019.' Tom, his husband, and their dog currently divide their time between Ontario and Nova Scotia.
Website: http://www.tomryanauthor.com/media-kit
Instagram: @tomryanauthor
Twitter: @tomryanauthor
"I've figured something out- something important- and I really need your help. Meet me at the beach at midnight, and keep this to yourself."
Recent high school graduate Mac Bell and his friends Ben, Doris, and Carrie grew up in the tiny, coastal tourist town of Camera Cove. They had always envisioned graduating high school and moving on to bigger and better things together, but flash forward to the aftermath of the Catalog Killer and they barely talk anymore. Separated by grief, they each take a separate path in personal attempts to move on, but it's difficult when one of the victims was the fifth member of their childhood group, Connor. A year after the murders mysteriously stop, Mac discovers a harrowing note from Connor on the night of his death hinting that he had figured out who the killer was. He refuses to continue accepting the theory that the murders were committed by a drifter, so Mac takes it into his own hands to investigate and goes against the advice of everyone who tells him to just let it go and move on. Along the way, suspicion and intrigue develop, and Mac discovers a lot about himself, his friends, neighbors, and especially the handsome stranger who helps him throughout the journey. What really happened in Camera Cove?
The world Tom Ryan has created is realistically mysterious and comes packed with equally potent doses of thrill and impending danger. He skillfully spins a dynamic within his protagonist's psyche and interpersonal relations that keeps the reader on the edge of their seat wondering if the killer has actually disappeared forever, or if they are just around the next corner. In accordance with this, his convincing portrayal of grief and emotion contributes to the atmosphere of a tragedy-stricken town in the process of healing and regrowth. Ryan adeptly ties up every clue and stuffs his novel with anticipation, the possibility for young love, and a mind-boggling ending. Keep This to Yourself is just the type of mystery a young adult audience won't be able to put down as they investigate the murders and thirst for answers alongside Mac and his friends in Camera Cove.
PRR Writer, Machaela Raney
Pick up your copy today!