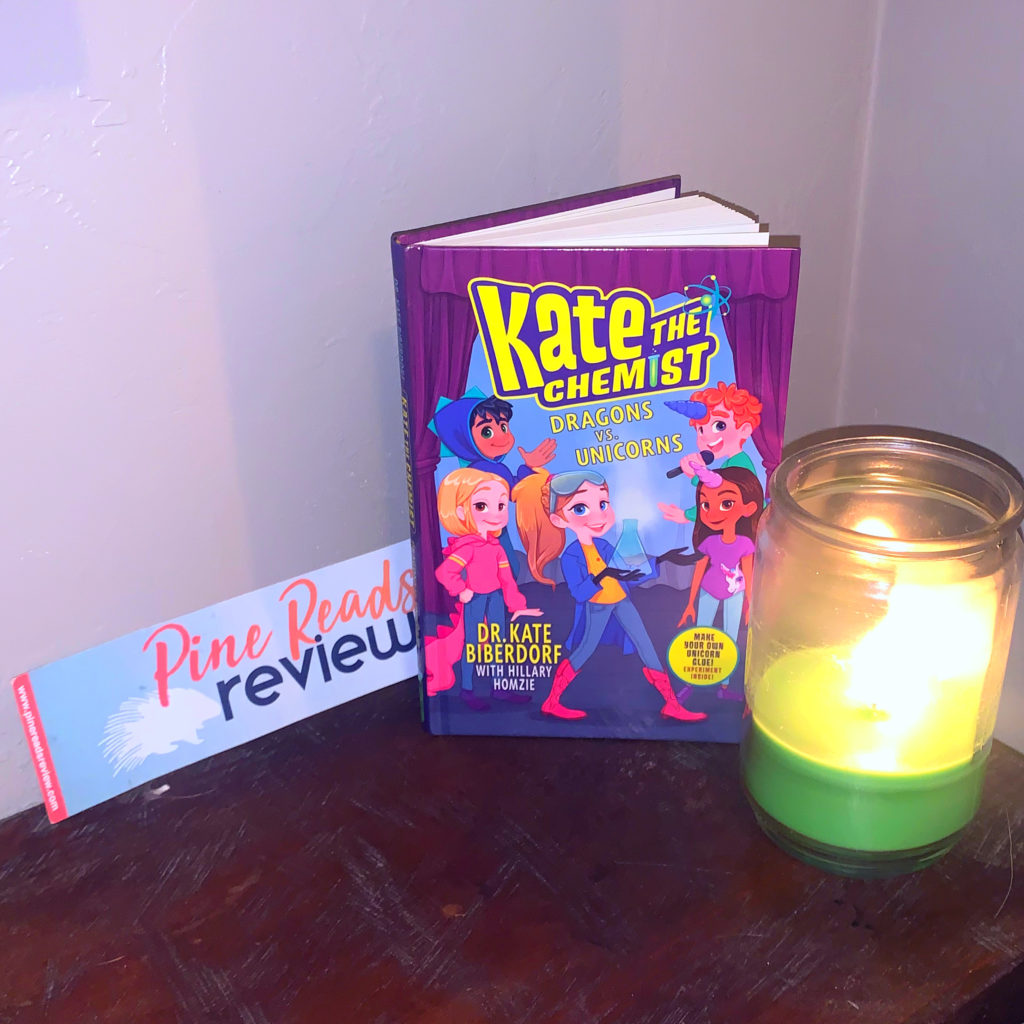 Kate the Chemist: Dragons vs. Unicorns by Dr. Kate Biberdorf (With Hillary Homzie)
Philomel Books, 2020, 144 pages
About the Author: Dr. Kate Biberdorf, also known as Kate the Chemist by her fans, is a science professor at UT-Austin by day and a science superhero by night (well, she does that by day too). Kate travels the country building a STEM army of kids who love science as much as she does. You can often find her breathing fire or making slime—always in her lab coat and goggles. (Bio taken from book)
Instagram: @KateTheChemist
Twitter: @K8theChemist
Website: KateTheChemist.com
"…Chemistry is way more than a bunch of facts in a book. Chemistry is what you eat, it's how you sleep, it's why shampoo stings your eyes in the shower. You can taste science, you can smell it. And you can watch it explode. And that was the reason I had to breathe fire."
Kate Crawford is a typical ten-year-old with a hankering for fun and science experiments. She loves riding bikes and playing with her best friends, but what makes her stand out the most is her love for chemistry. Chemistry is engrained in her thoughts every minute of the day, from making homemade brownies to getting glue that accidentally spilled on her mom's leather bag to come right back off. Kate and her best friends, Birdie and Elijah, want to make the most out of their five days of fall break, but tragedy strikes when their science teacher goes on vacation and Kate can't go to chemistry camp. The three put their heads together and decide on theater camp, where Birdie can be the lead unicorn, Elijah will work on lighting, and Kate can focus on becoming the assistant director. As roles are assigned and rehearsal begins, Kate uses her traits as a scientist to keep everything organized and running smoothly. But when things keep getting messed up and Kate notices that someone is sabotaging the show, something must be done to save fall break. With loads of teamwork and a whole bunch of energy, the children learn to work together to pull everything off…with just enough chemistry to hold the musical together.

Dr. Kate Biberdorf brings forth the perfect blend of unicorns, dragons, and science in her latest release. This book is a bright and action-packed read for a middle-grade audience and serves as the perfect first introduction to the basic topics of chemistry. Packed full of vocabulary words like "thermal shock" and "polymers," Biberdorf seamlessly blurs the line between school and fun, showing her readers that science can fun in and of itself and actually plays a huge role in the little things we do every day! Kate shows readers of any age that with determination and a whole lot of belief in ourselves, we can all work as a team to make the show go on.
PRR Writer, Machaela Raney
Pick up your own copy today!