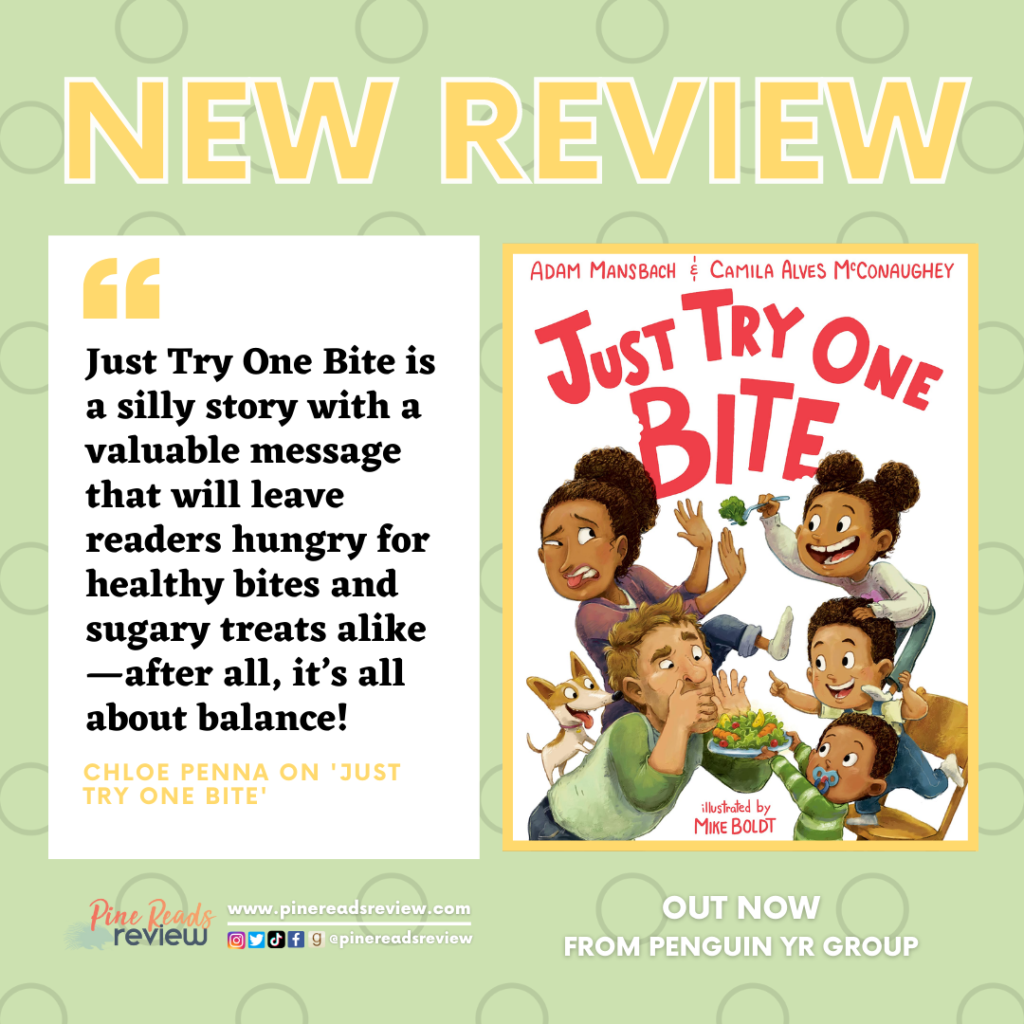 Just Try One Bite by Adam Mansbach & Camila Alves McConaughey, Illustrated by Mike Boldt
Out Now from Penguin Young Readers Group; 40 pages.
About the Authors:
"Camila Alves McConaughey is a dedicated mother, healthy eating advocate, entrepreneur, and founder of Women of Today, a lifestyle site and community powered by women around the globe. She lives in Texas with her husband, Matthew McConaughey, and their three children. Camila was a mushroom skeptic for 37 years, until a bowl of veggie Bolognese in 2020 turned her into a mushroom lover. Keep trying those veggies!" (Bio from the book.)
Find Camila Alves McConaughey on the following platforms:
"Adam Mansbach is the author of more than a dozen books for kids and adults, including the #1 New York Times bestseller Go the **** to Sleep and the award-winning Jake the Fake series. He also writes movies, drinks espresso, and cooks delicious meals for his three daughters at his home in Berkeley, California." (Bio from the book.)
About the Illustrator: "Mike Boldt is an author and illustrator from Canada. His books include Bad Dog and Find Fergus, as well as the I Don't Want to Be a Frog series, written by Dev Petty, and How to Grow a Dinosaur, written by Jill Esbaum. And while Mike really enjoys them now, just one bite of Brussels sprouts used to make him gag." (Bio from the book.)
---
"So how about this:
I'll make you a deal.
Can you just try one bite
And see how you feel?"
This prose picture book offered a hilarious twist on a dreaded parent/child interaction. Instead of parents trying to convince their kids to try new foods, Just Try One Bite follows three young children as they ask, beg, and demand their mother and father to change their unhealthy eating habits. Colorful illustrations depict such treats as "mustard and custard and chicken-fried steak" as well as the "whole foods or help-you-to-grow foods" that the kids are bargaining for. The parents' expressions capture their disgust towards the idea of vegetables as they wail and scream and behave like toddlers, while their young kids frustratedly present their logic. There are negotiations and mild threats, promises and pleas, until eventually the hard work of the children pays off, and they all learn about the beauty of a balanced meal.
This story resonated with me—growing up as a picky eater, there's no way I would have tried any of the foods in the book that the kids were eating. Nowadays, I love vegetables! It was so fun seeing the journey towards discovering new foods depicted in such a humorous and exaggerated way in this book. The illustrations are so expressive and detailed, and really make the story shine. I'm always impressed by stories that manage to maintain a rhyming scheme, and while some of the lines may have been a bit of a stretch in this story, they were amusing enough to make up for it. Just Try One Bite is a silly story with a valuable message that will leave readers hungry for healthy bites and sugary treats alike—after all, it's all about balance!
PRR Writer & Editor, Chloe Penna
---