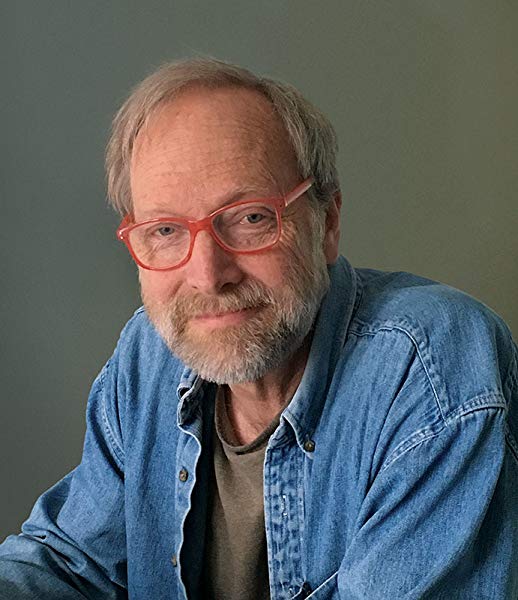 Some people start out with a simple idea that becomes complex or flashy, some immediately start off with the complex, and others keep it simple because there is still beauty in simplicity. No one understands that more than Michael Hall whose whole art style and taste revolve around art that is beautiful because it is simple.
Michael Hall is the author/illustrator of The New York Times bestseller, My Heart Is Like a Zoo, as well as the critically acclaimed Perfect Square, It's an Orange Aardvark, Red: A Crayon's Story, and Frankencrayon.
Before becoming a children's author, Michael had a career in the Biomedical field due to his interest in nature and when he thought becoming a writer wouldn't work because of his dyslexia. Wanting to change it up a bit, he went back to school and took up graphic design, thus becoming an award-winning graphic designer whose work has been widely recognized for its simple and engaging approach.
Michael currently lives in Minneapolis, Minnesota.
To know more about someone an interview is the best way to make it happen, and in this interview one can expect to find out Hall's inspirations, thought/creating process, advice, and upcoming releases for 2017.
To start off, in many interviews you state how you have always wanted to be a writer, was there a book, person, or song that encouraged or inspired you to want to be a writer?
As a child I was interested in the songs I would sing with friends or family in school or around a campfire during the summer; like "I know an old woman who swallowed a fly" or "Where Have All The Flowers gone."
Later, Bob Dylan and Neil Young, to name a couple of musicians, became important sources of inspiration.
After reading Shel Silverstein's The Giving Tree over and over, I couldn't help imagining myself making picture books.
As I think about it now, making things that one could return to over the course of a year, or over the course of a life, seemed important somehow.

If you could choose to hang out with any celebrity (dead or alive) who would it be, what would you do, and where would you go?
Being a person who puts a lot of thought into trivial things, I'd like to meet Alan Faye. Who is he, you ask?
In the early 1970s, I listened to the Woodstock album so many times that I memorized the stage announcements. One announcement — a message to a man named Alan Faye, about his friend who was ill — stuck with me over the years. I enjoyed the way the announcer finished with a few words that were urgent yet polite and wrapped in the vernacular of the day: "Alan Faye, please come to the information booth. It's a bummer, please."
I'd like to go for coffee with Mr. Faye and ask him how his friend is doing.

Red: A Crayon's Story deals with a political issue about gender and angered The Wall Street Journal (I applaud you). Do you think you will be tackling other political issues.
That's an interesting question.
I try to avoid having any idea of what a story will be about when I begin a project, so it's difficult to predict what subjects I'll address in the future. But political issues tend to gurgle up as I work on my books. Frankencrayon always seemed to me to have an anti-war subtext. And It's an Orange Aardvark became, for me, a primer on scientific method, which has become political as scientific illiteracy has made it difficult to address many contemporary problems such as global climate change.
So, although it might not be obvious, I imagine controversial issues will continue to seep into my work.
Perfect Square was the second picture book of yours that I read and found completely fascinating. When you were playing around with the pieces of the square, were you already thinking about how all the creations would connect together at the end or was it a coincidence that each creation fit together?
The original story, which I wrote for my daughter, sat in a drawer for several years before the ending occurred to me. I had already worked out most of the square's transformations, but the new ending required the addition of a river and a fountain.
I had developed the other transformations by manipulating a square without a preconceived notion of what it would become, so working with an end in mind seemed backwards to me. The fountain was particularly difficult — even though the end product seems obvious.
What inspired the plot, reader interaction, and lesson in Frankencrayon?
What became Frankencrayon, began as "Hazelnut Saves The Day," a story about a group of well-meaning crayons' attempts to unscribble a scribble by scribbling on it. When it occurred to me that perhaps the growing scribble should cause the book to be canceled, I needed the story to be wrapped inside a different, canceled story. I chose Frankencrayon, because the scribble was in essence a Frankenstein monster.
So the story in the book is the story of how the Frankencrayon story was canceled. And that led to the reader interaction aspect.
I had the characters list lessons learned at the end mostly because I thought it was funny, but it also paved the way for the mad scientist to make an appearance to the last page.

So you studied graphic design in college, what was the first design of yours that sealed the deal about continuing to design?
It might have been an annual report cover I did during an internship for the Madison Department of Public Health. I decided to draw 365 apples arranged as a calendar of the year. It was the beginning of an approach that I've used often both as a designer and an author/illustrator.
Would you like to collaborate with other authors/illustrators (dead or alive)? If so, who would they be and why? Do you have an idea of the book you would like to work on with them?
It might be fun to turn the typical author/illustrator process backwards. I would make a series of pictures and another writer would create a story to go with them. Actually, I have some pictures that might fit the bill, but I really want to write the story myself. So, I guess that's the problem. It would be hard to let go! But if I could, the first author to pop into my mind is Mac Barnett.
(Mac Barnett is a children's author known for his award-winning books Sam & Dave Dig a Hole, Extra Yarn, Leo: A Ghost Story, and The Skunk.)
How long did it take you to find your design/illustration style?
This continues to be a work in progress. But, looking back on my early work as a designer, I'm surprised with the number of pieces that appear to have been done by someone else. Mimicking other designers was clearly part of the process of finding my own way.
It probably took a good ten years before I realized that I'm innately drawn to work that is very simple, which led me to focus on visual identity design and, eventually, picture books. Both endeavors are well served by an economical approach.
Do you have any advice for aspiring graphic designers or anyone struggling about their designs?
Don't be distracted by how much money you're making, how many hours your working, or how many awards you get. If you make every design assignment as a chance to do something wonderful, everything else will follow.
What releases can we expect from you this year? Will one be the alphabet book you have been working on since 2015? Can we get a hint of what to expect in them (illustration and plot wise)?
It's not really an alphabet book, although all 26 letters are represented. It's about a personified lower-case "i" whose dot falls into the sea and drifts away. It is the story of Little I's journey to find the lost dot.
Actually, it has been around in various forms for a least 15 years. In fact, I thought it would be my first picture book. But it turned out to be a challenging story to tell, and I'm so pleased with the way it finally came together! It comes out this September.
Visit www.michaelhallstudio.com to view more of his books, designs, and interviews.
PICK UP A COPY TODAY!