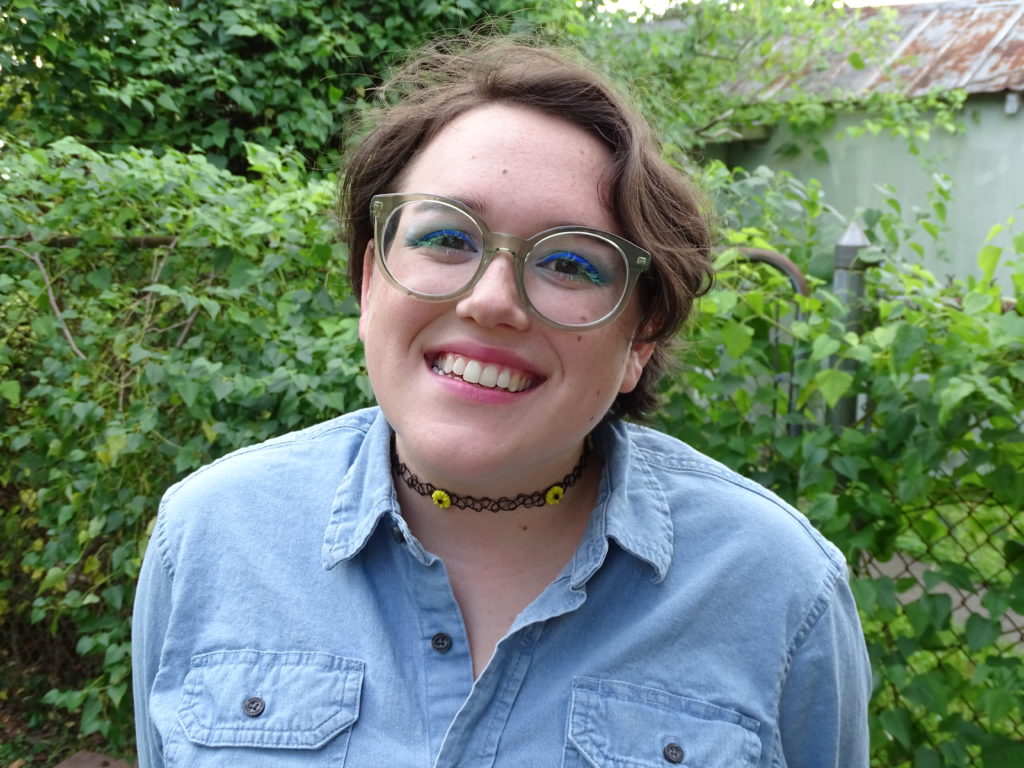 Savanna Ganucheau's first graphic novel is Bloom, but she's done work in many other comic books and publications in the past. She is from New Orleans, and previously self-published comic books there, but Bloom is her first official publication. Currently, she lives in Melbourne. She calls Bloom the Big Teal Book, and can be found on Twitter @Srganuch.
Michelle LeBar: You've done other works before Bloom, but your style there feels a little different than your style in those other works. What inspired you to draw for Bloom?
Savanna Gabucheau: I think Bloom is a story I've always wanted to draw so I thought about it a lot. I really wanted it to be something that could last, but ultimately fit the story well. The pitch pages were done in a very cartoon-y style and my style slowly changed into to something more mature as the story got written.
ML: Was the blue and white color scheme your idea? If so, what made you choose that palate?
SG: Yeah! So there's this (maybe) fact that teal is the most calming color to the human brain. That's something that always stuck in my mind, and when Kevin and I were discussing the emotional tone of the story we knew we wanted something calming. So, teal came instantly to my mind.
ML: What inspires you to draw for young adults?
SG: My teenage years were when I consumed/enjoyed the most media. I think just the idea of being a part of someone's journey into adulthood seems nice to me. Even if it's just my drawings and my stories.
ML: All of your characters feel so loved (even Cameron). They are all so unique and lovingly rendered. Do you ever base your characters off people you know, or are they simply your 'brain children?'
SG: Thank you so much! I do really love all the characters (even Cameron haha). Some are based on people I know, others are traits from actors I've seen. I think I just mishmash features and expression I enjoy from various people and put that into my character drawings.
ML: I've seen some of your sketches and they're beautiful. Any chance of a graphic novel centered around ballet?
SG: Oh! That would be really fun to draw! I really love figure drawing especially things like ballet or ice skating. Ballet would be interesting, though I have to think about it. haha.
ML: Why did you and Kevin Panetta choose baking as a theme? And was it fun making the recipes shown? Which one was your favorite?
SG: I think we were both just excited to center a story around food, and Kevin loves to bake so it was a no brainer. Kevin actually was the one who tested all the recipes, but I did extra research on all the baking as well. I think I had the most fun learning about the intricacies that go into baking an excellent baguette.
ML: You've worked on Adventure Time publications, and it seems Steven Universe as well. What do you like the most about drawing for these sorts of audiences?
SG: I think it's very satisfying just for self-fulfillment. I really love both of those shows, and doing even just a small 4 page comic, like I did for AT, felt so satisfying. Also, it's nice to quote work that people recognize haha.
ML: Who was your favorite character to draw for Bloom and why?
SG: Ari is my favorite to draw. I connect the most with Ari, and I understand how his brain works. It was really easy for me to put myself in his shoes and think about what his face would look like. Also, all his sour faces make it ten times more satisfying when I get to draw him smiling.
ML: What do you hope will stick with the readers the most about Bloom?
SG: Hm I think I really want people to take away that it's okay to not know where you're going, and it's okay to want to try things out and not have them work out. I think we all go through a transitional phase in our lives many times, and they are usually always messy and riddle with mistakes. But you can get past that just like Ari does.
PRR Writer: Michelle LeBar
GRAB A COPY!