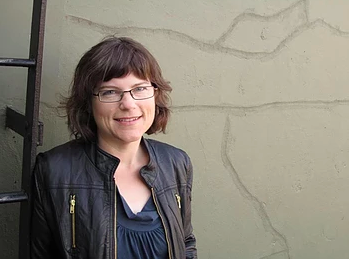 Sara Zarr is the acclaimed author of six novels for young adults, most recently Gem & Dixie. She's a National Book Award finalist and two-time Utah Book Award winner. Her books have been variously named to annual best books lists of the American Library Association, Kirkus, Publisher's Weekly, School Library Journal, the Guardian, the International Reading Association, the New York Public Library and Los Angeles Public Library, and have been translated into many languages. Her first book, Story of a Girl, was made into a 2017 television movie directed by Kyra Sedgwick.

Julia Shelton: On average, how long does it take you to complete a novel?
Sara Zarr: It's difficult to know, exactly. Because I'm in a place in my career where I work with an editor and publisher at very early stages, there's a lot of wait-time that goes on. I'd say I can get to the point I'm willing to show it to my editor for the first time in maybe 6-12 months, depending what else is going on.
JS: What do you think are some of the realities of being an author that a lot of aspiring authors don't consider? Were there some aspects of the business that surprised you when you first started out?
SZ: I think there's a general assumption that there is more money and fame going on than there really is. If you follow all the big YA writers on social media, for example, you could be under the impression that most books hit some kind of bestseller list or get awards, and the ones that don't have failed in some way. The truth is that most books don't hit these marks. That doesn't mean the book is a failure or you are not a good writer. Most writers continue working day jobs, plug along with moderate sales and medium advances, and that in itself is a worthy goal.
JS: What did the publishing process look like for you in the beginning? Did you find an agent first or did you send query letters to publishers?
SZ: I always focused my attention on finding the right agent. I don't have the temperament or knowledge to negotiate contracts, etc. I cold-queried agents until I found one that wanted to represent me.
JS: How do your characters come to you? Are they born Athena-style as a grown human being or do you sometimes get only a name or a vague character description and then the pieces come together over time as you continue writing?
SZ: I've experienced both. I prefer the former! But usually it's the latter.
JS: In Gem & Dixie, you do such a good job of getting into the mindset of an older sibling who has been forced into a parental role. How did you tap into the anxieties and frustrations of an older sibling with those responsibilities?
SZ: Thank you. In real life, I'm the younger sibling, but unlike Dixie, I was always very aware of the ways both my sister and I were taking care of ourselves in the absence of ideal parenting.
JS: Do you ever doubt your writing ideas in the beginning? What advice do you have for readers to keep them from getting discouraged and to power through the self-doubt?
SZ: I still doubt my writing all the time. Whatever work you can do in letting go of perfectionism is helpful. Writing is a process of trial and error, and failure is a key component of all of that. I do think that when you're starting out, especially, it's important to train yourself to finish a first draft even if you're uncertain about the idea or where it's going. You don't want to keep dropping ideas before they're finished and never learn what happens when you get to the end.
JS: Do you have a strict schedule for writing or what-not or does it change day-to-day?
SZ: It changes day to day. I try to have at least 2-3 days in a given week on which long chunks of writing time can happen. On other days I do errands and little stuff, answer email, life, etc. I would never describe any schedule I have as "strict," though. Strictness is not my thing!
JS: You've created complex girls who lives are all at a crossroads. Their lives won't be the same as your novels go on. Are these girls inspired by people you know to get into the teenage mindset?
SZ: All my characters start with my own life and experiences and observations, or come from imagination. None of them are based on real people, other than a detail here or there. I don't think about getting into the "teenage mindset" because I don't think there is such a thing! Every teenager is different. I think it's more important to tap in to your own emotions and experiences at every stage of life.
JS: Who are your author inspirations? Are there any books/characters that you read as a teen that influenced you?
SZ: I was a teenager in the 1980s, and Robert Cormier's The Chocolate War was a big influence, as were all his books. Or course Judy Blume, M.E. Kerr, Chris Crutcher. Laurie Halse Anderson's Speak was also a benchmark around the time I was getting serious about writing my own books.
JS: What do you find the hardest to write and how do you overcome that?
SZ: Everything is kind of difficult. Plot presents challenges, as far as how my imagination works. The hardest thing always is just pushing through resistance to start working at all. After about 15 minutes, I'm good to go and can problem-solve all that other stuff.
JS: What do you think is the best way for an aspiring author to grow in their writing?
SZ: The old cliched answer holds true: reading a lot and writing a lot.
JS: What do you have in store in the coming years?
SZ: Next year, the paperback for Gem & Dixie will come out, and I also have an essay in an anthology called "Life Inside My Mind" in which a bunch of writers talk about their own mental health issues. Both will be out in spring. No new novels from me until 2019!
Author: Julia Shelton