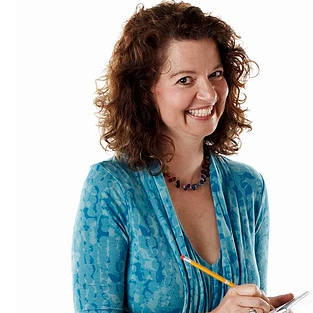 About the Author: Hillary's career is zooming! She is the author of the middle-grade novels, Queen of Likes (Simon & Schuster/Aladdin M!X), Pumpkin Spice Secrets (Sky Pony/Swirl), Things Are Gonna Get Ugly (Simon & Schuster/M!X), a Justice Book-of-the-Month, which was optioned by Priority Pictures, as well as The Hot List (Simon & Schuster/M!X). 
Next fall she has a new chapter book series coming out with Charlesbridge, beginning with Ellie May on Presidents' Day and Ellie May on April Fools' Day. Other books include the humorous chapter book series, Alien Clones From Outer Space (Simon & Schuster/Aladdin), a featured selection in Children's Book-of-the-Month. Emmy-nominated Suppertime Entertainment developed the books to become an animated television series and it was sold to ABC Australia.
Additionally, Hillary has sold non-fiction and novelty projects to Klutz Press/Scholastic Books, The Learning Company, John Muir Books and Avon/HarperCollins. Hillary got her start performing and writing sketch comedy Off-Broadway, and was a Heideman Playwriting Award Finalist. Hillary holds a master's degree in education from Temple University and a master's of arts degree from Hollins University in children's literature and writing. Besides teaching at the Children's Book Academy, Hillary is a visiting professor of children's literature and writing at Hollins University.
Find Hillary Homzie on the following platforms:
---
Thank you Hillary Homzie for talking with us about your career in writing middle-grade literature as well as the inspiration for her books like Pumpkin Spice Secrets.
---
Cheyenne Lopex: When did you decide that you wanted to start writing for a middle-grade audience?
Hillary Homzie: That's a great question! I figured it out when I was in my early twenties; I took a creative writing class at City College in New York with author and poet Pamela Laskin, who had us start with board books, then we moved on to picture books, transitional readers, middle grade and, finally, YA. When I wrote my upper middle-grade story, it simply poured out of me.  I sent the short piece off to Teen Magazine, a popular lifestyle magazine geared at tween and younger teen girls. My story was immediately accepted. I thought, wow, this publishing business is easy! It turned out to be a fluke or perhaps dumb luck, as it took another six years before I landed a book contract!
CL: What do you enjoy most about writing for a middle-grade audience?
HH: Oh, everything. I love both younger and older middle grade. On the younger end, kids are so open to everyday magic and see the wonder in all things, even inanimate objects. They're very much involved in imaginative play and have no shame in wearing a cape or wielding a sparkly wizard's wand. They haven't learned to hide their light or their wonder. It's just delicious to live there.
At the same time, I love chronicling tweens because they're in their bridge years. Kids this age still keep their stuffed animals near their beds and Slinkies on the floor. Yet they're also starting to be critical of the world, exhibiting, at times, an annoying defiance to authority. However, this questioning is so exciting as they're beginning to explore the world as independent beings. They're able to hop onto their bikes and zip to the park or the yogurt shop all by themselves. They're quitting activities and friendships and trying on new interests and relationships. All of this dynamic change is a writing bonanza! 
CL: Where did the inspiration for Pumpkin Spice Secrets come from?
HH: I wanted to chronicle the life of a girl who wasn't the alpha in her friendships. Who wasn't the best athlete? Who wasn't the one with all of the drama, but the listener. Frankly, it's easier to write about the character who is more exuberant and not risk-averse, but there's a lot of kids out there who feel as if they take second fiddle to more luminous friends, and I wanted to write about someone who's struggling with confidence and finding her voice.
CL: What's your favorite coffee drink?
HH: Anything with lots of steamed milk, sugar, and whipped cream on top.
CL: Are any of Maddie's struggles in the book, like fear of public speaking, something you also struggled or struggle with?
HH: This is weird but although I was socially shy, I've never been reticent on stage. So I've never had a fear of public speaking or of acting for that matter. However, I certainly know those who suffer from stage fright and fear speaking in public. So in order to write about that part, I definitely had to use my powers of observation and imagination!
CL: Maddie has an older sister named Elvie. Was your relationship to your own sister growing up similar to Maddie and Elvie's relationship in the book?
HH: While I was a bit of a hermit socially, I was the annoying older sister who was the star of school plays and the editor of the paper. I was the reader and did well academically, while my younger sister, who was very bright, flourished academically more in college and then in library school. So I was that older sister, like Elvie, giving my younger sister advice. Actually, I probably didn't give enough advice. And I wish that I had been more Elvie-like and had bought my wonderful younger sister treats at a local sweet shop. Frankly, when I was that age I was too self-absorbed and introverted to think of something like that.
CL: Did you know any girls like Jana while you were in middle school?
HH: I definitely knew the girls who were athletic, bright and highly socially skilled, but I tended not to be close to them. I was too intimidated by their confidence and competence. However, when I was in eighth grade, I made friends with a girl who was very athletic, as well as a brilliant singer and actress. I was in awe of her, but she was so kind and thoughtful that I never felt intimidated around her. She showed me that you could be both bookish and physically strong at the same time. I'm still working on the strong part, since if I were up to me, I would stay home all day and night to write and skip the gym altogether.
CL: Which character in Pumpkin Spice Secrets do you relate to the most and why?
HH: Definitely Maddie. She's an observer watching other people's dramas and tries to stay out of them herself. Basically, she shirks away from conflict. However, during the course of the book, she learns how to stand up for herself and face conflict—something I'm still working on!
CL: What can readers look forward to in your next book?
HH: Next year, in my upper middle grade, readers can look forward to an exploration of stepfamily dynamics and what it means to keep promises. Of course, crushes and friendship will also figure in. It will be a lot of fun, but will also show what it's like to feel like a stranger in your own home. I'm writing from some experience. My mother remarried after my father's death, and my sister and I had to recalibrate and figure out what it meant to be part of a new stepfamily. At first, it was plenty awkward, but today I cherish the ways in which my nuclear family has expanded. I'm especially close to my stepfather.
Readers can also look forward to my new chapter book series, which kicks off with Ellie May on Presidents' Day and Ellie May on April Fools' Day. These sweet and funny books, published by Charlesbridge and illustrated by Jeffery Ebbeler, chronicle a very enthusiastic second grader. When it's time to celebrate holidays, Ellie May can get a little over zealous, often learning about honesty and empathy as well as how to be a better friend. She's been a hoot to get to know, and I'm having flashback fun exploring my own primary school years for inspiration.
I've truly enjoyed discussing Pumpkin Spice Secrets, all things middle grade as well as my forthcoming projects. Thanks so much for having me here at Tucson Tales.
PRR Writer, Cheyenne Lopex 
---