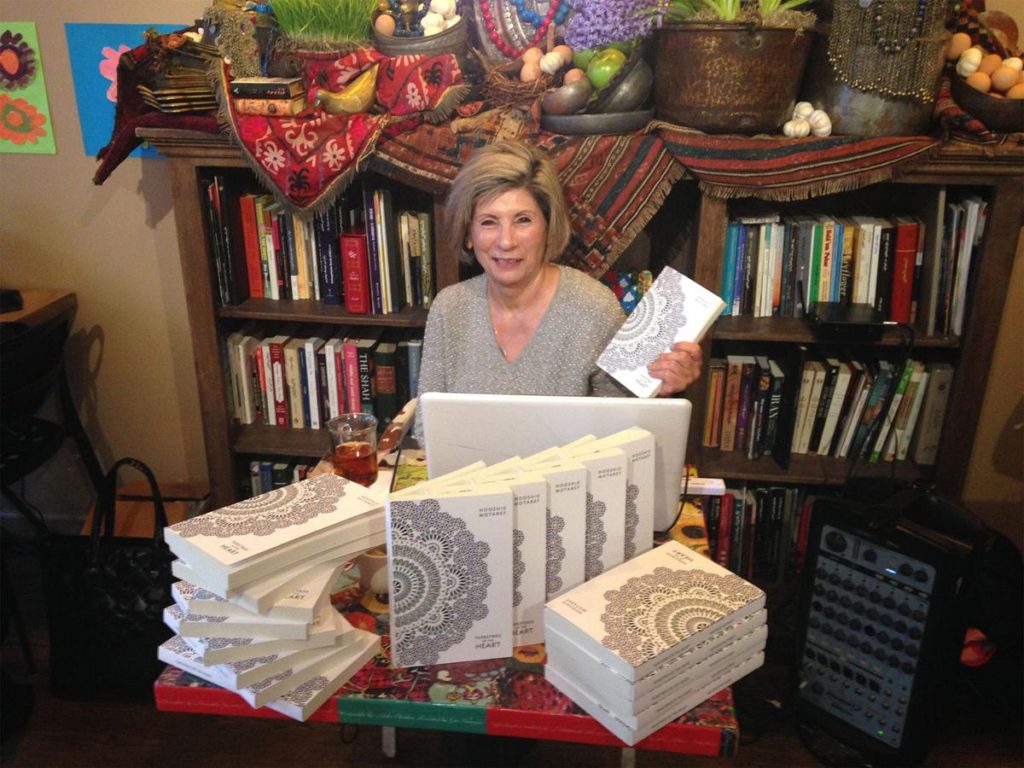 About the Author: Nooshie Motaref grew up in Persia, and studied in four countries — Iran, Germany, Switzerland, and the United States. She received her master's and doctorate degrees in American Literature and Folklore from Florida State University.
Motaref has lectured
at the collegiate level and instructed correctional youth center
students. She has also taught university courses on humanities,
literature, and critical thinking. In addition, she is certified by
the Conflict Resolution Program Act to promote peacemaking efforts
worldwide. She frequently speaks on subjects related to her
birthplace including its culture, traditions, and religion.
Find Nooshie Motaref on the following platforms:
---
Thank you to Nooshie Motaref for talking with us about her book Tapestries of the Heart and the publication process!
---
Celine Lucas: What was your process when beginning to publish this book?
Nooshie Motaref: I contacted more than 75 or 85 agents and most of them didn't answer. One of them answered that yes, he wanted to see the manuscript—I haven't heard back. Ten or 15 agents answered they aren't interested although they wish me good luck.
CL: With whom did you publish?
NM: Tapestries of the Heart is published in New York and London by Clink Street Publishing.
CL: Did it need to be edited and reread several different times?
NM: Tapestries of the Heart went to the professional editor. The publisher edited it for me and then it was published. It's now available online on Amazon.com or hard copy as well.
CL: Do you have a favorite part of the process?
NM: My favorite part is when I go and talk about my book and do the signings. The worst part is when the agents send the book back to me and ask for rewrites, re-edits, and redos.
CL: Did you use email submissions or mail submissions?
NM: I use email submissions. I made a query letter, some agents wanted a synopsis and a first chapter or a proposal. Since "Land of Roses and Nightingales" is finished, it's a proposal. I sent only one or two hard copies for agents out of the country in England.
CL: What does "children's literature" mean to you?
NM: Children's literature is very important. According to Carl Jung he made children's stories important because we learn from those stories. Children need to experience the mythology and every child's story has so many symbols that can be talked about and taught. Children's stories aren't simple or silly—they have lots of stories behind them. The quote that I use to describe children's literature is in a story that Rumi (a poet and Persian mystic philosopher of 12th century) said: "Children have been told many a tale; amidst their tales, words of wisdom."
CL: Was the translation of the fairy tales difficult? Did any of it need to be modified because it didn't translate directly?
NM: I translated it directly from Persian to English for my dissertation. My editor said I couldn't translate directly from Farsi to English. I had to go through retelling the stories, so they are "adaptations." I needed to expand on the stories and create a time frame according to the history of Persia and try to relate to it. "Translation and adaptation: retelling the stories again."
CL: Is there anything else you'd like to add?
NM: My goal is to familiarize Western audiences with both the Iranian life and people with the hope that Easterners and Westerners can relate to each other amicably and understand each other as humans regardless of their race, religion, or culture.
---
PRR Writer, Celine Lucas