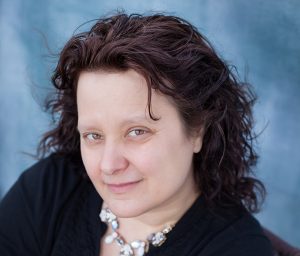 About the Author: When she's not writing her incredible historical and fantasy young adult novels, Alexandria LaFaye is an associate professor of English at Greenville College and a visiting associate professor at Hollins University Summer Graduate Program in Children's and Young Adult Literature. She loves spending time with her family, from playing board games to going on zoo trips, and family is a major theme in most of her novels. LaFaye has also published a short story with us, "It Comes Out in the Wash."
Find Alexandria LaFaye on the following platforms:
---
A huge thank you to Alexandria LaFaye for taking the time to talk with us about her writing process as well as her YA book Pretty Omens.
---
Rachel Lowry: You seem to have written mostly fantasy and historical fiction. What is it that draws you to those genres?
Alexandria LaFaye: The past shapes us and our future so it's important to know what happened in our personal and collective past and explore how it molded not only the people in that era, but also in the eras to come. I wrote The Year of the Sawdust Man, my first published novel in Louisiana in the 1930 because Huey Long reshaped the state in that decade and my grandfather's family hailed from that state. Fantasy explores our own world through metaphor, allowing us to critique, expand, and project our own reality in a creative way. I love writing in new genres because it tests my skills.
RL: Aside from family, what other themes do you enjoy exploring?
AL: How those who are unique find their way in a world that suppresses individuality.
RL: Why do you write for younger audiences?
AL: I write the stories that ask to be told. Those requests come out of my subconscious and I'm personally and professionally compelled to help the next generation become the best they can be.
RL: Of the books you've written, which was your favorite? What did you like about it or about writing it?
AL: Kids always ask me this and I have to say, "I couldn't pick one, the others would get jealous." Actually, I can't answer that question because I don't favor one book over another.
RL: What is the most challenging thing about getting published?
AL: That the publishing field is driven by their need to make a profit and my books are not written with profit in mind. Many editors express their admiration for my work, but aren't ready to take a risk on purchasing a manuscript because they fear it won't sell enough copies.
RL: Is it difficult to find time to write during the school year?
AL: Difficult, but essential. I'm fortunate to have a husband who is willing to take over the household while I venture off for a writing retreat. I also spend a lot of late nights, knowing I should be grading. Sorry students!
RL: What inspired you to write Pretty Omens in verse instead of prose?
AL: I tried writing it in prose many times, then I had dinner with the wonderful poet Paul Janezcko who said, "Why not write it verse." My answer was that I'd never really written much poetry. His reply was, why not start now? Why not indeed. When I started writing Pretty Omens the poetry poured out. I've always been a lyrical writer and apparently, poetry was the next step for me and one that came surprisingly naturally.
RL: Are you working on anything new right now?
AL: How much space do you have? It's not official, but a little birdie told me I may have a historical picture book in the works. More on that when it becomes official. I'm in the revision phase on a novel called Breathitt Until You Die and it's a new adventure for me in many ways because it's a contemporary YA about an abused teen who gets in trouble with the law, then gets a second chance with the mother he'd thought was dead. He has to learn to be loved because his father showed him only abuse. I'm also working on a teen retelling of the Sherlock Holmes story centered a Holmesian character who is neither male or female and only known as Sheer working to uncover why his Geometry teacher has been replaced by the doppelganger who killed him.
---
PRR Writer, Rachel Lowry