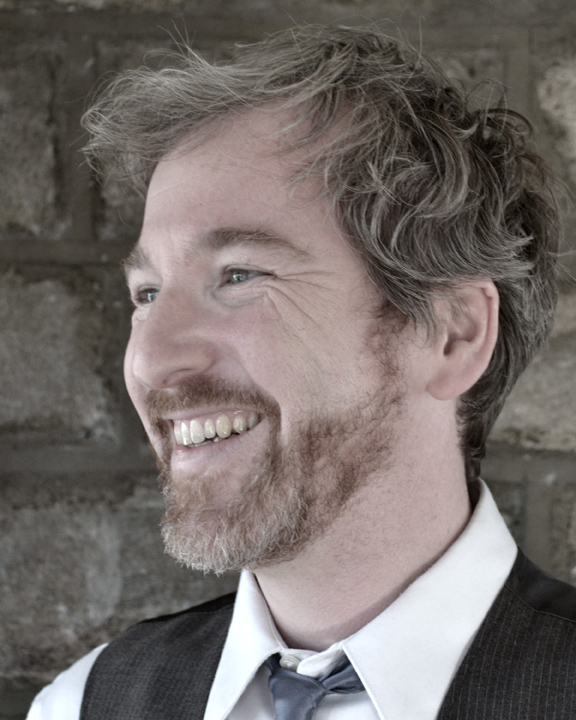 All the way from Ardmore, Pennsylvania, Matt Phelan is the creator of the graphic novels The Storm in the Barn (winner of a Scott O'Dell Award), Around the World, and Bluffton. Phelan has been nominated for five Will Eisner Awards, including Best Writer/Artist and Best Graphic Album (for Bluffton), and in 2014, he was awarded the Free Library of Philadelphia/Drexel University Children's Literature Citation. He is also the illustrator of many books for young readers, including Flora's Very Windy Day by Jeanne Birdsall, Marilyn's Monster by Michelle Knudsen, Druthers, and The Higher Power of Lucky by Susan Patron, winner of a Newbery Medal.
Matt Phelan came to graphic novels through picture books. His latest graphic novel is the New York Times Bestseller Snow White. This retelling of the classic fairy tale is set during the Great Depression and features fresh and unique interpretations of the original characters. Samantha White or "Snow" is the daughter of the King of Wall Street, who is able to survive the market crash, but succumbs to an unexpected death, which leaves Snow alone with her stepmother the Queen of the Follies. "In a moody, cinematic new telling of a beloved fairy tale, extraordinary graphic novelist Matt Phelan captures the essence of classic film noir on the page—and draws a striking distinction between good and evil."
Lauren Krause: Thank you very much for taking the time to interview with Tucson Tales! I've read several of your graphic novels, including your most recent, Snow White. As an author and illustrator, what drew you to the medium of graphic novels?
Matt Phelan: I consider myself an illustrator first, and the graphic novel medium is the perfect way for me to tell longer stories for older readers. I also think of myself as a picture book artist and my graphic novels are really picture books for an older audience. That said, what is really interesting about graphic novels is how you can play with rhythm and pacing through the use of panels.
Lauren Krause: What inspired you to write specifically for children?
Matt Phelan: I worked in a number of bookstores after college and that's when I rediscovered picture books. They seemed like the perfect way to bring all of my interests together. I also loved the variety in children's books. You can go from a nonfiction book about George Washington to a silly story about a panda trying to throw a party. The range is incredible. And writing specifically for children demands limitations and focus in a purely positive form. Economy and clarity are essential. Also, what you are writing about tends to be the basic elements of life: fun, curiosity, love, family, creativity, invention. It's all good stuff.
LK: You have illustrated picture books and graphic novels. In your opinion, what are the differences between writing picture books and graphic novels?
MP: The real difference is the sheer volume of drawings in a graphic novel. You can have more moments of time thanks to the panels which allows you to pack more into a scene. That said, you are still communicating with pictures and words in a clear, economic manner which is the same with a picture book. The process for each is very similar actually. Like I said, I see my graphic novels as picture books for older readers.
LK: A unique aspect of your novels are that they are based in historical settings. Your first GN, The Storm in the Barn, was set during the Kansas dust bowl in 1937 and Around the World was based at the end of the 19th century. What draws you to these time periods?
MP: I've always been interested in the past and thinking about what real daily life was like as opposed to just thinking about major historical events. I never made a conscious decision to write historical fiction or set my books in the past. It really is simply an outcome of my interests. In a way, setting a story in the past is as alien to today's readers as high fantasy.
LK: How much research do you conduct while writing period pieces?
MP: I do a good amount of research, a lot of which doesn't necessarily make it to the actual page. But I find that thinking deeply about a time period, studying photographs, listening to the music of the time, understanding fashion, etc.… all of that will inform the final work.
LK: Why did you choose to set Snow during the great depression?
MP: The initial connection was with the apple peddlers of the time. From there, the time period – and especially treating that time through the lens of crime fiction and film noir – seemed to click perfectly with the Snow White story. Greed, power, murder, haves and have-nots… it's all in there.
LK: The story of Snow White is well known, what were some of the challenges you faced in the retelling of this classic fairy?
MP: The biggest hurdle was realizing that I could – and should – make changes to the story. That is how these tales live on. Getting rid of the "fairest in the land" angle was a big deal, but it made perfect sense for the story that I wanted to tell. Can we do that? Can we lose the magic mirror? These were definitely questions that were discussed with my editor.
LK: The cover of Snow is absolutely gorgeous, and I read in your interview with Adrienne Wright that your art director at Candlewick Press designs all of your graphic novels. As an illustrator and artists is it difficult to let others design your covers?
MP: Heather McGee is the designer of my graphic novels and her work goes way beyond the cover. She works very closely with me on all aspects of the book. The cover designs for all of the books are worked on by the both of us, but in each case the initial concept and design were mine. Heather makes my ideas better. For example, bringing in that font for the title on the cover was her contribution.
LK: I really enjoyed your interpretation of the seven dwarves as seven orphan boys, and the subtle hints to the original characters portrayed in your drawings is very creative. For example, when Snow first meets the Seven there is a boy that takes a big yawn while speaking. I'm curious though, why they are so reluctant to tell Snow their names?
MP: If you know anything about the Disney version, you know the seven dwarves' names. In my version, these boys are living on the streets. They are all runaways of one kind or another. They trust no one. Their names would be their most closely guarded secret. I liked how that played against the Disney version, but like you say I did have fun assigning the boys certain characteristics that readers can detect. Having them withhold their names from Snow is crucial to the story. The scene where they finally reveal their names is basically the reason I made the book. When I thought of that moment, I knew the story could be more than just an intellectual exercise. I had found the heart of my story.
LK: Your character the Queen of the Follies is very captivating and fills the role of the evil stepmother perfectly. What was your inspiration for her?
MP: Well, the original source is pretty good. She is one of the classic villains in literature. I just added every femme fatale element I could think of and made her a Broadway diva to boot. I did put in a bit of backstory for her… she definitely has seen some hard times and worked her way up to being a star. But she is definitely a villain. Her choices are not good choices.
LK: Do you have a favorite character to write in Snow?
MP: I loved Mr. Hunt, my take on the huntsman. I was always fascinated with that character and I wanted to do right by him. He needs to feel like a character who could have been the protagonist in his own sad story. He's a true hero. He chooses not to kill Snow, although he knows that decision will not work out for him. Plus, it's just a lot of fun to draw a big mug like that.
LK: Do you imagine recreating another classic fairy tale in the future?
MP: I'm not ruling it out, but I'm not planning anything at the moment. There certainly are many intriguing stories. That Rumplestiltskin is deeply weird…
PICK UP A COPY OF YOUR OWN!