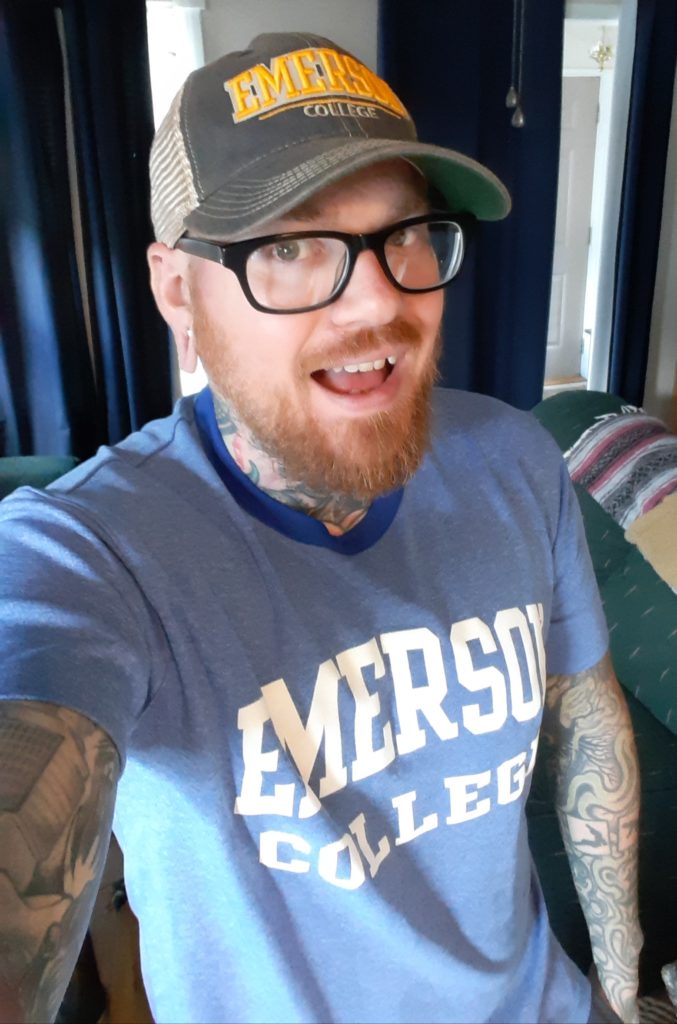 Joe Buckler is an author of adult and children's fiction, a blogger, and a reviewer. He is a current M.F.A. candidate at Emerson College, and an alumnus of the University of Arizona where he graduated summa cum laude with a degree in Creative Writing. When not acting as Founder and Editor-in-Chief of Blind Corner Literary Magazine, he also serves as Curriculum Developer for a nonprofit education initiative.
Instagram: @imwithjoebuckler, @blindcornerlit
Website: www.blindcornermagazine.com
Allisone Doerner: What is your day to day like as an MFA student at Emerson?
Joe Buckler: Non-traditional, I suppose you could say, since I'm doing my coursework online instead of on Emerson's campus. It was a difficult decision to make, choosing between continuing my education remotely or in-person, but coming out of undergrad, I was feeling anxious to re-enter the workforce and I wanted to take a break from a lifestyle centered entirely around academia. I was watching my partner serve her term with Americorps, working with some really amazing nonprofit organizations, and it started becoming important to me that I also get involved in my community, so enlisting in Americorps' VISTA program and continuing my education online seemed to make a lot of sense.
What this means for my day to day as a student, though, is a lot of late nights and early mornings, spending my work week writing curriculum for a nonprofit, education initiative here in Louisville, and struggling constantly to find time to write fiction, keep up with the workshops, and get through a reading list so heavy that it would leave a seasoned librarian in tears. It's a lot of hours to put in, and sometimes it feels like work and school are the only things I do, but being an online student means I get to schedule myself for maximum efficiency, whether that means putting down a quick page on my lunch break, or staying up all weekend to trudge through a paper. Grad school can be exhausting, almost always, but I look at all of the brilliant students and faculty around me for motivation, and I just try my best to show that I belong there.
AD: Could you give any advice for undergrads considering continuing their education?
JB: Do it. The world needs more educated people, always and forever. For those of you who are looking to dip your toes into the highly competitive and grotesquely oversaturated pool of M.F.A. applicants, I also say do it, but be thoroughly prepared if you do. If I could relay one piece of advice from the year-and-a-half I spent preparing my applications, it would be this: don't be one of those writers who Googles the top 10 M.F.A programs and then applies to all of them. I did that. You know what I got? The same thing the other 99.9% of writers who did that got—ten form rejection letters and a thousand less dollars in the bank. Not only are "shot in the dark" applications expensive and time consuming, but those hard to get into programs are also hard to get into for a reason, so do your research. Look at the program, look at the faculty and alumni, look at the work they are doing, and find where you belong. Research, research, research.
Yes, it's the hard way, but it's important to choose your battles. If you really think you belong at Iowa or Michigan, then go for it, but have your backups in line and have a damned good reason for choosing them. I got rejected from a lot of famous programs that I had no business applying to—which hurt at the time—but, looking back, I'm thankful it happened the way it did because those programs weren't into the kind of stuff I was into anyway. Not everyone is going to get excited about giant monsters, or tiny spaceships, or sprawling, magical worlds that exist just out of focus—though I can't imagine why. I was lucky to find Emerson when I did, which was late in the application process, because the weird and wonderful minds that designed their Popular Fiction Writing and Publishing program seemed to have designed it just for me. I didn't get into an M.F.A. program because of luck, or because I applied to every school on the list, or even because I kicked ass on the GRE (which I certainly did not)—I got in because I found the one program that was missing someone like me.
AD: How did you develop Blind Corner Literary Magazine (and possibly why)?
JB: The realization that I wanted to put together a literary magazine came predominantly from my experience interning at Pine Reads Review, but it had been in the back of my mind for a while, I just didn't know where to begin until I had an opportunity to see behind the curtain. I was lucky enough during my time at Pine Reads to be able to work on a lot of different aspects of digital publishing, from web design, to marketing, to editing—which allowed me to pick up a little bit of everything and get a clear picture of how to build an online magazine from the ground up. I already knew which direction I wanted to go, it was just a matter of waiting until the timing was right. When that day arrived, I jumped in with both feet and started planning, drafting, and moving forward piece by piece.
From there it was a lot of research, trial and error, and simply putting in the work. It took about three months to get the platform off the ground before we opened for submissions, and most of that time was spent creating the brand and building the website, something I wouldn't have been able to do without my very talented partner, Alex Lukas, who, luckily, knew graphic design and CSS. We built what we thought was a good-looking webpage and then delved into the arduous task of getting the name out there to drum up some submissions. The Emerson writing community ended up being a big help early on, and even now a lot of our submissions are coming out of undergrad/grad writing programs, which I love to death, because I really wanted this project to be a stage for new, fresh voices to get their name out there. It can be difficult for a lot of young writers to get published, the literary community being as elitist as it is, so I wanted to create something that was communal and inclusive—even for those nettlesome genre writers.
AD: What kind of content is published and what do you hope your viewers to see, recognize, or learn?
JB: Blind Corner is branded as "a home for speculative fiction," which sounds pretty broad, but that is exactly how I intended it. We cater mostly to the three big speculative genres—horror, sci-fi, and fantasy—but there are no hard lines, and what I really want to represent are the kinds of stories that challenge expectations and alter our perception of genre. Fluidity is key and, like I always say, the weirder the better. And, so far, that outlook seems to speak to a lot of people. I have an inbox full of some really funky fiction from some very serious writers, the kind of stuff they write for fun but don't bother sending out because they know that there's a stigma that will follow those pieces into the slush pile. Not at Blind Corner, though. Some of the pitches I get are so off the wall that they sound like Mad Libs, and that is exactly the kind of stuff that gets me excited.
What really sets us apart from the other speculative publications, though, is that we don't stop at fiction. I wanted Blind Corner to be the website you go to for more than just short stories, so I made room for book reviews, blogs, and even academic essays, anything and everything as long as it adheres to our themes. Looking forward, I want people to read the magazine for more than just it's entertainment value, I want them to be able to delve into the world of speculative fiction with open eyes and an analytical mind. This is the kind of hard-hitting, expositional work that I'm eager to showcase because at the end of the day I am not just a writer, I am an academic, and looking at popular fiction through a critical lens is the real work I want to accomplish here.
For anyone out there who may be interested in submitting, our guidelines can be found at https://blindcornermagazine.com/submit/
AD: What would you advise is the best way to create your own and/or collaboration lit mag/website?
JB: Come up with a good name and everything else will fall into place. Well, maybe it's not that easy, but it's something, and having a good theme in mind before you get started is very helpful. There are already a million literary publications out there, and if you want to put your hat into the ring, have something unique to offer. Don't worry about money, or fame, or any of that nonsense, because you won't find any of that putting out an indie magazine, just focus on the readers, the writers, and how you can get the two of them to cross the middle school dance floor and start boogying.
It also doesn't hurt to have a sense of the backend, as I mentioned earlier, like basic web development and graphic design. Even if you have other people on board for this purpose, it'll be good, as editor, to have a basic understanding of every aspect of your publication. That way, you can jump in and fill in the gaps when necessary. There will be gaps. All in all, the best thing you can do for yourself is intern at another magazine. It's what worked for me, and it will help give you a comprehensive picture of the process and how everything comes together. If you can do an internship for credit or money, even better. Otherwise, there are a lot of small magazines out there that would be willing to provide you with some real-world experience in trade for some free help. I know I would.
AD: What made you want to become a writer?
JB: I've always been a heavy reader, which seems to be the universal precursor to becoming a writer. My earliest memories of writing are pulling out my picture books, setting up my dad's first-generation laptop, and rewriting the stories word for word. I maybe wasn't writing, but even then, I was already dissecting the craft. I wanted to figure out how fiction was constructed and what made it work. There were a lot of other heavy readers in my family, and my father had popped out a few novels in his time, so I never had anything short of a supportive atmosphere for becoming a writer. That is to say, no one ever told me to quit daydreaming and get a real job. They were pro daydreaming.
Despite my attraction to reading and writing, there was no love lost between me and academia, at least not early on. I didn't do well in high school and I dropped out of college after only a year. I wanted to travel the country and live the hard way, and the tattoo industry gave me a way to do that. I was convinced that I didn't need school to become a great writer, just some good experiences and the freedom to pursue them. So that is what I did, and it was all fine and good for a while, but I eventually started to feel the weight of that lifestyle and the realities of my situation became apparent. Not everyone can be a Bukowski. That's when I decided to go back to school and put everything into my writing. Funny thing is, the second time around, college and I got along just fine.
AD: Are you considering writing your own book(s)? If so, what is your inspiration? And if you have, what are they and what is the recommended audience?
JB: I wrote a novel a few years back and, like most first novels, it was total garbage, but its failure became the catalyst for me going back to school, so it worked out in the end. I am currently writing a new one—which hopefully won't be garbage—that will also be serving as my graduate thesis. It's my first attempt at a novel for a young audience and is likely an artifact leftover from my time working with Pine Reads and studying under Stephanie Pearmain. Writing for kids was never something I thought I would be interested in, but as I was going through my undergrad it started to become something I wanted to play around with. I looked back at the days of R.L. Stine and Goosebumps (not that those have ended), and thought about how those books made me who I am today— as a writer, a reader, and a person. I wanted to create something like that, something that could shift a whole new generation of kids away from Fortnite and bad television. Maybe something that could keep them up at night thinking about the things that happen in the shadows and leave them dreaming of a world where they could be the hero.
So, I'm writing a Goosebumps-ish, middle grade horror novel about a little girl and her brother solving a mystery in their own backyard. I don't know how much of it I am ready to share just yet, but it'll have werewolves, and necromancy, and relatable humor, and all of the other things I love from that genre, only with more contemporary themes like race, mental health issues, and grief—all of which, I hope, will give the story more depth and help prepare it for a modern, middle grade readership. I also worked in a lot of meta-narration and nostalgia-vision in an attempt to help it cross-over into other demographics, and because of that it reads like a 33-year-old horror nerd writing to his 11-year-old self, which I hope will translate well. I'm very excited about it, to say the least, and I hope to have it finished in a year if things keep going well. Only time will tell. You never know, maybe one day it'll even be reviewed on Pine Reads!
PRR Writer, Allisone Doerner