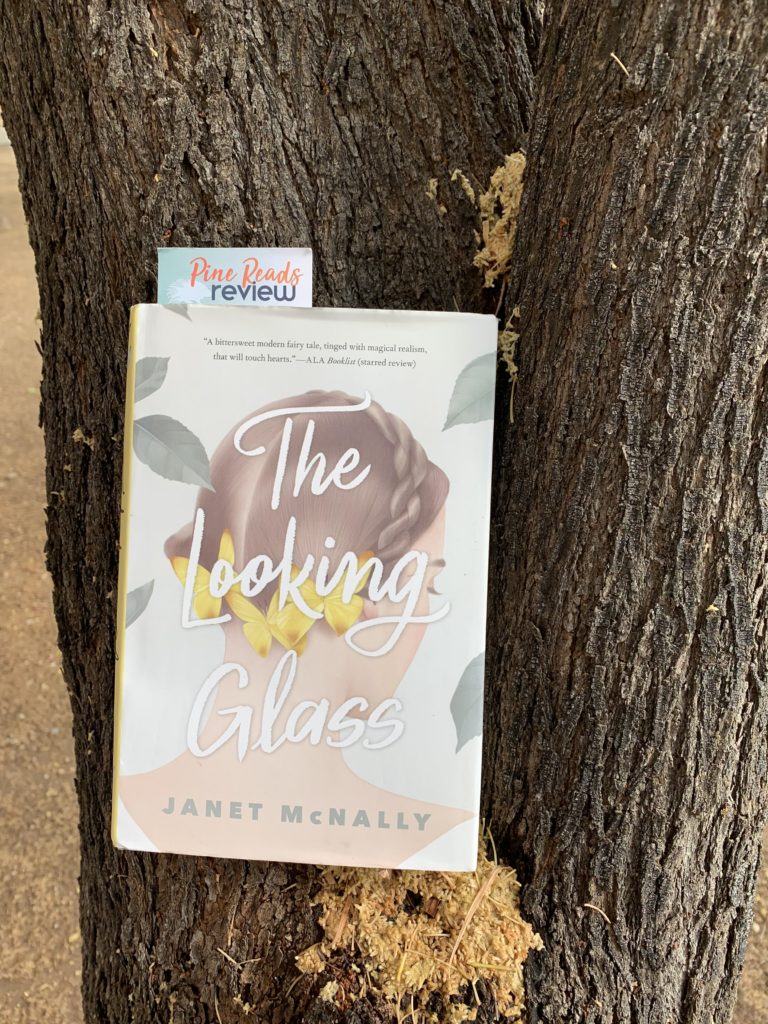 Janet McNally is a writer and poet who earned her MFA in Fiction at the University of Notre Dame and now teaches creative writing at Canisius College. She lives in Buffalo, NY with her husband and three daughters. Her book of poems, Some Girls, won the White Pine Press Poetry Prize in 2014.She's participated twice in fiction with the New York Foundation for the Arts in 2008 and 2015. Many of her stories and poems have been in publications like Gettysburg Review, Best New Poets 2012, Boulevard, and much more.
Social Media:
IG: @janetmmcnally
Twitter: @janetmmcnally
Ajia Barnes: What inspired you to write The Looking Glass?
Janet McNally: A few different things. I'm a former dancer who loves ballet but was sometimes frustrated with some parts of it, as Sylvie is. I have a deep love for fairy tales. I also have loved someone who suffered from an addiction to opioids, so I wanted to explore what that feels like. There are so many people across our country in that position right now, with a loved one who struggles with addiction, so it felt like something that was timely and could be helpful. My intention with writing fiction is to make connections with readers, to help people feel less alone. That's why I read, too.
AB: Miss Diana seemed to be someone that Sylvie and Julia could trust wholeheartedly. Did you have someone like that growing up who pushed you to be the best you could be?
JM: My parents definitely did, and I had some wonderful teachers along the way. I've also always sought out big sister-type figures because I don't have a sister of my own.
AB: Were you a ballerina as well or did you play any sports growing up?
JM: I was a dancer, but not just ballet. I did tap, jazz, hip hop, etc. My only sport was track when I was fifteen, but I kept injuring myself and eventually I quit because my dance teacher was not thrilled.
AB: Sylvie's character was convinced that she was seeing the elements of certain fairy tales during her journey to find her sister. Do you have a favorite fairytale? How did you decide to add magical elements and references into the story?
JM: Hansel and Gretel might be my favorite fairy tale, partly because it's one in which the girl in trouble actively gets herself out of it. I can't remember exactly how the magic came into the story. I think I needed a way for Julia to communicate with Sylvie, and it made sense to use a book they both loved. From there, it just happened. I don't think I made a conscious decision to add the magic (if it's magic at all).
AB: Julia's disappearance seems like a mystery to her sister Sylvia and she believes that she has to solve it and find her sister's whereabouts. Do you enjoy discovering mysteries or have a favorite mystery novel that influenced your work?
JM: That's a great question! I don't read a lot of mystery novels now, but you can tell from The Looking Glass that I read a lot of Nancy Drew growing up (and the Hardy Boys, The Three Investigators, Encyclopedia Brown, The Bobbsey Twins, Cam Jansen…). I was reminded how I loved mysteries as a kid recently, because my own eight-year-old daughter is starting to read my old books. As for now, my favorite mystery writer is Kate Atkinson, in her Jackson Brodie books. They're amazing. I also think that most books have some kind of search or mystery at their cores even if they're not explicitly mystery novels. Our characters are always looking for something.
AB: What was the significance of having Fleetwood Mac songs as the titles of some chapters in the novel?
JM: That happened accidentally. I knew that Jack was going to be listening to one band for a whole month at a time, and I wanted something that would make Sylvie go "oh no!" but would end up being something she really liked. I had the same experience with Fleetwood Mac. I always thought they were too over the top but they're actually an amazing band. So honestly, I discovered my love for them along with Sylvie as I wrote the novel. I became a big Stevie Nicks fan. One of my best friends took me to this event in NYC last spring called Night of a Thousand Stevies, where you dress like Stevie and watch people cover her songs. I felt as if I had finally arrived.
AB: Sylvie's character seemed to be very interested with gravity due to watching her sister perform. Has someone inspired you in this way,like Julia did Sylvie,  in the writing world?
JM: Plenty of writers have. Some of my inspirations are Lorrie Moore, Kaui Hart Hemmings, Jacqueline Woodson, and Miriam Toews. And also writer friends like Kathleen Glasgow, Harriet Reuter Hapgood, Karen Hattrup, and Lucy Keating.
AB: Can you tell us about the process of writing this book? Did you have a set time for writing?
JM: I have three little kids and a full-time job as a professor, so I am usually flexible. It was difficult to finish this book because my dad died while I was writing it. At times I wondered if I would finish it at all. When I finally got the pass pages back so I could proofread a final time, I was surprised at how much I liked the book. I guess that's always a good thing.
AB: Why is the title The Looking Glass?
JM: Well, there's the fairy tale/mirror connection, in Snow White and others. Mirrors play a role in the book too, mostly because Sylvie is a dancer. To be honest, we had a hard time coming up with a title for this one, which was much different from my first book (Girls in The Moon just appeared). But I loved the way The Looking Glass makes use of mirror imagery, and the way that what we see in the mirror is not the same as what others see when they look at us.
AB: Which character do you relate the most to in the story?
JM: Sylvie. But that's no surprise, because my narrators are usually avatars for me in some way. She has my sense of humor and my sense of adventure. She's less afraid of heights.
AB: What can we expect from your writing in the future?
JM: I seem to remain obsessed with writing about sisters/siblings, family secrets, and grief, so there will be more of that!
AB: Are there any questions that weren't asked that you wanted to answer?
JM: No, you asked great questions!
Check out our review on The Looking Glass here!
Pick up a copy of The Looking Glass today.