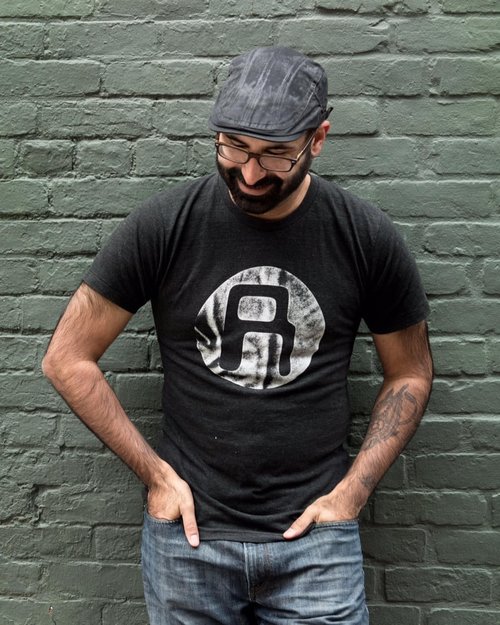 About the Author: Eric Smith is a writer and literary agent from Elizabeth, New Jersey who currently resides in Philadelphia with his wife, son, and their dog, Augustus. He has released several works in the past, including the Inked duology, the anthology Welcome Home, The Girl & the Grove, and his latest release, Don't Read the Comments. Along with his writing and representing endeavors, you can catch Eric with Kelly Jensen on the Hey YA podcast!
Twitter: @ericsmithrocks
Website: https://www.ericsmithrocks.com/
Machaela Raney: I have to be honest right off the bat: I don't know much about the gaming world, so I definitely lacked personal knowledge about the reality of doxing and other forms of harassment within these online communities. What inspired you to delve into this topic?
Eric Smith: For a number of years (oh my goodness, it was a decade!) I ran a local geek blog in Philadelphia, and slowly became more and more tied into the world of bloggers and journalists in that space. These days, a number of my dear friends are writers covering the games and technology industry. Around the time I was working on the book, there were some (and still are) major campaigns against women, people of color, folks in the LGBTQ+ community, trying to harass and push them out of covering and talking about games. It hasn't gone away, but that initial wave was absolutely horrifying. My wife and I had also just moved away, and suddenly, so many of my friends were virtual!
I kept thinking, what would it be like to have my safe space, my digital space, taken from me, in the way that was happening. I experienced my share of bullying and harassment as a teen, but the extremes I was seeing now, as an adult, pushed me to write the story.

MR: You bring forth such strong female characters who are wonderful examples for young adult readers through the means of Divya, Rebekah, and both Divya and Aaron's mothers. Are there specific inspirations in your life that led you to do so?
ES: Thank you! Divya is heavily inspired by two dear friends of mine, and I wrote Aaron's mom based on my own mother! She's tough but means very well, wants the best for him and is a realist, sometimes to a fault. Very much in line with my mom. 🙂

MR: There are topics that you touched on in the book that are absolutely necessary to explore within our current society such as racism, sexism, cyberbullying, sexual assault, etc. Did you find anything about addressing this difficult?
ES: I find all of it difficult! But you can't dig into a topic like this one, harassment in video games and digital spaces, without diving into that. A lot of the book was wildly difficult to write, and I was frequently sharing pieces of it with beta readers. In fact, I'm wrestling with it again right now, as I find sections for reading at book events.

MR: How do you think YA authors will begin addressing more mature topics that come with the rise of predatory behavior seen online in the past decade?
ES: I think we do see a lot of it now, you just have to look for it. Authors like Sarah Darer Littman have been covering it for a while now, with novels like Backlash and… well, a lot of her other work digs into Internet culture! Definitely read her and watch for Deep Fake, which comes out in October. Here to Stay by Sara Farizan talks about cyberbullying and racism in a way that's powerful and surprisingly hilarious. And Chaotic Good by Whitney Gardner (one of my favorite kid-lit authors in the world!) discusses sexism in the geek world and is just so very good.
You could even bring up Simon vs. the Homo Sapiens Agenda as a great example of this, what with the gossip website run by the teens at the school, and Simon's struggle to keep his secret to avoid being put on blast there.
So, I think we'll continue to see writers digging into these subjects, because that's our job. To show the world in a way that makes us think about it and give us hope that it can get better.
MR: The world within a world that you created with the fictional game Reclaim the Sun was absolutely fascinating. The thought of such a game blew my mind, and even just picturing the graphics you described was thrilling. Were there any specific games you had in mind when constructing this idea or does Reclaim the Sun simply exist in your imagination?
ES: Thank you! And yes, the made-up game totally draws inspiration from games like World of Warcraft, No Man's Sky, Eve Online, and even Mass Effect. It's a mashup of all of those, whirled around a bit, into a game that (impossibly) uses VR. I even bought myself an Oculus Go as a way to research those kinds of scenes.

MR: Despite technically being a YA novel, Don't Read the Comments presents multiple messages for audiences of all ages while also telling a wonderful coming of age story about two teenagers overcoming their own personal struggles. How did you balance both informing/educating and entertaining your audience?
ES: That's a tricky thing! Because you don't really write to educate. Maybe some people do, I don't know. Sure, you have a message, themes, etc… but if you're going into it saying, "I'm here to teach the young people about-" I think you're maybe going to lose them. For me, the balance going in was that, at its heart, Don't Read the Comments is a story about a blossoming friendship/relationship and the outside world that tries to get in the way. About chasing a dream but having people not want it for you.

MR: Each character in the book plays an important role in developing the plot and displaying different personality traits that almost any reader could find something relatable in. Is there a character that you reflect yourself the most in or do you see bits of yourself in each character?
ES: Ah, that's such a good question. When my agent read Don't Read the Comments, she immediately went, "Oh, you're Aaron!" and she's kinda right! There's a lot of me in that character. He means well, but stumbles along; he wants to be a good ally, but isn't entirely sure how to do it. His friends help him out along the way. And the whole thing with collecting old computer pieces to make a monster computer? Yeah, I did that as a kid. Haha. That's absolutely me.
MR: As someone who personally has a large social media following and that link to various online communities, did this influence your choice to expand upon the effect of internet lives on one's 'real' life? In other words, what are some positive aspects behind having a popular online presence?
ES: It did! The positive aspects are that you do get to connect with a lot of people. I've met so many friends as a result of social media, with and without a large following on there. Two of the groomsmen in my wedding were friends I met online first! My co-author on an anthology I have coming out next year, Lauren Gibaldi, is a writer I connected with on Twitter! Lovely things can happen on the Internet.

MR: Do you find that each book you pour your time and self into teaches you a different lesson about who you are as a writer, or after your first book did you figure out how you personally work in order to spin such complex stories that work on multiple levels?
ES: They do. The first time I really wrote about my feelings as an adoptee, which I did with The Girl and the Grove, it took a really long time to unpack and unravel all of that. The book took me two years to have a finished draft. That's… a very long time. It was something I was sensitive about. And with Don't Read the Comments, I feel like there was a lot of anger. I remember writing that book wildly fast, and then had to spend a significant amount of time pouring over the draft and editing it.
I learned that depending on what emotion I'm writing from, the results tend to be wildly different.

MR: I find it admirable that you manage to blend two careers through being both an agent and an author. How do you feel that your background as both gives you a unique perspective?
ES: Thank you! I feel like sometimes the unique perspective isn't the best thing, having so much knowledge about the industry and how things work behind the scenes. Sometimes my head is like, "This probably isn't marketable, I'm not sure someone will buy this idea," and then my heart is like "Nope, follow your dreams, write what you want." So, I'm constantly yelling at my brain to stop interfering with me being creative. I think… maybe that's the one big block for me, in balancing both.
That and as an agent, it helps make me more sensitive to my authors. I know the struggle and the hustle. I know what they should be getting, and when things aren't quite right. I feel like I can empathize more, because I've been through all of it myself.
PRR Writer, Machaela Raney
Check out our review of Don't Read the Comments here!
Pick up your own copy today!