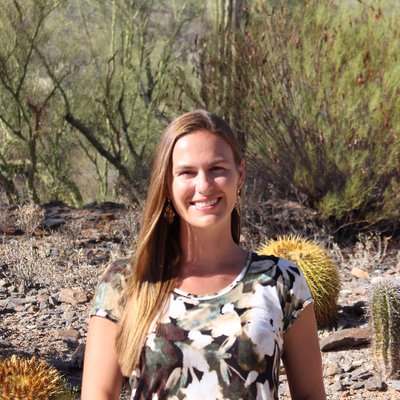 Dusti Bowling Bio: Dusti Bowling was born and raised in Scottsdale, Arizona, but now lives in Carefree, Arizona with her husband and three daughters. She obtained a bachelor's degree in psychology and has a Masters degree in Education. Before deciding to become a writer, Bowling worked in different career fields. She later realized what she really wanted to do was write. Insignificant Events in the Life of a Cactus, was her debut middle grade novel and came out on September 5, 2017. Her most recent novel, 24 Hours in Nowhere is out now and she will be starting her book tour on September 12, 2018. For more information on Dusti Bowling and her work, visit https://www.dustibowling.com.
Elizabeth McCormick & Michelle Sanchez: What inspired you to write a story with a handicapped protagonist?
Dusti Dowling: My inspiration goes back nearly a decade when my cousin died as a result of injuries he sustained while serving in Iraq. His severe injuries before he passed away led me to do research on living with only one arm, and, during my research, I found there was a lack of characters in children's books who have limb differences. Several years later I saw a video online about a woman who lived without arms. She could do everything an armed person can do, but she did it with her feet. After that, I kept reading and watching everything I could find about people without arms until the character of Aven developed in my mind.
EM & MS: Disabilities are a major theme in your novel, with that said, what types of messages are you trying to convey for young readers?
DB: With all my books, I want to send a message of understanding and empathy. Having two daughters with tic disorders, it is so important to my family that these types of disabilities become better understood. The terrible stereotyping of Tourette syndrome has led to a lot of misconceptions about it and harms people who live with tic disorders.
EM & MS: Besides Arizona being your home state, what other relations do you have with the story?
DB: I based Stagecoach Pass on a theme park I grew up visiting regularly called Rawhide, which used to be in Scottsdale until it closed down and moved across the city about ten years ago. I absolutely loved the original Rawhide and miss it very much.
Tourette syndrome is also a big part of my life as my husband and two daughters have tic disorders. I drew so much inspiration from their experiences and my experience dealing with people who misunderstand tic disorders in writing the character of Connor.
EM & MS: You grew up and currently live in Arizona, which is the setting of your book and your upcoming novel, 24 Hours in Nowhere. What is it about the state of Arizona that inspires you to have it incorporated into your work?
DB: I absolutely love Arizona. From the amazing diverse landscape to the many unique animals that inhabit the Sonoran desert, there's truly no other state like it. However, I didn't always appreciate it like I do now. It took moving away for several years for me to realize how special the Arizona desert is. Now I wouldn't want to live anywhere else. I also find it strange that there are so few children's books that take place in Arizona, so I love bringing this new and unusual setting into children's lives.
EM & MS: Did you have to do a lot of research before writing Insignificant Events of the Life of a Cactus?
DB: Yes, I had to do a ton of research. I thought about Aven and researched people without arms for a couple of years before I finally sat down and started writing the story. I also read as much about Tourette syndrome as I could and watched several documentaries about it in addition to drawing from my own family members. Once I completed my manuscript, I reached out to a woman who does a YouTube show called Tisha Unarmed. Her videos had been extremely helpful to me in creating the character of Aven. I asked her if she would be willing to read my story, and I was so grateful that she agreed. I was also able to share my manuscript with Barbie Thomas, the woman in the video who originally inspired me and sent me on this journey. Both women loved the story and found it to be authentic, which was incredibly important to me. I knew if they hadn't approved, I couldn't possibly share this story with the world.
EM & MS: What made you want to become a fiction writer? Is there a certain person in your life who made you want to pursue a career as an author?
DB: I've always been drawn to writing fiction because I've always loved reading fiction. Around third grade, I discovered my love for reading. For the next several years, I was never without a book in my hand. I'd never been so passionate about anything. I also think that's why I enjoy writing middle grade so much—because it was middle grade books that made me fall so deeply in love with reading.
I wouldn't say that there was ever anyone in my life who encouraged me to pursue writing when I was younger, which is probably why I waited until I was an adult to start writing. I wish someone had noticed my love of the written word sooner. There are many people in my life now, though, who have encouraged me to pour myself into my writing, especially my husband.
EM & MS: Your two current books are middle grade novels, in the future would you like to explore other genres? Maybe write a young adult novel?
DB: I actually self-published three young adult novels before I pursued publication with Insignificant Events in the Life of a Cactus. I do enjoy writing young adult, and I currently have a story idea that I believe would make a great young adult novel, so I'd say it's definitely a good possibility that I'll write more young adult in the future. I'd also love to write a picture book.
EM & MS: If you had to choose, what do you think is the best part about being a writer?
DB: I think the best part has to be meeting my young readers. There's truly nothing like having a child tell you how much they love your book or that it's their favorite. I love doing school visits and Skyping with classrooms because the students so frequently have such intelligent, insightful questions. And hearing them say that your book opened their eyes to something new is just amazing.
EM & MS: Do you have any advice for aspiring writers of middle grade novels?
DB: First, read a lot of wonderful middle grade novels. And then write, write, write. As with everything, it takes a lot of practice to improve your writing. Study some good craft books like The Elements of Style and Bird by Bird. Try to get feedback from other writers if you can and listen to them. It's so easy to be defensive about our work. Don't be. The only way to grow as a writer is to recognize that there is always room for improvement. Learn to kill your darlings. We get so attached to our own writing. When I first started, I couldn't stand the thought of deleting a single sentence. Now I delete whole chapters, remove characters, and erase entire subplots when necessary. Revisions are everything.