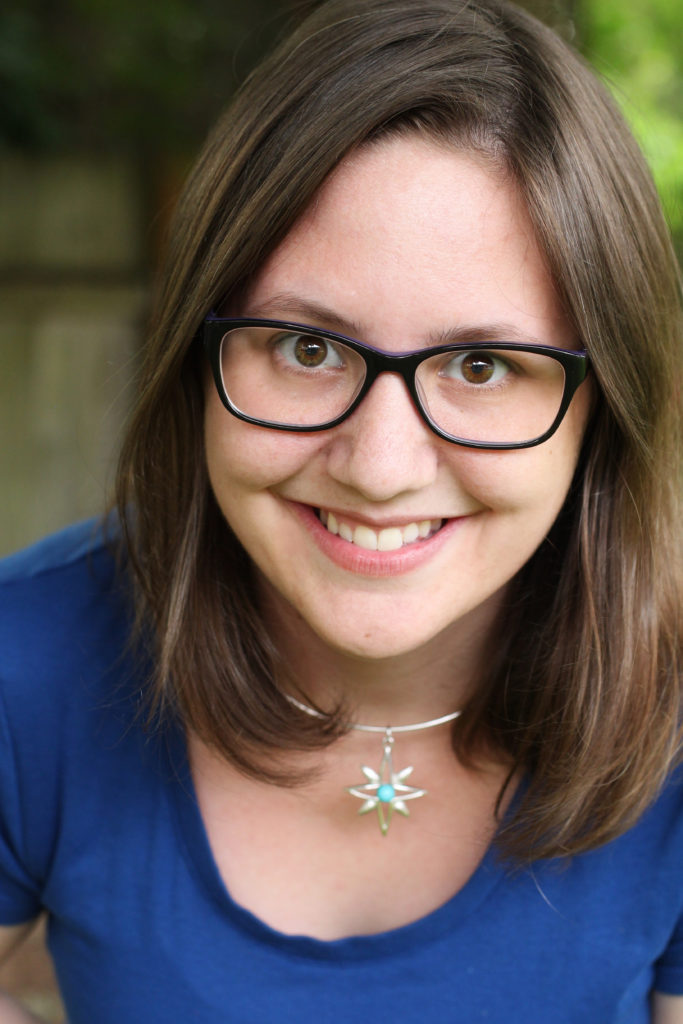 Cindy Baldwin is a fiction writer, essayist, and poet. She grew up in North Carolina and still misses the sweet watermelons and warm accents on a daily basis. As a middle schooler, she kept a book under her bathroom sink to read over and over while fixing her hair or brushing her teeth, and she dreams of writing the kind of books readers can't bear to be without. She lives in Portland, Oregon with her husband and daughter, surrounded by tall trees and wild blackberries. Her debut novel, Where The Watermelons Grow, received multiple starred reviews and was named an Indies Introduce and Indie Next title for 2018.
Visit Cindy at www.cindybaldwinbooks.com
Cheyenne Lopex: Where did the inspiration for Where the Watermelons Grow come from?
Cindy Baldwin: A few years ago, when my daughter (now five) was about one, I was singing "Down By The Bay" to her. The idea of this child who's so distressed by their mother's mental illness that they run away from home really stuck with me, and spoke to some of my own deep insecurities and worries as a disabled parent. I knew very early on in the planning process that I wanted this to be a disability-positive book, where a kid comes to recognize that disability in her family doesn't prevent them from having a happy, loving, positive life, and that her mother's disability is a part of who her mother is and not something to be "fixed" or "cured." As a disabled reader and writer, it's really important to me that books capture the complexities and difficulties of disability honestly, but do it in a way that doesn't paint disability either as incompatible with happiness or as "inspiration porn."
CL: What were the challenges, if any, about writing a middle grade book with a complex subject? What was your approach to Della's mother and her mental illness? Did you need to do much research on schizophrenia or were you already familiar with it before writing?
CB: I did know the basics of schizophrenia, like what the most common symptoms were and some of the ways it affects people in their day-to-day lives. However, I don't have it myself, and so I wanted to do plenty of research to get it as close to "right" as I could! I spent a lot of time reading articles by psychologists as well as first-person accounts of schizophrenia from patients themselves. I had to research things like typical age of onset, how schizophrenia is affected by pregnancy and postpartum hormones (since part of the plot of my book has to do with having children when you have schizophrenia), what medication regimens are typically like, and what it might look like to have a patient slowly losing touch with reality. Although I don't have a family member with schizophrenia, I do have some past personal experiences that gave me a little insight into some of the issues Della and Suzanne struggle with. I also had a number of sensitivity readers and consultants who helped me make sure that my portrayal was as accurate as possible.
CL: Which character do you relate to the most in Where the Watermelons Grow and why? Which character do you relate to the most outside of the book?
CB: I don't have schizophrenia, but like Della's mama, Suzanne, I'm a disabled mother. A lot of Della and Suzanne's relationship stemmed from my own anxieties for my daughter. Even before I had a kid, I worried that my future child would grow up feeling resentful and frustrated by the things I wasn't able to give her as a result of my disease. Although my daughter is only five, it's already something we've struggled with; from the time she could talk, it was clear that she was working through some of her own frustrations about my limitations as a mom and how much my disease dictates what I, and our family, can and can't do. Although the book is told from Della's perspective, and in many ways Suzanne is the antagonist, I have always had a tender spot in my heart for Suzanne, because I know how hard it is to balance serious health issues with parenting and how inadequate it can make you feel.
CL: What piece of advice would you offer to Della at any point throughout the story?
CB: My advice to Della would be the same as my advice to any child in a similar situation—any child who feels like their life lacks value because it's different from the lives of their friends. If I could, I'd give Della a big hug and, like Miss Lorena at the end of the book, tell her that every family has its own problems, and that her mama being sick doesn't mean she loves Della any less. I'd reassure Della that their family can still be full of love and happiness, even if it doesn't look quite the same as her friends' families.
CL: Honey plays an important role in Where the Watermelons Grow, what is your relationship to it? Have you found your own everyday magic in honey or in something similar? If so, what is it?
CB: As a college student, I discovered the wonders of local raw honey. I'd never been a big fan of standard honey-bear clover honey, but when I learned just how complex and varied the flavor profile of good quality local honey can be, I was hooked! I try to cut down on sugar as much as possible in my cooking, and honey is something I frequently substitute. In particular, there's a regional honey from my city (near Portland, OR) that has a wild tanginess to it like nothing I've ever tasted. I'm kind of obsessed with it, and it's what I modeled the flavor of Della's watermelon honey after! As for everyday magic, like Della, a lot of my own magic comes from the natural world around me. I love being outside, and always feel like I'm able to take deeper breaths when I'm in a forest or by the ocean. Often, when I'm struggling, getting outside and feeling the air on my face is enough to help re-center me.
CL: Della's favorite fruit is watermelon, what is yours?
CB: Whatever I'm currently eating! Ha! I'm a huge lover of fresh fruit—one of my favorite parts of living in Oregon is how abundant the fruit is throughout the summer and fall. I love fresh-picked berries, peaches, apples, and—of course—watermelon! I have always had a soft spot for a good, in-season watermelon. Like Della, I've totally eaten a whole watermelon by myself before. When I was a kid, my grandpa knew how much I loved watermelon, and every time we visited he'd bring a watermelon home from a roadside stand for me, telling me that the watermelon just "jumped" in his truck because it wanted to come home to me. I also had the opportunity to try some watermelons from Della's part of North Carolina this summer, and they really were the best I've ever tasted!
CL: Which authors inspire you? What are some of their influences on you as a person or as a writer?
CB: I love authors who are able to examine really difficult subjects, but do it through a lens of hope and joy, so that you finish the book feeling uplifted instead of weighed down. Since I was a teen, my all-time favorite author has been Madeleine L'Engle, for the way that she explored such big, difficult ideas in such a joyful way. Some contemporary authors who inspire my work are Lois Lowry, Sharon Creech, and Kate DiCamillo!
CL: What are you reading right now?
CB: I just finished a gorgeous 2019 debut—The Line Tender by Kate Allen. It combines so many of my favorite things: ocean life, a small seaside town, grief and loss, and growing up. I'm really excited for it to come out next year!
CL: What can readers look forward to next?
CB: My next book will be out sometime early in 2020. I can't say too much about it yet, but it's also a magical contemporary middle grade dealing with a tough subject, and it's also set in North Carolina. In fact, this one is set in my hometown, Durham! It's been really fun to be able to vicariously "visit" a lot of the places I spent time as a teenager through writing this book.