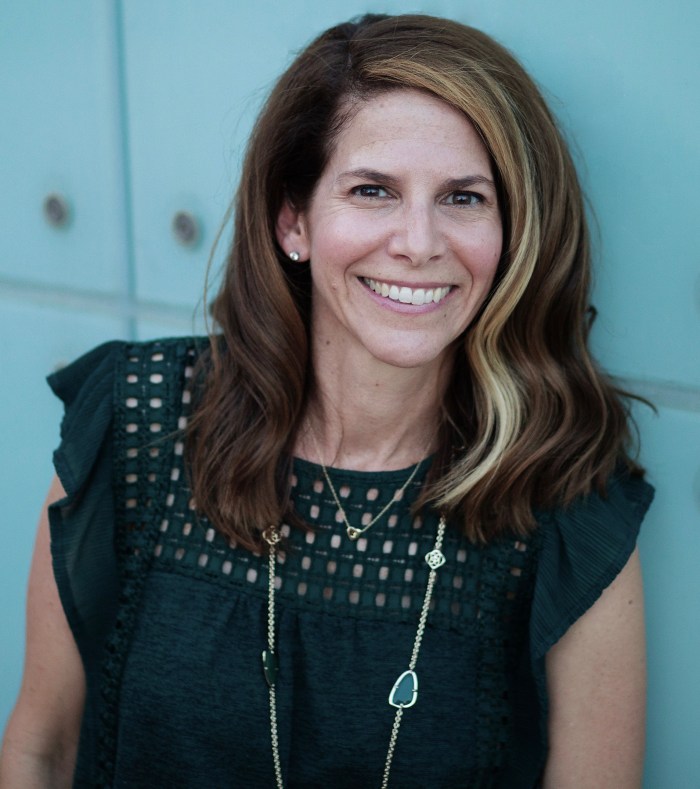 Amy Trueblood grew up in California only ten minutes from Disneyland which sparked an early interest in storytelling. As the youngest of five, she spent most of her time trying to find a quiet place to curl up with her favorite books. After graduating from the University of Arizona with a degree in journalism, she worked in entertainment in Los Angeles before returning to work in public relations and advertising in Arizona.
When she's not writing, she's crafting a Spotify playlist for her next book or drinking her favorite iced tea. Her debut novel, Nothing but Sky, a Spring 2018 Junior Library Guild selection, is available now. Her second book, Across a Broken Shore hits shelves in Fall 2019.
For more on Amy, check out her website, AmyTruebloodAuthor.com or follow her on Instagram, Twitter, Facebook, Goodreads, or Tumblr.
Michelle Sanchez: Can you start by telling us a little bit about yourself? What school did you attend? What was your major?
Amy Trueblood: I am originally from Southern California. I grew up in a small town about ten minutes from Disneyland. I attended the University of Arizona (!!!) and graduated with a degree in Journalism.
MS: What inspired you to have the novel set post-World War I? Is there anything specific about that time period that attracted you?
AT: The idea for the story came from a visit to Chicago. I went to the Museum of Science and Industry and noticed a plane tethered to the ceiling. When I went to check it out there was a sign next to the display that said the name "Ethel Dare." It explained that she was a barnstormer/wingwalker in the 1920s. My writer brain went to work with a dozen "what if" questions and the idea for Nothing but Sky was born.
MS: Grace is an extremely independent woman and isn't scared of anything. Is her character based on anyone specifically?
AT: Grace is a culmination of all the women I researched who were wingwalkers during this time period. Lillian Boyer, Gladys Ingle, Mabel Cody, and Ethel Dare. They were all fearless and determined women, and I wanted to make sure that Grace embodied each of them in a respectful and honorable way.
MS: Did you have to do a lot of research before starting to write the novel? Specifically about the time after the war?
AT: Yes, a lot of research went into this book. I spent a year prior to writing the manuscript researching early aviation and World War I. While writing the book, I found that I needed to learn more and fell down many rabbit holes including: learning how to make bathtub gin, maintaining and repairing an early twentieth century plane, fashion and slang of the 1920s, and much, much more!
MS: Aside from Grace, who is your favorite character in the novel and why?
AT: Henry. After Grace was developed in my head, Henry came quickly after. I heard his voice right away and knew what his backstory would be, and how he would challenge Grace. Their relationship is very complicated, but in many ways they understand each other because they have both experienced trauma. I wanted them to not only have an attraction but a true friendship. It took a while (and many revisions) to make this come to life on the page.
MS: Before reading Nothing But Sky I had never heard about barnstorming. Was barnstorming something that you grew up hearing stories about? Or did you stumble upon the subject when doing research for the book?
AT: I talked a little about this earlier, but it was a subject I knew nothing about prior to writing the book. When I learned about these women and started doing research, I discovered many of them were just a footnote in history. If there was anything written about them, it was no more than a few sentences or a paragraph. Writing this book allowed me to bring their stories out into the light which was very important to me.
MS: I know that before deciding to follow a career in writing YA novels you followed a few different career paths, what made you finally decide to write your first book?
AT: In my previous jobs, I had always done some form of writing and I enjoyed it. Then I stumbled upon an editor who was putting together an anthology of short stories. I submitted an entry to him, it was accepted, and after that I decided I wanted to write a full-length novel.
MS: What is your favorite thing about being an author? What advice do you have for aspiring writers?
AT: My favorite thing about being an author is interacting with readers. I love answering their questions about my book and talking about writing craft with them. My best advice for aspiring writers is simply this: get the words on the page. They do not have to be polished, but you can't have a manuscript without words. Barrel through. Get that first draft done. Write "The End." Then after you can go back and revise.
MS: In the future would you want to explore other genres? Maybe a children's book or middle-grade novel? Or maybe stick with YA, but incorporate a SYFY or mystery genre?
AT: I have ideas for other categories and genres. My next book, Across a Broken Shore (coming out in Fall 2019) is YA Historical. After that, I plan to follow some ideas in other genres.
MS: Is there something you think your readers should consider before reading Nothing But Sky?
AT: Historical often gets a bad rap for being boring. The truth is there are a lot of amazing stories about the past that have relevant themes that apply to today's society. Grace could easily be a character in a novel from today. She pushes against society's boundaries and beliefs about a woman's strength and ability to do what is considered a "man's job." I adore that she has a passion for wingwalking and is not deterred by what people think or say. My hope is that many young people (girls and boys) read her story and are inspired to follow their own dreams.