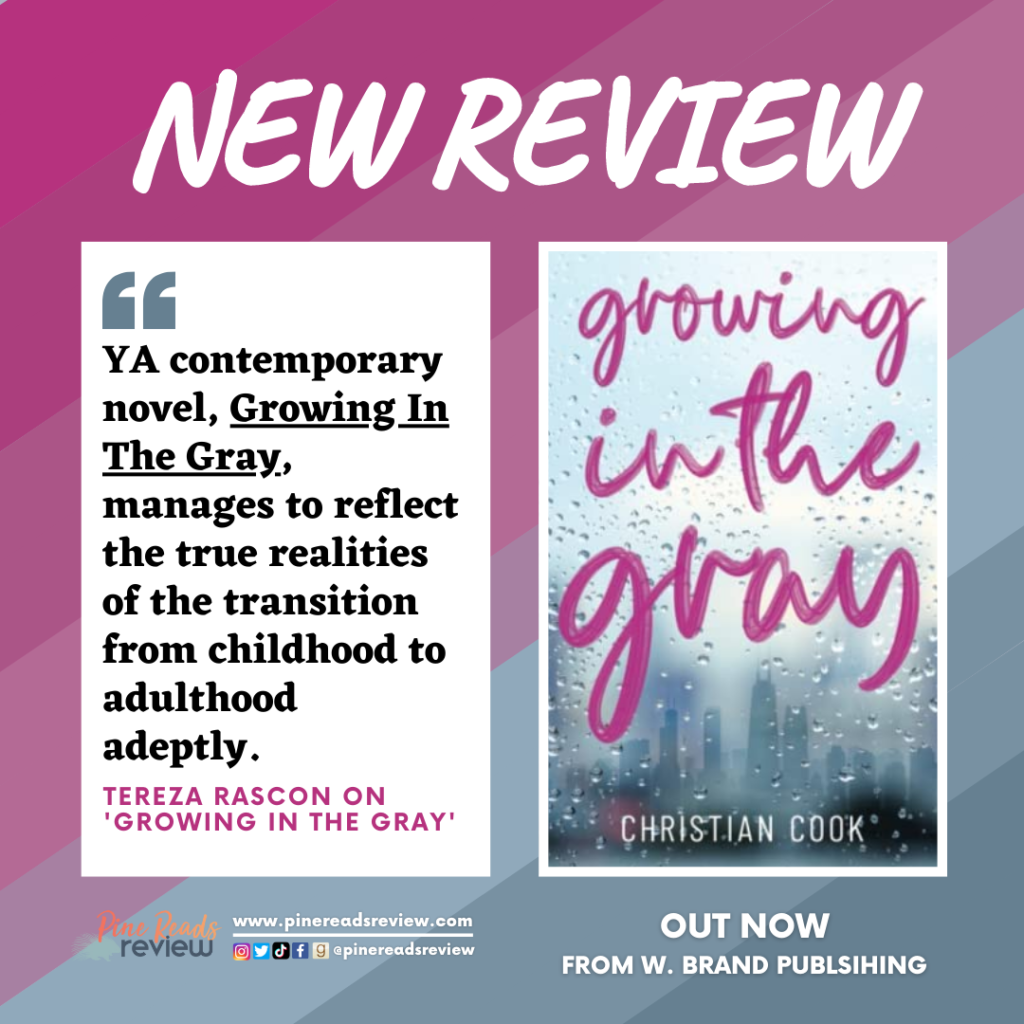 Growing In The Gray written by Christian Cook

Out now from W. Brand Publishing; 234 pages

Content Warnings: Toxic romantic relationship, underage drinking, underage drug use, brief sexual references

About the Author: "Christian Sandra-Elise Cook is from the suburbs of Detroit. At age 16, she graduated high school and then attended Columbia College Chicago. Here, she obtained a BA in Public Relations, and discovered her depth as a woman and a writer by taking various creative writing courses and using the city of Chicago as her campus. After being accepted into a writing program in Paris she rediscovered her passion for her first true love; writing. Paris was also Christian's first time traveling outside of the United States and it opened her eyes to new experiences, a slower pace, and it made her question life as she understood it. Always curious, Christian discusses life, faith, and all the unexpected occurrences in between." (Bio taken from author's website).

Find Christian Cook on the following platforms:
---
"The process of growth was uncomfortable but the product was always worth it."
Krista Clark, once a girl from Michigan living in an upper-middle-class family, is faced with many hard realities as she pursues her education in Chicago. Faced with the possibility of being unable to continue her education at the college of her choice due to financial strains, this leads to Krista reflecting on her life so far, both in Chicago and Michigan. In Chicago, she is faced with the stresses of not just classes, but finding her niche in life as well as navigating a relationship with a guy who continues to give her mixed signals. And while in Michigan, she struggles to be her authentic self, being surrounded by reminders of her past life. Krista, through self-reflection and her faith, will come to find out that life is not always black and white, but rather, it's grayer, a mixture of the two.
YA contemporary novel, Growing In The Gray, manages to reflect the true realities of the transition from childhood to adulthood adeptly. Although there are many Coming-of-Age novels out there that cover many aspects of growing up, Growing In The Gray, manages to cover a topic not much talked about: What happens once you cross that threshold to adulthood? That threshold is the gray area that Growing In The Gray explores with no filter. Krista Clark is not your perfect college student, but she also isn't some rebellious teen. She is a young adult trying to find her place in the world, something that every young adult and new adult can relate to.
What I admired about this novel was its ability to spark powerful emotions in the reader. At times I found myself sympathizing with Krista, at other times, I found myself getting infuriated at her, but that's what makes this book so insightful. Cook created this complex main character that has just as many flaws as she has strengths. Although some of her decisions or actions may come off as immature, it's important to recognize that as a 17-year-old girl, she is still learning how to grasp the new expectations placed upon her compared to her teenage years, which is something most incoming freshmen or newly turned adults can understand. There are powerful topics explored in this book such as identity, relationships (both familial and romantic), career paths, and faith. And when it comes to the topic of college, Cook does a great job portraying an objective perspective of college life that is neither glamorized nor vilified, but merely realistic.
I would highly recommend this novel for young adults to read because not only does it give a realistic glimpse into life after high school, but it provides readers an opportunity to truly reflect on their own lives and how they wish to proceed forward in this new chapter of life.
PRR Writer, Tereza Rascon
---