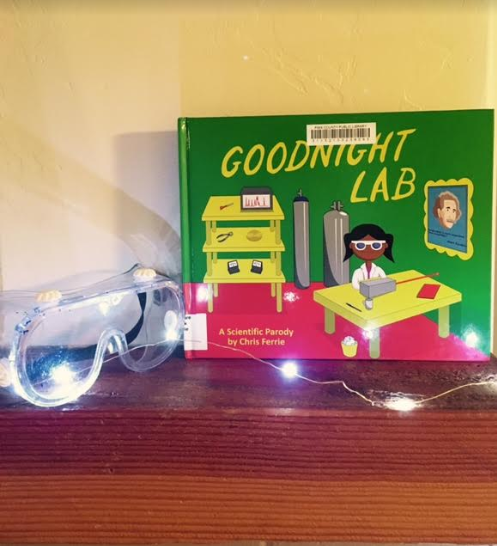 Goodnight Lab: A Scientific Parody
By Chris Ferrie
Sourcebooks Inc., 2017
26 pages
Trigger Warnings: n/a
About the Author: Chris Ferrie is a father of four, academic researcher, and picture book author. His books include the popular Baby University board book series that aims to explain difficult scientific concepts, like quantum entanglement or Newtonian physics, to young audiences in easy-to-understand ways. You can find out more about him at https://csferrie.com/.
"In the great green lab,
There was a laser
And a lab notebook
And a picture of—
Einstein with a stern look"
A parody of Margaret Wise Brown's classic bedtime story Goodnight Moon, Goodnight Lab takes a more scientific approach to the Brown's beloved bedtime routine. Ferrie illustrates "a great green lab" where a budding young scientist must wish each lab component "goodnight" before departing—from her scientific instruments to her "grumpy old professor".
The rhymes are sharp, the layout clean, and Ferrie creates an authentic lab atmosphere that doesn't contain too many pieces child readers could have a hard time understanding. He manages to stay completely in the scope of Brown's original work, down to the alternating black and white/ color page spreads.
This book is clever and witty and can be enjoyed by kids and adults alike, but it will probably be most appreciated by readers with a love of science. Goodnight Lab is an introduction to a research environment and a read-aloud bedtime book all in one.
We hypothesize that if you read it, you'll enjoy it.
PRR Writer, Mandy Becker
GET YOURS TODAY!