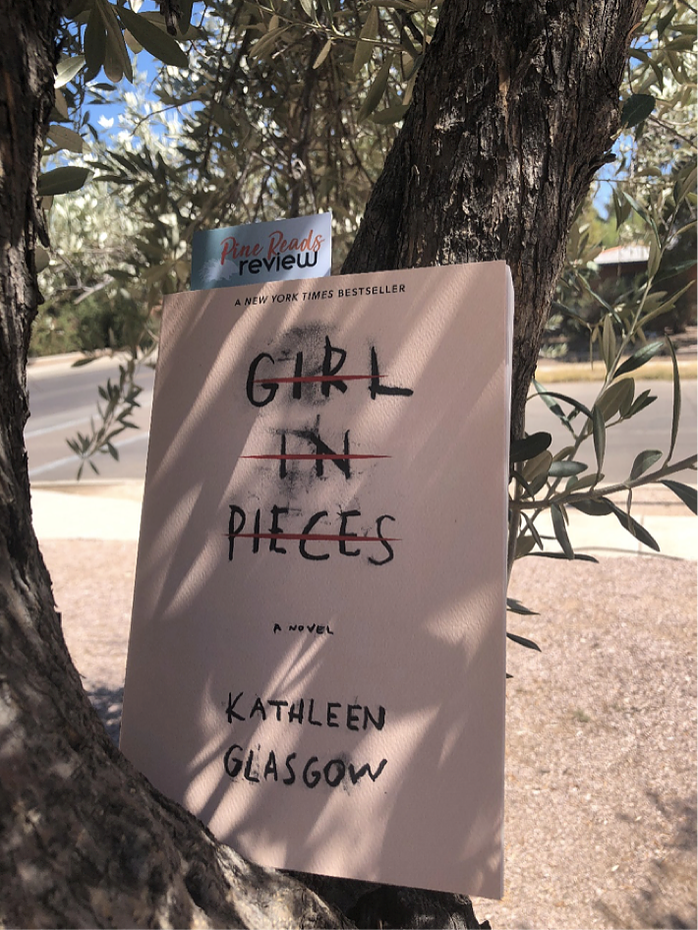 Girl in Pieces
Kathleen Glasgow
Delacorte Press, 2016
Paperback, 416 pages
Trigger Warnings: Drugs, Alcohol, Smoking, Sex, Language, Violence, Self-Harm, Suicide
About the Author: Kathleen Glasgow resident of Tucson, Arizona, is the author of the New York Times best-selling novel, Girl in Pieces. The book has been named to the best of lists by The New York Public Library, Amazon, TAYSHA, Goop, Teen Vogue, BN Teen, Refinery29, EW.com, Teen Reads, and more. Her second young adult novel will be published by Random House/Delacorte in 2019.
"Everyone has that moment I think, the moment when something so momentous happens that it rips your very being into small pieces. And then you have to stop. For a long time, you gather your pieces."
And it takes such a very long time, not to fit them back together, but to assemble them in a new way, not necessarily a better way. More, a way you can live with until you know for certain that this piece should go there, and that one there.
Charlie Davis is seventeen and has faced the worst life has to offer; despite this, she has learned how to forget the past and continue on with life and because of all this, she's learned to push down the traumas of her past and survive. Having lost her father, her mother, and her best friend, Charlie is a damaged young woman who has experienced more devastation in her life than most. After a suicide attempt, Charlie is hospitalized, but once her insurance runs out, she decides to travel to Tucson, Arizona in order to try to glue the pieces of herself back together. Charlie then has to figure out how to create a new life for herself while dealing with what happened to her best friend and her experience at Seed House and how it is that these unresolved issues drive her self-destructive behavior, including self harm and a toxic relationship with an older man. Glasgow's Girl in Pieces is both raw and beautiful. The novel follows Charlie as she attempts to get her life back together and is not meant to be a novel about fixing her or who she is. The novel does not have the sort of happy ending we expect from YA, but instead revolves around the struggle to put one foot in front of the other, taking small steps towards a new beginning.
PRR Lead Editor, Julian Esquer