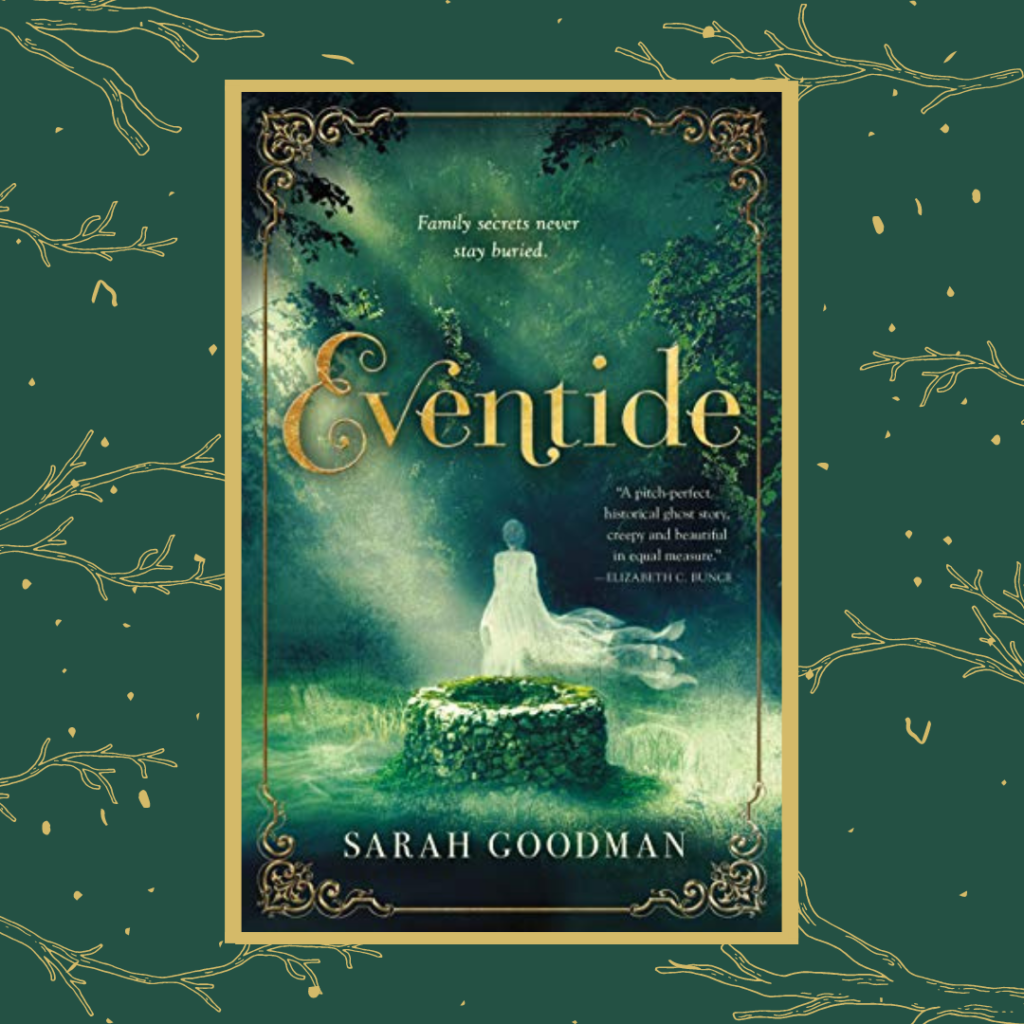 Eventide by Sarah Goodman
Tor Teen, 2020, 336 pages
Trigger Warnings: death of a parent (off-page), mental illness, infant death, sex-shaming
About the Author: "Sarah Goodman is a former newspaper writer who lives with her husband and three children in a town of 280 people and several thousand cows. Despite growing up on a farm, she remains leery of all barnyard fowl. When she's not writing, Sarah enjoys going for runs with her dogs and drinking not-too-sweet-tea. Eventide is her first novel." (Bio taken from the publisher's website.)
---
"The hairs along my arms lifted. There was power here, something strong and ancient. I felt it snaking under my feet, lurking in the dark waters, seeping into the ground to be drunk in by the trees."
With their father locked away in an asylum and their mother long-since dead, seventeen-year-old Verity Pruitt and her younger sister, Lilah, are shipped off to find a new home in Wheeler, Arkansas as orphans, only to be separated when Lilah is adopted and Verity is not. So, in an effort to stay near her sister, Verity accepts a job as a hired hand at a local farm, working alongside a charismatic boy named Abel Atchley. Though, everything is not as it seems: the townspeople have their fair share of troubling superstitions and the nearby woods, with their creepy old well and rumored powers, are truly an eerie sight to behold. Soon, Verity realizes that this unassuming small town has some pretty insidious secrets, and trying to bring them to light is not just a daunting task—but a dangerous one.
From debut author, Sarah Goodman, comes a new YA historical fantasy thriller just in time for fall. Set in a small southern town in 1907, Eventide is an atmospheric tale full of twisted family secrets, supernatural happenings, and a touch of romance. Just by glancing at the cover, I felt the sudden urge to curl up with a cup of cider, nestle myself under a warm blanket, and read into the night. Though, in the end, I felt a bit underwhelmed by the execution. The beginning is kind of slow-to-start, spending most of the first hundred pages introducing Wheeler, the townspeople, and Verity's new place there, instead of really diving into the spine-tingling paranormal aspects of the story—which I found myself wanting even more of. And while Verity proves to be a plucky heroine who cares deeply about her sister, her romance with Abel is a little too predictable and instantaneous for my tastes.
Overall, Eventide is a spooky and lyrically written debut.
(Pine Reads Review would like to thank NetGalley and the publisher for providing us with an ARC in exchange for an honest review. Any quotes are taken from an advanced copy and may be subject to change upon final publication.)
PRR Assistant Director, Hannah Miller