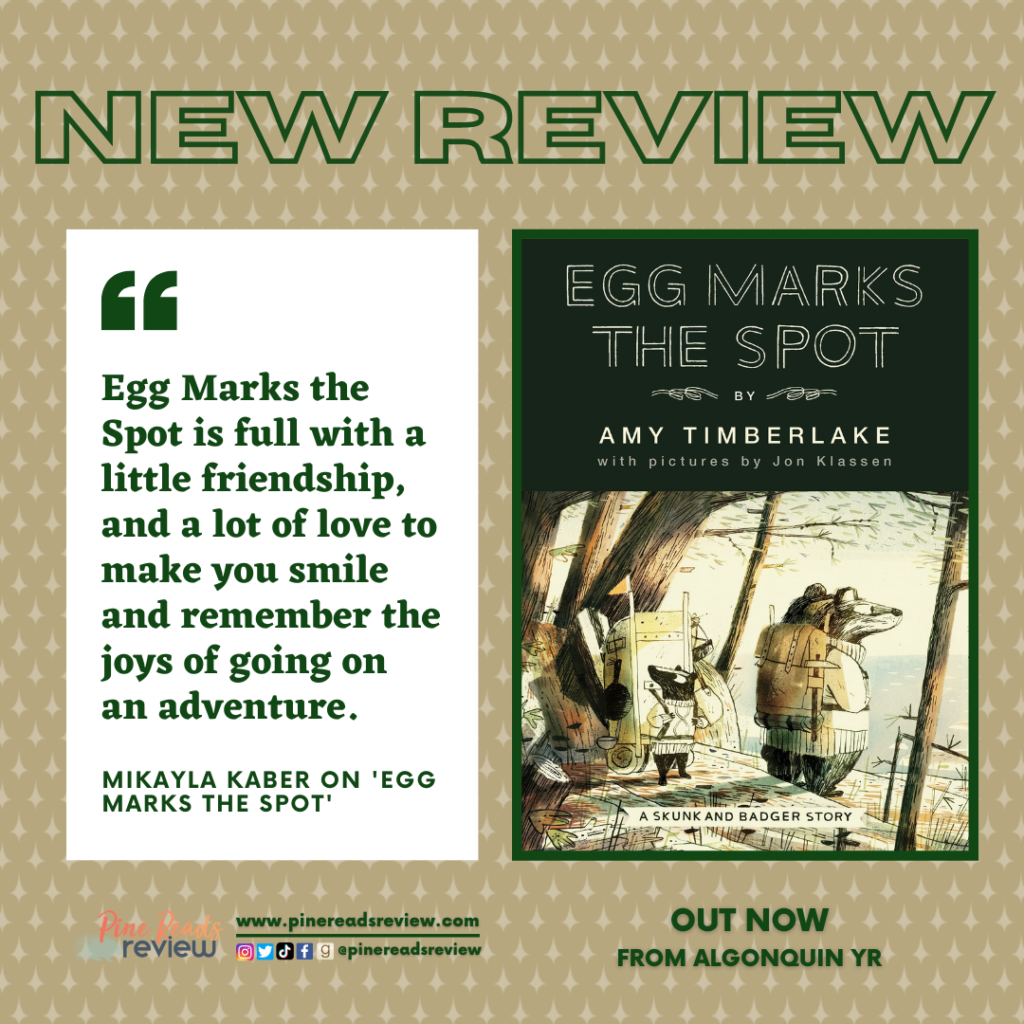 Egg Marks The Spot written by Amy Timberlake and illustrated by Jon Klassen
Out Now from Algonquin Young Readers; 160 pages
About the Author: "Amy has received a Newbery Honor, an Edgar, and a Golden Kite Award. One book was chosen to be a Book Sense Pick, another was reviewed in The New York Times Book Review. Her books have made several "best books of the year" lists, and she loves it whenever her books are chosen to be part of a state reading list. Amy grew up in Hudson, Wisconsin. She attended Mount Holyoke College and majored in History. She also holds an M.A. in English/Creative Writing. Most of the time, she can be found in Chicago, where she lives with her husband. But on especially good days she can be found walking on a long, long trail." (Bio taken from author's website)
Find Amy Timberlake on the following platforms:
About the Illustrator: "Jon Klassen CM (born November 29, 1981) is a Canadian writer and illustrator of children's books and an animator. He won both the American Caldecott Medal and the British Kate Greenaway Medal for children's book illustration, recognizing the 2012 picture book This Is Not My Hat, which he also wrote. He is the first person to win both awards for the same work." (Bio taken from Wikipedia)
Find Jon Klassen on the following platforms:
---
"Ha! Perhaps another young badger will find it and also become an Important Rock Scientist."
The second adventure of Skunk and Badger is full of twists and turns that will leave you wanting more all the way until the very end. Skunk and Badger find themselves at a crossroads: Badger has lost a precious Spider Eye Agate, and Skunk has lost his special New Yak Times Book Review. Together they embark on an adventure of a lifetime. They get some help along the way with Mr. G Hedgehog, and face some suspicious chickens as well. The lively and lucious illustrations from Jon Krassen accompany a tale of laughter and joy as we go along for the ride and find some friendship along the way.
This book took me back to the days of Frog and Toad, and welcomed me into a world of hilarious and relatable characters. Skunk and Badger are good friends, but they are so different from one another that they resemble an innately human friendship. Throughout their journey I found myself laughing out loud as the onomatopoeias filled each page and each of the characters were interacting with one another. The witty banter and whip-smart characters had me smiling at every turn of the page. I felt like I was a part of the team as I went along for the ride of a lifetime with Skunk and Badger. This story is filled with honesty and humor that resonates with the trials and tribulations of friendship. It was real and whimsical at every turn. This is a story that will stand the test of time because of the heart that so clearly shines through. Egg Marks the Spot is full with a little friendship, and a lot of love to make you smile and remember the joys of going on an adventure.
(Pine Reads Review would like to thank the publisher for providing us with an ARC in exchange for an honest review. Any quotes are taken from an advanced copy and may be subject to change upon final publication.)
PRR Assistant Director, Mikayla Kaber