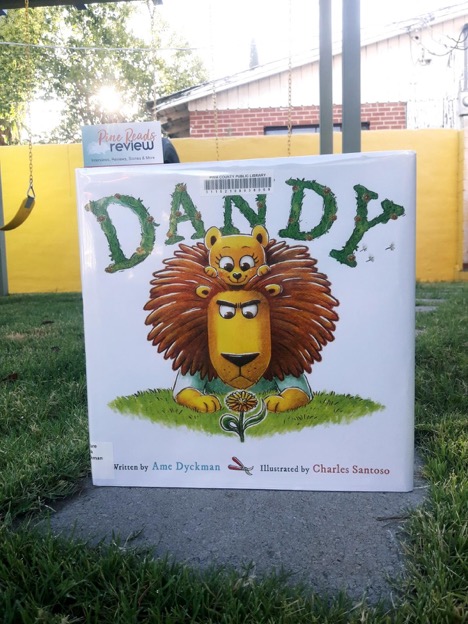 Dandy by Ame Dyckman
Illustrated by: Charles Santoso
Little, Brown and Company, 2019, 32 pages
Trigger warnings: N/A
About the Author: Ame Dyckman is a best-selling children's book author. She has written the books Horrible Bear, Misunderstood Shark and Read the Book, Lemmings! just to name a few. You can find more about her at: http://www.amedyckman.com/
Twitter: @AmeDyckman
About the Illustrator: Charles Santoso has illustrated a variety of picture books, including The Snurtch; Ida, Always; and Peanut Butter and Brains. He lives in Sydney, Australia, where some of his work is exhibited. He has also worked as both a concept artist and art director at the company, Animal Logic. You can find more about him at http://www.charlessantoso.com/wp/about/.
Twitter: @minitreehouse
Instagram: @charlessantoso
Tumblr: http://charlessantoso.tumblr.com/
"Daddy spied something scary on his perfect lawn. He ran for his clippers…"
To Daddy, the weed growing up out of his perfectly manicured, great green lawn is a disgrace to his yard… his neighborhood… the universe! To his daughter Sweetie, "Charlotte" the dandelion is a best friend. What will Daddy do?
Dyckman and Santoso craft this delightfully silly, fast-paced story about Daddy's ventures to exterminate "Charlotte" without upsetting his young daughter. This book is a great father-daughter read that gets kids thinking about perspective and empathy, all while having fun seeing the goofy shenanigans Daddy engages in. Santoso provides colorful illustrations with a large emphasis on Daddy's elaborate facial expressions, while Dyckman's text flows smoothly, keeping readers flipping pages quickly. Dialogue boxes showcasing the lion family's nosy and peer-pressure focused neighbors add to the story's comedy.
Dandy shows readers that it's not always about growing the perfect garden, but instead about growing the perfect family.